6 Things We Learned About 'Phantom Thread' From Paul Thomas Anderson's EW Interview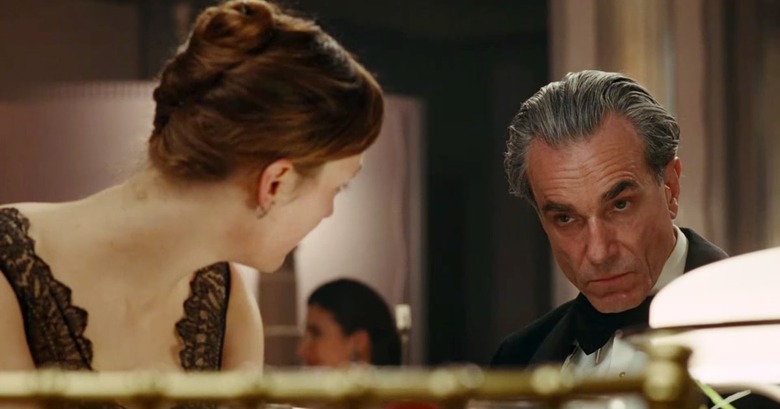 Before this year is over we're going to be treated to a new film from Paul Thomas Anderson. Not only that, but Anderson's film, Phantom Thread, will reunite him with his There Will Be Blood star Daniel Day-Lewis in what is to be Day-Lewis' final performance before retiring. While we've received a trailer for the film, most of the details about Phantom Thread have been kept under-wraps. But in a new interview with Entertainment Weekly, Anderson just revealed several Phantom Thread details for Anderson fans to obsess over.
If you've been craving some Phantom Thread details, you're not alone. Info about he upcoming film from The Master and There Will Be Blood director Paul Thomas Anderson has been scarce, save for a mysterious trailer and a tantalizing synopsis:
Set in the glamour of 1950's post-war London, renowned dressmaker Reynolds Woodcock (Daniel Day-Lewis) and his sister Cyril (Lesley Manville) are at the center of British fashion, dressing royalty, movie stars, heiresses, socialites, debutants and dames with the distinct style of The House of Woodcock. Women come and go through Woodcock's life, providing the confirmed bachelor with inspiration and companionship, until he comes across a young, strong-willed woman, Alma (Vicky Krieps), who soon becomes a fixture in his life as his muse and lover. Once controlled and planned, he finds his carefully tailored life disrupted by love. With his latest film, Paul Thomas Anderson paints an illuminating portrait both of an artist on a creative journey, and the women who keep his world running. Phantom Thread is Paul Thomas Anderson's eighth movie, and his second collaboration with Daniel Day-Lewis.
In a brief but revealing interview with EW, Anderson goes into more details about his upcoming film. Here are the most pertinent bits:
Anderson Compares the Film to a Gothic Romance 
There's a love story at the heart of Phantom Thread, but it's not your typical romance. Anderson compares it more to Alfred Hitchcock's Rebecca, and the Gothic Romance genre in general. Gothic Romance can encompass many things, but if you're looking for more examples, think Turn of the Screw or Jane Eyre. Or even Guillermo del Toro's Crimson Peak. That doesn't mean you should expect anything supernatural here, of course. Just that Gothic Romance seems to be Anderson's jumping-off point. "I'm a large aficionado of those large Gothic romance movies as the old masters might do them," Anderson says. "What I like about those kinds of love stories is that they're very suspenseful. A good dollop of suspense with a love story is a nice combination."
The Decision to Work With Daniel Day-Lewis Again Was a No-Brainer 
Almost all of Daniel Day-Lewis' performances are acclaimed, but Anderson directed the Lincoln actor in one of his most iconic roles, that of deranged oil man Daniel Plainview in There Will Be Blood. Phantom Thread reunites the pair, and it didn't take much to convince Anderson to cast Day-Lewis in the film. "It came about at my suggestion because I thought we did it well together, and we loved what we did before," Anderson says. "I suppose there's always the risk of trying to do it again, but it seemed crazy not to take the opportunity." Anderson goes on to say that Day-Lewis collaborated with him "every step of the way" in writing the screenplay.
Daniel Day-Lewis' Retirement Never Came Up On Set
Daniel Day-Lewis surprised many film fans earlier this year when he announced he would be retiring from acting after Phantom Thread. "Daniel Day-Lewis will no longer be working as an actor," stated the official announcement released by a representative of the award winning actor. "He is immensely grateful to all of his collaborators and audiences over the many years. This is a private decision and neither he nor his representatives will make any further comment on this subject." The subject of Day-Lewis calling it quits never came up during the making of Phantom Thread, though. Anderson says it was never discussed, but he also knows that Day-Lewis had talked about retiring before, yet kept acting. "Hopefully, it's something that he'll reconsider," Anderson says. "In the meantime, he's left it all out on the field, I like to think."
Anderson Is Doing the Cinematography Himself...Sort of
Anderson has worked with some great cinematographers, including Robert Elswit and Mihai Malaimare Jr.. But fans were surprised when word broke that Anderson would be handling photography duties on Phantom Thread himself. Anderson both confirms that's true while also clarifying some things:
"I should really clarify that. That would be disingenuous and just plain wrong to say that I was the director of photography on the film...The people I would normally work with were unavailable, and it just became a situation where we collaborated — really in the best sense of the word — as a team. I know how to point the camera in a good direction, and I know a few things. But I'm not a director of photography."
Anderson goes on to say that he had a lot of assistance on the shoot from gaffer Michael Bauman, first assistant cameraman Erik Brown and camera operator Colin Anderson. "You have to be very, very careful because there are way too many good cinematographers that I would not put myself in that class for a second," the filmmaker adds.
The Title Was A Result Of Procrastination 
For the longest time, Anderson's next film was simply "Untitled." At one point during the production, Phantom Thread became a placeholder, but Anderson and company swore that this would not be the film's final title. Then it was. Anderson explains:
"Phantom Thread was a terrific title, and it was an idea. It was the name of the production company, and it really did seem to fit and work. But we were kind of wondering if there was something else that would work as well. I wish I could say it was more strategic and mysterious, but it was just a case of wishy-washiness and waiting to see how things ended up. I swear."
It's Still Not Done
Phantom Thread has a limited release date set for December, which is pretty damn soon. Some Anderson fans had assumed (and hoped) that the film would appear on the festival circuit in hopes of drumming-up award season buzz, but Phantom Thread remained an enigma. That wasn't by choice. Anderson explains that the film simply isn't done yet. "This was the first film in a while that we finished and not had leisurely editing period on," he states, adding that he'll be working on the film probably right up until its release date.Phantom Thread opens in limited release December 25, 2017.