'Downsizing' Trailer: Matt Damon Goes On A Shrunken Journey Of Self-Discovery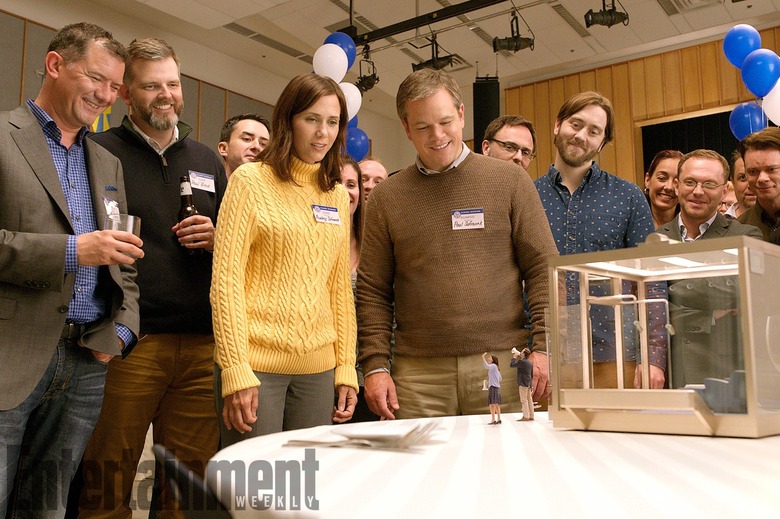 Alexander Payne, the director of Election, The Descendants, and Nebraska, is doing something totally different for his newest movie. Downsizing – a film that features Matt Damon as a character who shrinks down to be only five inches tall – has the most fantastical premise he's dealt with yet, but a brand new trailer for the movie has shifted my perspective in a big way about what exactly is in store for us when the film arrives this holiday season.
Downsizing trailer
Previous trailers made this seem like Damon and Kristen Wiig's characters were making this decision together and experiencing this whole new world as a couple. But this trailer reveals that the pair split up after their monumental decision to shrink, and paints the back half of the film as a self-discovery story for Damon in the vein of something like The Secret Life of Walter Mitty.
The film has earned largely mixed and negative reviews after its debut on the film festival circuit earlier this year, but /Film actually has one of the few rave reviews out there. In his review from the Toronto International Film Festival, our own Marshall Shaffer says:
No matter the narrative hiccups, the issues raised are fascinating to ponder because Payne and [co-writer Jim] Taylor take the time to consider them fully. The capacity to shrink humans for population control is a far-fetched sci-fi concept, but the stretching of our planet beyond its capabilities has already begun. Downsizing dares to ask if humans will be ready to make the sacrifices necessary for the survival and preservation of the species is on the line. Payne and Taylor can pose the question without inducing complete debilitation because it's one they ask with genuine concern and empathy for their fellow earthlings.
The vibe change between the trailers may be a response to the festival reviews, and the studio seems like they're trying to course correct and give audiences more accurate expectations for what they're in for here, which is probably a wise move. Even if this turns out to be a mess, it looks like a fascinating one.
Downsizing imagines what might happen if, as a solution to over-population, Norwegian scientists discover how to shrink humans to five inches tall and propose a 200-year global transition from big to small. People soon realize how much further money goes in a miniaturized world, and with the promise of a better life, everyman Paul Safranek (Matt Damon) and wife Audrey (Kristen Wiig) decide to abandon their stressed lives in Omaha in order to get small and move to a new downsized community — a choice that triggers life-changing adventures.
Downsizing arrives in theaters on December 22, 2017.