'Four Weddings And A Funeral' TV Show Coming To Hulu From Mindy Kaling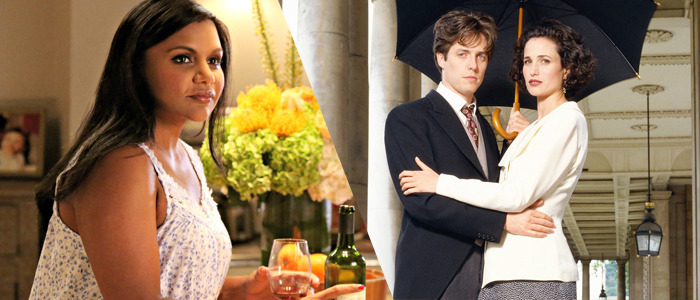 Four Weddings and a Funeral was a huge hit when it came out in 1994, becoming the highest-grossing movie in British cinema history at that time. Now, more than 20 years later, a TV version is in the works: Mindy Kaling (The Office, The Mindy Project) is writing and executive producing an anthology series for Hulu based on the movie.Deadline reports that Kaling and Matt Warburton are developing an hourlong anthology series based on the '94 film. The premise will remain the same: the show "follows a group of friends as their lives intersect through these five events, with each season following a different story arc." Rumor has it the show could feature different characters in a different location each season, and the lead role may stay the same.
But does that mean one season will be about one wedding, the next will be about the second one, etc.? Or will each season cover all five events? And if it's the same lead, doesn't that seem like an awful lot of weddings (and funerals, for that matter) for one person to attend? I thought the whole point was for the same group of friends to reunite across multiple events, so how does that make sense for an anthology format? It's reportedly still early on in the development process, so these details could change as it moves toward its start date.
Richard Curtis wrote the original film's screenplay before going on to write and direct movies like Love Actually, Pirate Radio, and About Time, and he will also serve as an executive producer on the anthology series.
Kaling is currently starring in the sixth and final season of The Mindy Project, which Hulu picked up after Fox dropped the series, so she already has a nice relationship with the streaming service. Her character on that series – a OB-GYN named Mindy Lahiri who's essentially a heightened version of the real Kaling – is obsessed with romantic comedies, so that character would be thrilled to learn that the real Mindy is adapting this romcom classic for TV.
Meanwhile, she's starring in Disney's upcoming adaptation of A Wrinkle in Time for Ava DuVernay and is a part of the ensemble of Gary Ross's Ocean's Eight, a spin-off of the Ocean's Eleven trilogy that features Danny Ocean's estranged sister organizing a heist of her own.
Hugh Grant and Andie MacDowell starred in the original Four Weddings and a Funeral. Here's that trailer as a refresher: