Now Stream This: The Best Movies Streaming Right Now On Netflix, Hulu, Amazon, And More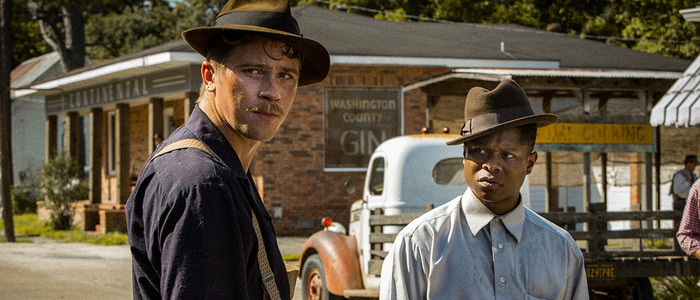 (Welcome to Now Stream This, a column dedicated to the best movies streaming on Netflix, Amazon, Hulu, and every other streaming service out there.) 
Well, I guess it's officially the holiday season now. Time to start thinking about family get-togethers, shopping, cold temperatures, and copious amounts of social drinking. Or you could just skip all that and stay home and stream some movies! As we wind down the clock on 2017, and the nights grow longer and colder, it's probably best to curl up with a blanket, peruse the plethora of streaming services that exist now, and watch some fine films. Luckily, you have me here to help you pick some winners. You're welcome.
This edition of Now Stream This features yet another great original movie from Netflix, a documentary about time travel, an underrated, brightly lit fever dream of a film, an action-movie take on a 1000-year-old poem, and more! Here are the best movies streaming right now! So let's get streaming.
Streaming on Netflix November 17
Dee Rees' sweeping, sprawling American epic is proof yet again that Netflix can produce truly great movies – now if only they'd do a better job of promoting them. Mudbound deals with two men – one white, one black – who return home to Mississippi after World War II, facing struggles and familial turmoil. Racism is at the center of Mudbound, and Rees handles this subject with nuance that few other filmmakers can master. This film is epic, like a great American novel brought to the screen without anything excised. At times, Mudbound can feel overwhelming due to its heavy subject matter and lengthy runtime, but Rees handles it all in a surprisingly low-key manner, matched by Rachel Morrison's stunning, muted cinematography. This is the type of story that could've easily become an overwrought, melodramatic snore, but Mudbound never succumbs to such doldrums. It's overall one of the very best films you'll come across this year, and it just happens to be premiering on Netflix. Featuring Carey Mulligan, Garrett Hedlund, Jason Clarke, Jason Mitchell, Jonathan Banks and Mary J. Blige.
For fans of: Legends of the Fall, Pariah, Daughters of the Dust, Netflix making anti-streaming snobs nervous by releasing stone-cold masterpieces.
2. How to Build a Time Machine
Now Streaming on Hulu
What would you do if you could go back in time? It's question almost all of us have thought about, in one way or another. And while it's likely impossible, we can't help but dream about it, and ponder. Jay Cheel's brilliant documentary How to Build a Time Machine focuses on the question of time travel, but it also focuses on more than that. At the center of it all is obsession, specifically the obsession of two men. One is prop builder Robert Niosi, who is on a personal quest to build a perfect replica of the time machine from George Pal's 1960 The Time Machine. The other is theoretical physicist Ronald Mallett, who has spent his life studying time travel in an attempt to maybe one day see his deceased father again. On the surface, the stories of these two men have nothing in common, but as Cheel digs deeper he finds more and more connections, primarily the sense of loss eating away at both of them. It's a fascinating film, and you shouldn't waste any time looking it up on Hulu.
For fans of: The Time Machine, A Brief History of Time, Time After Time (the movie and the Cindi Lauper song).
Now Streaming on Netflix
Now we're talking, A moody, slow-burn legal drama? Sign me the hell up! Tony Gilroy's 2007 drama Michael Clayton, starring George Clooney as a very good legal "fixer" who gets wrapped up in a case involving corporate intrigue and murder, may not seem like a very exciting piece of entertainment. There's no real action, no ticking clock, no moments of big bombast. Yet this is one thrilling film, and the thrills come from Gilroy's tight, intense script and the stellar performances from almost everyone, including Tilda Swinton as a lawyer willing to do very, very shady things to protect her clients. They don't make many movies like this anymore, simply because they don't do very well at the box office. But every now and then, something like Michael Clayton comes along, and how refreshing it is!
For fans of: Nightcrawler, Erin Brockovich, Changing Lanes, Tom Wilkinson talking about delicious bread.
Streaming on FilmStruck November 15
What is Stalker? Good luck with that question, as the film is often impenetrable. But Andrei Tarkovsky's 1979 stunner is a haunting, hypnotic film that sucks you in and refuses to let go. A guide leads two men – a professor and a writer – across a border into a mysterious area known as the Zone, where time and the laws of nature don't behave exactly normal. Rife with post-apocalyptic imagery and religious undertones, Stalker is a lengthy tone-poem of a movie, with mind-blowing cinematography and prevailing sense of unease. It's unlike anything else you've ever seen, so see it.
For fans of: Solaris, The Mirror, Apocalypse Now, watching a movie and then saying, "What was that?"
Now Streaming on Amazon Prime Video
The Wachowskis turned the popular Japanese anime Speed Racer into this absolutely bonkers 2008 movie, bustling with life, energy and extremely bright colors. I won't sit here and tell you that Speed Racer is a great movie, because I'm not entirely sure it is. But it's a film with an incredible amount of life, a film that's in love with being a movie, and there's something to be said for that. Emile Hirsch is a bit of a dud as the lead, but the cast around him – John Goodman, Christina Ricci, even Matthew Fox – all do really good work. The plot, which involves Speed entering several races set on racetracks that give a big middle finger to the laws of physics, is secondary. It doesn't matter. What matters is the spirit of the film, which is so damn alive that it's infectious. Even if Speed Racer isn't a complete success, it deserves praise for going all-in.
For fans of: Jupiter Ascending, Scott Pilgrim vs. The World, Christina Ricci saying "Cool beans!"
Now Streaming on Shudder
A group of friends get together for a dinner party, which begins right as a comet is passing overhead. And then there's a blackout. What follows is a creepy, whip-smart sci-fi thriller that recalls the best episodes of The Twilight Zone. Directed by James Ward Byrkit,  Coherence is effective and chilling; a unique experience, made in an experimental nature. Filmed without rehearsal over a few nights, with no real script and the actors improvising, Coherence does a lot with a little, and then some. If it sounds like I'm dancing around what really happens in this movie, that's because I am. The less you know about Coherence, the better the film is; the more shocking, more mind-blowing. Just know that if you give it a chance, you won't be disappointed.
For fans of: Primer, Black Mirror, The Invitation, what-the-fuckery.
Now Streaming on FilmStruck
Robert Altman's 1973 post-modern noir turns Raymond Chandler's hard boiled detective Philip Marlowe into a shuffling, mumbling man out of time, dealing with the '70s with a raised eyebrow and a constantly lit cigarette. If you're expecting a traditional mystery, prepare yourself: The Long Goodbye is anything but traditional. What it is, though, is a remarkable showcase for Elliott Gould, who is incredible as the perplexed Marlow. As a bonus, look for an extremely early "performance" from Arnold Schwarzenegger, playing a silent bodyguard!
For fans of: Inherent Vice, Chinatown, McCabe & Mrs. Miller, people mumbling around the cigarettes perched in their mouths.
Streaming on Amazon Prime Video November 17
Director Gillian Robespierre re-teams with her Obvious Child star Jenny Slate for this funny, sweet comedy set in New York in the 1990s. It's sort of like a Woody Allen movie without all of the terrible baggage that comes with Woody Allen. Slate is wonderful here; she's one of those actresses who really needs to be much more well-known than she is right now. She's equally matched by Abby Quinn, playing her sister. Both actress have great chemistry together, and Landline works best when it lets the two of them bounce off each other. While Landline isn't as great as Obvious Child, it still highlights what a gifted filmmaker Robespierre is, and how well she and Slate work together.
For fans of: Obvious Child, Manhattan, The Big Sick, sexual trysts in movie theaters.
9. The Last Will and Testament of Rosalind Leigh
Now Streaming on Shudder
Atmosphere goes a long way in a horror movie. Case in point: Rodrigo Gudiño's The Last Will and Testament of Rosalind Leigh deploys enough atmosphere that you end up thinking more is going on in the film than there actually is. After his mother dies, a young man (Aaron Poole) takes up residence in her ornate, gothic home, only to discover a potentially malevolent force dwelling within its walls. Gudiño directs the hell out of this, relying on burn so slow that you begin to grow anxious. That's all part of the design. Low on jump scares and huge on mood, The Last Will and Testament of Rosalind Leigh is guaranteed to give you the creeps.
For fans of: Lake Mungo, Locke, patience.
Now Streaming on Hulu
Imagine if someone took the Old English epic poem Beowulf and turned it into a 1990s action thriller! The result would be John McTiernan's goofy as hell but very entertaining The 13th Warrior. Based on Michael Crichton's book Eaters of the Dead, The 13th Warrior is a retelling of Beowulf told from the point of view of one of Beowulf's companions, a poet played by Antonio Banderas. The film demythologizes the story: Grendel isn't a monster, but rather a serious of half-wild humans; there's no dragon, but rather a line of people carrying torches that end up resembling a dragon; and so on. This film was virtually ignored when it hit theaters, which is usually the fate of any Crichton adaptation that doesn't feature Jurassic in the title. Despite its flaws, The 13th Warrior is a lot of fun, and worth rediscovery.
For fans of: Beowulf, Kingdom of Heaven, First Knight, historical films with 100% historical inaccuracy.