Daisy Ridley Confirms Rey's Original Name In 'Star Wars: The Force Awakens'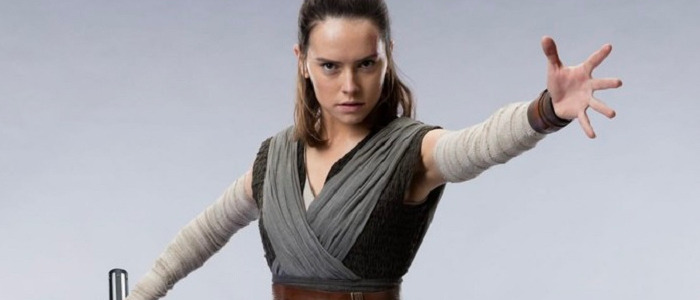 In a small but interesting bit of information, Daisy Ridley, star of Star Wars: The Force Awakens and Star Wars: The Last Jedi, recently confirmed the original name of her character Rey. We've actually heard this early name before, but up until now it was thought to just be a placeholder or codename until the real name was finalized. Ridley's recent statements seem to change that. Learn the shocking truth (okay, it's not really that shocking) behind Rey's original name!
We don't know too much about the impending Star Wars: The Last Jedi, so any Star Wars-related info we can get until that film hits next month is worth obsessing over. Case in point: a recent interview with super-charming Star Wars star Daisy Ridley confirms for us the original name of Rey. In a new interview in V Magazine (via Cinema Blend) between Ridley and her The Last Jedi co-star Adam Driver, Ridley confirmed that the initial name for her character was Keera:
DRIVER: What were your initial conversations with J.J. [Abrams] about your character? Did you know the character's name was Rey?
RIDLEY: No, no, he told me it was meant to be Keera. And then, when we were already shooting in Abu Dhabi, he told me that he was thinking of going with Rey, which I thought was frickin' awesome. But because I had to audition so much and everything, I never really had a conversation with J.J. about it until I had read the script. So, I had no sense of what I was getting into. No sense of what was really going to happen or what anything would entail. I hadn't done a film before, so it was a whole new thing. It's such a crazy thing the first time around: Even if [J.J. and I] had had a conversation about it, nothing would've even made sense at that point anyway. It was unfolding as we went along.
This isn't the first time Rey's alternate name has come up. Previously, however, reports had it spelled as "Kira." Before The Force Awakens began filming, screenwriter Michael Arndt described "Kira" as a "loner, hothead, gear-head, badass." However, the common assumption was that this was more of a codename, all part of the very extreme anti-spoiler measures Disney employs in making these films. There was also a rumor that Kira was Rey's real name, and that Rey was a name given to the character to protect her and keep her identity secret when she was dropped off on Jakku. Ridley's statement seems to suggest otherwise.
Kira is apparently a popular name in the Star Wars universe. In the upcoming Star Wars Anthology film Solo: A Star Wars Story, Emilia Clarke's character is (supposedly) named Kira. Unless it isn't. There's also a House of Kira that's part of the extended Star Wars universe. What could all of this mean? Probably nothing, but we need to keep ourselves busy until Star Wars: The Last Jedi hits theaters on December 15, 2017.