'I, Tonya' Trailer: Margot Robbie Goes For Oscar Gold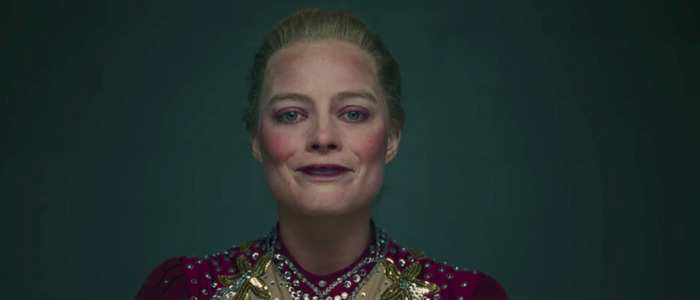 The shocking truth behind the tabloid story of Olympic Figure Skater Tonya Harding comes to life in the darkly comedic I, Tonya. Margot Robbie goes for the gold, playing the disgraced Harding as she struggles to fit into a world that refuses to accept her. A new I, Tonya red band trailer gives us an up close and personal look at Craig Gillespie's new film.
Margot Robbie gives one of her best performances yet in the darkly funny I, Tonya. In the 1990s, Olympic Figure Skater Tonya Harding made headlines not because of her impressive skating abilities, but rather because of her connection to the attack on her skating rival Nancy Kerrigan. I, Tonya attempts to peel back the screaming, inaccurate tabloid headlines and get to the heart of the story. Sort of. A new red band trailer provides us with our best look at the film yet.
Note that this is a red band trailer and contains some NSFW material.
I, Tonya trailer
Here's the official synopsis:
Based on the unbelievable but true events, I, TONYA is a darkly comedic tale of American figure skater, Tonya Harding, and one of the most sensational scandals in sports history. Though Harding was the first American woman to complete a triple axel in competition, her legacy was forever defined by her association with an infamous, ill-conceived, and even more poorly executed attack on fellow Olympic competitor Nancy Kerrigan. Featuring an iconic turn by Margot Robbie as the fiery Harding, a mustachioed Sebastian Stan as her impetuous ex-husband Jeff Gillooly, a tour-de-force performance from Allison Janney as her acid-tongued mother, LaVona Golden, and an original screenplay by Steven Rogers, Craig Gillespie's I, TONYA is an absurd, irreverent, and piercing portrayal of Harding's life and career in all of its unchecked––and checkered––glory.
I saw I, Tonya at TIFF, and I mostly enjoyed it. At times, it goes way over-the-top, and there are so many needle-drops in this thing that it's practically a jukebox. Yet Robbie is fantastic in the lead, and Allison Janney, playing Harding's cruel, manipulative mother, is phenomenal. Expect to hear both of their names over and over again come awards season. The film is mostly comedic in nature, but there's a prevailing bleakness beneath all the humor, as I said here in my review:
Beneath all the gallows humor there's a sadness to I, Tonya. A prevailing sense that if Tonya had just had less terrible people in her life, her path could've been much different and much less tragic. Tonya continually makes poor decisions, and it becomes easy to judge her from the distance of a theater audience. But I, Tonya gives her back her humanity in the process as the film draws to a close. It provides some much needed catharsis, but perhaps it's too little too late. Harding's skating career, and by extension her life, was completely ruined, and then the tabloid news marched on, on the hunt for fresh meat.
All in all, the film is almost quaint in its portrayal of an era before tabloid journalism became the norm. At the time they unfolded, the events in I, Tonya seemed out of this world. Here, in 2017, they'd likely be out of the constantly hellish news cycle within 48 hours.
I, Tonya opens on December 8, 2017.