Hans Zimmer's Favorite Film Composer? Radiohead's Jonny Greenwood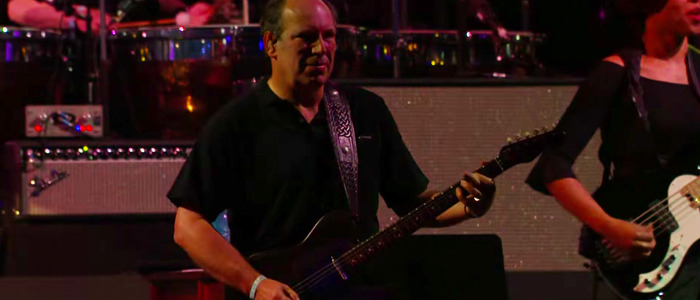 Hans Zimmer is a movie soundtrack legend, having scored over 100 films and TV shows, including The Dark Knight and Man of Steel. Yet even a mega-composer like Zimmer still gets starstruck. In a recent interview, Zimmer named his own personal favorite film composer: Radiohead's Jonny Greenwood.
Despite his prolific career and world-renown, Zimmer isn't above geeking out about other film composers. In an interview with CBC Radio (via Indiewire), Zimmer reveals that his favorite film composer is Jonny Greenwood, lead guitarist of Radiohead. Zimmer even says he was "starstruck" when he first met Greenwood after teaming up with Radiohead for the Blue Planet II soundtrack:
"Oh, I'll just admit it, I was a bit starstruck, He is my favourite film composer."
Greenwood has composed soundtracks for multiple Paul Thomas Anderson films: There Will Be Blood, The Master and Inherent Vice. Next, Greenwood will compose the score for Anderson's Phantom Thread. Zimmer recently contributed to the moody soundtrack of Blade Runner 2049. Below, have a listen to track from Greenwood's There Will Be Blood score and a track from Zimmer & Benjamin Wallfisch's Blade Runner 2049.
At this point in his career, it's almost surprising when Hans Zimmer isn't composing a film's soundtrack. The prolific Zimmer has more than 100 soundtracks under his belt, crafting incredibly memorable scores for Christopher Nolan films like Inception, The Dark Knight, Interstellar, Dunkirk, as well as providing soundtracks for big blockbusters like Pirates of the Caribbean: The Curse of the Black Pearl and Disney classics like The Lion King. Zimmer is so good at his job that he's even able to craft beautiful, sweeping, epic scores for less-than-great films. It seems like Zimmer is almost always working on a new score. But don't you dare call him a "workaholic." In an interview with /Film, Zimmer once said:
"I was talking to an interviewer just only a half an hour ago. The guy used the word "workaholic." I sort of stopped him and I said, "No, no, no. Hang on a second. The operative word in music is 'play.'" People are always going, "Why are you keeping such crazy hours? You never sleep, or you're up all night playing music." Well, kids...if you try to get a kid to bed when they want to go and play with their favorite truck or Legos or whatever, I just never really progressed beyond that. And most of the musicians I know are the same way. We get to play. Just don't let the grownups know."