Hela Was Originally The Villain For 'Thor: The Dark World': Kevin Feige Talks 'Thor: Ragnarok'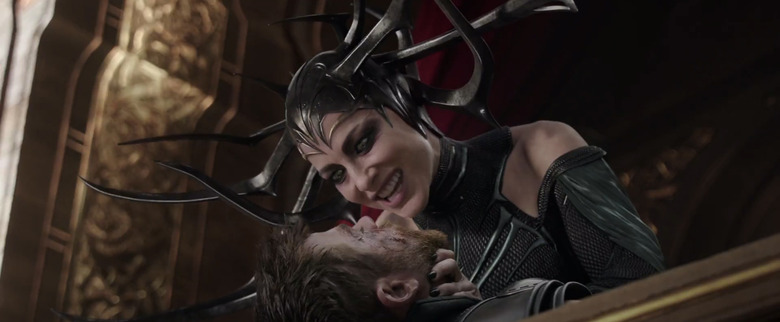 A few weeks back, I had my annual sit-down with Marvel Studios head Kevin Feige to talk about the latest Marvel movie, Thor: Ragnarok. We will be running the more spoiler-filled bits from the interview next week, but today, I present to you the non-spoiler section.
In the interview, Feige reveals that Hela was initially planned to be the villain of the second Thor film, Thor: The Dark World, and talks about how Ragnarok evolved into what we see on the big screen. He also talks about the collaboration with filmmakers like Taika Waititi and James Gunn, and if Disneyland's Guardians of the Galaxy: Mission Breakout attraction has Sakaar origins.
Non-Spoiler Kevin Feige Thor Ragnarok Interview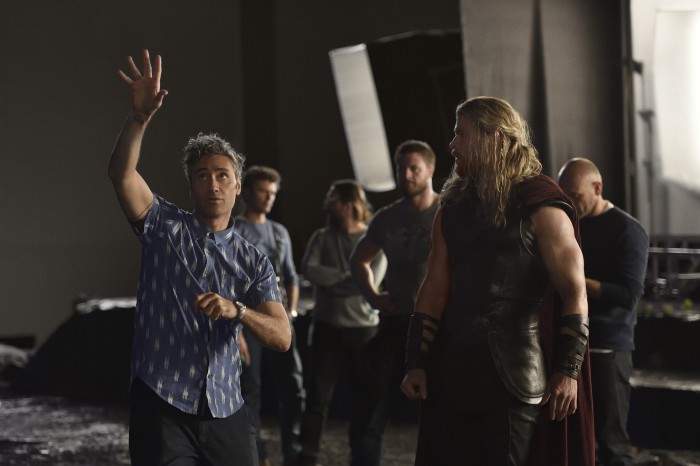 This movie feels like a Taika Waititi movie as much as the Guardians movies feel like James Gunn films.  You guys get a lot of flack. People like to think that evil corporate Disney is just hiring puppeteers to bring their vision to light.  But I feel like you guys are doing a pretty good job of having directors with distinct visions and collaborating on a film that is both distinctly Marvel and also their own.  How are you able to do that?Feige: Well you hire people that are really good.  And that have visions that are close enough to what you want to do. That they can take that and then make it their own. So both be true to what, to where you want to take a film and yet take it in a direction and achieve that idea in a way that you never could have alone.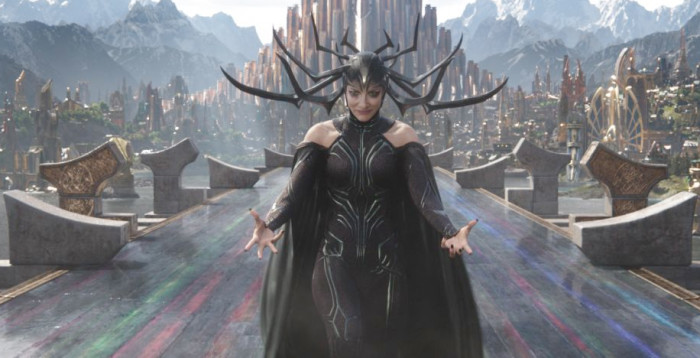 I always like hearing about the early development of stuff and where it's like blue sky ideas and it changes and evolves. How did the vision for this movie evolve?Feige: Blue sky ideas always started on this film with Hela. We wanted to make Hela the villain.  Hela was almost the villain in Thor 2. It didn't happen for various reasons. And thank God it didn't because now we have Cate Blanchett and Taika doing it.
Mr. Hemsworth was very vocal in a fun but serious way when he would say to me, mate, Captain America's getting Nick Fury, Black Widow.  Oh yes, we're doing the Winter Soldier. It's a thing. And in the next Captain America movie, mate, he's getting Iron Man and all the other Avengers? What? Who am I, what, who am I getting? Oh well, we figure out the story, and those discussions did lead us to go, he's not wrong, but who can we bring into this world? Who would be fun to bring into this world? Who would make sense to bring into this world? Who's in space?
We don't know where that Quinjet was going at the end of Ultron. Maybe it was going into space. And then suddenly bing, bing, Planet Hulk. That gladiator image. That's amazing. We could do that. We could do that as part of a Thor movie. And then bing, bing, but hang on, the fun fish out of water between what would Bruce Banner do if he was on another planet? So you have that gladiator battle [where they're] fighting each other, but then you have them running around this alien planet and we've talked in the past about it being a buddy road trip thing.
And that was when I picked up the phone and said, we have an idea, Chris. And he loved it. Had a meeting with Ruffalo, which he's talked about over the last couple days. And it all started to come together. And then Taika came about as Brad Winderbaum, our the Marvel executive producer was meeting with filmmakers and had some good meetings with Taika. He came in, met with me, was very impressive.  And we mentioned to Chris some of the names we were talking about. We mentioned Taika and he was like "he's my favorite filmmaker." I had no idea that he even knew who he was. And it all started to come together.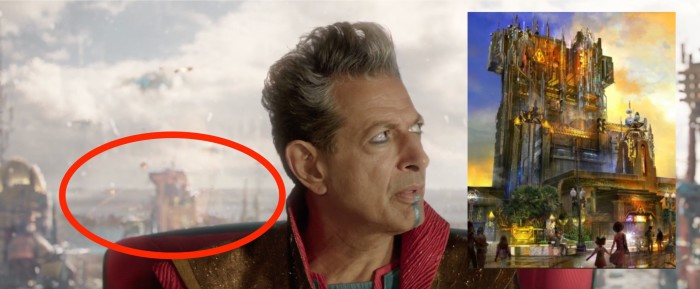 I've got ask you a theme park question.  The Grandmaster is the brother of the Collector.  We don't really see that in the movie.Kevin: You've seen the painting in the lobby of Mission: Breakout...Yeah, I've seen the painting in the lobby of the ride [at Disneyland]. And that building looks like a building from that world.  Some people have kind of spotted it in the background in trailers. So is the Collector's Museum from Disney California Adventure part of Sakaar?  That has been transported to our world?Kevin: I wouldn't say it's part of Sakaar. I would say it was, as the story of the attraction is, one of the Collector's sort of inventory buildings or ships that have traveled around and is now on Earth. Did it ever spend time on Sakaar? I don't know for sure, but it would make sense. Could have. Visiting his brother. Maybe that's where they played that game depicted in the painting.
***
Thor: Ragnarok opens on November 3, 2017.