'The Post' First Look: Tom Hanks And Meryl Streep Star In Steven Spielberg's Next Movie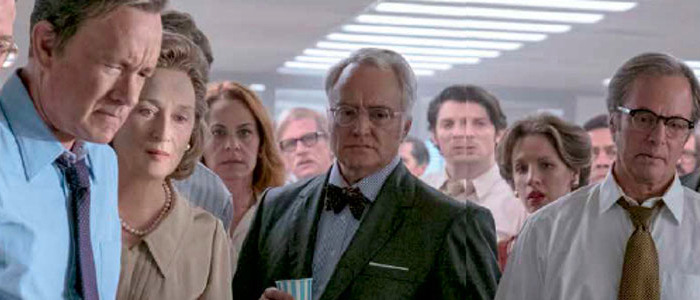 There's a new Steven Spielberg film due out before 2017 comes to a close and we haven't had an official look at it. Until now. While we await an inevitable trailer for Spielberg's new film The Post, a new image has appeared online, giving us our first glimpse at the historical drama that stars Tom Hanks, Meryl Streep and one heck of a supporting cast.
2017 might be drawing to a close, but before it ends, we're going to be treated to a potentially great new film from Steven Spielberg. The Post focuses on the staff of The Washington Post and what lead them to publish The Pentagon Papers.
The Pentagon Papers were a serious of internal Department of Defense documents focused on the Vietnam War, which revealed that the U.S. had secretly enlarged its actions in Vietnam, bombing the nearby Cambodia and Laos, as well as conducting coastal raids on North Vietnam, none of which were reported in the mainstream media at the time. The papers were leaked to the press in 1971 by military analyst Daniel Ellsberg.
While The Post is due out in December, we have yet to receive a proper look at the film. But now, Fotograms (via The Playlist) has published the first official image of The Post, and it looks appropriately' 70s-y. Have a look: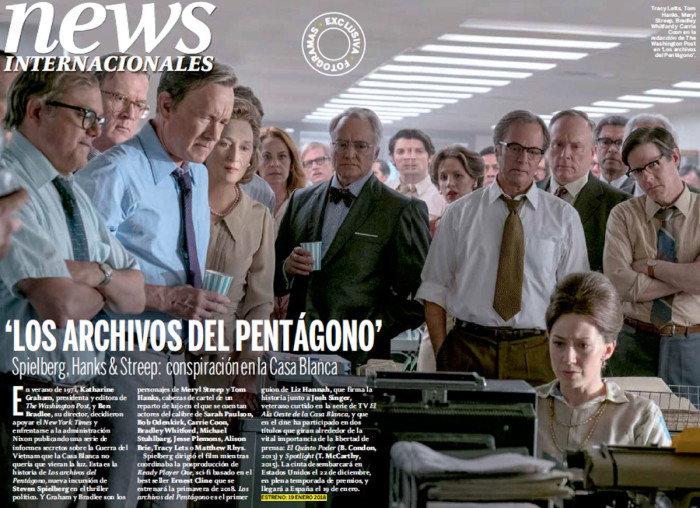 Spielberg has assembled a killer cast for his film. In addition to the leads  – Tom Hanks as Washington Post executive editor Ben Bradlee and Meryl Streep as Kay Gram, the Post's publisher – the cast includes Alison Brie, Carrie Coon, Bruce Greenwood, Tracy Letts, Bob Odenkirk, David Cross, Sarah Paulson, Jesse Plemons, Michael Stuhlbarg, Bradley Whitford, Pat Healy, and Zach Woods as Daniel Ellsberg.
While set in the 70s, The Post's themes, of the media reporting on stories the powers-that-be in the government would rather they not, is incredibly relevant to modern times. Susan Lacy, director of the great new documentary Spielberg, said this modern-day relevance is key to why Spielberg made the film:
"[I]t's the reason he is making [the film], I mean it is a true story and a historic story, but the reason he chose to make it now is because he feels like it is a message that needs to be out there. I don't want to speak for him, but I think that's why he is clearly making this film now."
The Post opens on December 22, 2017. I imagine we'll be getting a trailer very soon.
Update: Here's a clearer text-free version of the image.