Disney World Giving The Twilight Zone Tower Of Terror A Hideous Transformation For Christmas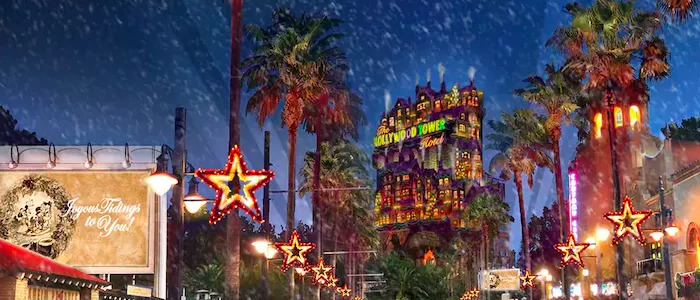 Disney, can you please leave the Twilight Zone Tower of Terror alone? What did it ever do to you? Just in time for the holiday season, Walt Disney World will turn the Tower of Terror into a brightly colored eyesore  called the "Hollywood Toy Hotel."
The Twilight Zone Tower of Terror is a spooktacular ride inspired, in part, by Rod Serling's The Twilight Zone, that takes crowds into the haunted Hollywood Tower Hotel. Once inside, riders board a haunted elevator and proceed to get the creeps before getting thrilled. It's a lot of fun, and it even inspired a movie starring Steve Guttenberg! Talk about prestige!
But Disney must have a grudge against the ride, because they just can't leave the Tower of Terror alone. Recently, Disney California Adventure Park turned their Tower of Terror into the Guardians of the Galaxy: Mission BREAKOUT ride, which transformed the spooky art deco look of the Tower of Terror into a futuristic, and frankly kind of hideous structure to tie-into the Guardians of the Galaxy films.
Now, Walt Disney World is transforming their tower as well, albeit only for a brief period of time. At Disney's Hollywood Studios, in the Walt Disney World Resort, a new light show dubbed Sunset Seasons Greetings will run from November 9 through December 31. There, the Tower of Terror will be transformed into a day-glow monolith known as the "Hollywood Toy Hotel." Take a look at this thing: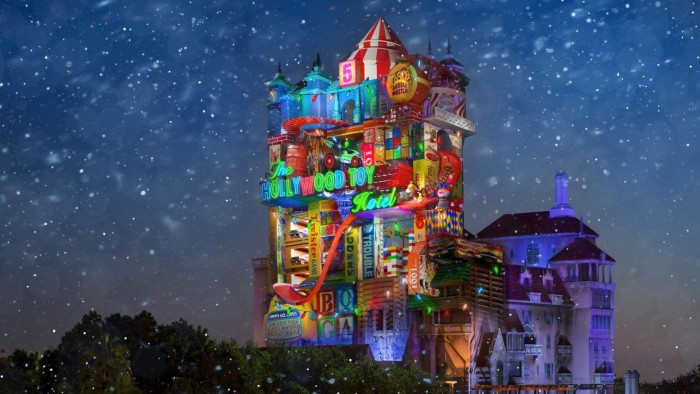 The light show will tell a story with moving billboards featuring Disney characters and the Tower of Terror will "bring to life the characters' stories" (via The Kingdom Insider). The Disney site also lists the following:
Mickey and Minnie reminiscing about a hometown Christmas as the scene shifts into a romanticized, Norman Rockwell-inspired town—starting in black and white before slowly changing into color.
The Toy Story characters guessing which new toys are coming this Christmas as the scene becomes covered in holiday wrapping paper.
The Swedish Chef from The Muppets babbling as only he can while the scene turns into giant gingerbread houses.
And finally, Olaf pining over his holiday wish as iconic music plays and the scene freezes over into a Frozen winter wonderland—complete with dancing Aurora Borealis lights and projected
falling snow.
Look, it all sounds rather charming and magical, and I'm sure folks will love it. But gosh, I wish they'd leave the Tower of Terror alone and just let stand in all its spooky glory.