'Flashpoint' Is Apparently Dependent On The Success Of 'Justice League'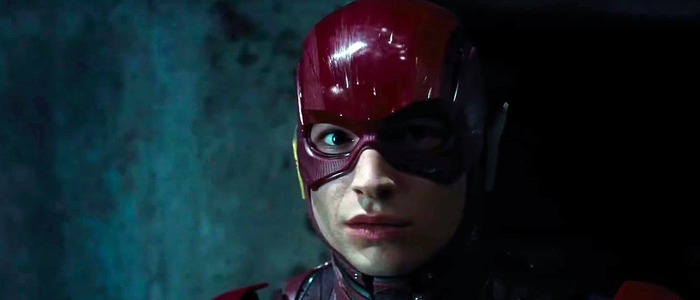 The DCEU has hit a few speed bumps on its journey to forge a cinematic universe. The DC superhero film saga finally seemed to stabilize with Wonder Woman, and now Justice League hopes to keep it alive. The future of DC's superheroes, however, is tied directly into Justice League's success.
Case in point: some news making the rounds suggests that Flashpoint, the standalone movie focused on Ezra Miller's The Flash, will live or die based on how well Justice League performs. While this news may disappoint some, it shows a wise sense of caution on the part of Warner Bros., who may have learned from previous mistakes that a more organic cinematic universe is more rewarding.
The standalone Flash movie, recently retitled Flashpoint, has stumbled a bit during its sprint towards production. Dope director Rick Famuyiwa was originally hired to helm the film focused on Ezra Miller's speedster, but Famuyiwa left the production due to creative differences. Since his departure, Chris Lord and Phil Miller and Robert Zemeckis have been among the names floated as possible directors, but no deal has been finalized. So what's going on with Flashpoint? Right now: nothing.
On a recent episode of Meet the Movie Press, Variety reporter Justin Kroll (a trusted source and not just some blogger grasping at straws) revealed that Warner Bros. is currently waiting to see how Justice League performs both critically and financially before moving ahead with multiple superhero movies a year. This will no doubt disappoint Flash fans who want to see the character get his own big screen adventure, but it's actually a smart move. One of the main criticisms lobbied against Warner Bros. and the DCEU has been how they've been rushing into the cinematic universe game without a clear idea of what they wanted to achieve. Whatever the Marvel Cinematic Universe's flaws (and there are a few), you can at least say they know exactly what they want their cinematic universe to be. DCEU? Not so much.
Waiting to see how Justice League plays out with fans and critics before plowing ahead with multiple superhero films is wise. And this isn't to say DC is sitting on their hands. James Wan just recently wrapped shooting on Aquaman, Wonder Woman 2 is definitely a go, and things seem to be moving along smoothly with Shazam!, which just recently announced its lead casting. How Justice League performs critically remains to be seen, but box office wise, the film is already tracking toward a high $110-$120 million, which suggests that pre-production on Flashpoint will probably be picking up sooner rather than later.