'The X-Files' Season 11 Teaser Trusts No One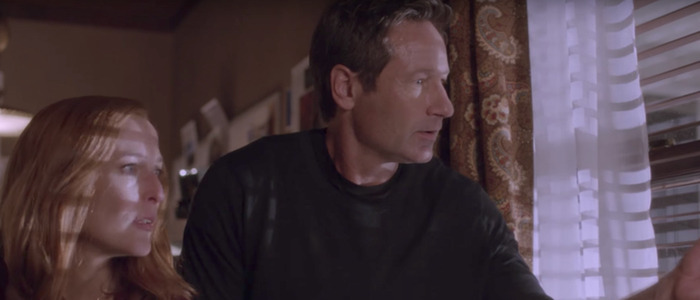 Last year, The X-Files returned for a highly buzzed-about, but not altogether successful revival with season 10. Agents Mulder (David Duchovny) and Scully (Gillian Anderson) were once again thrown head-first into a series of strange paranormal cases and wild conspiracies. At one point, Mulder took magic mushrooms and later, Scully's head morphed into an alien. It was...not great.
Nonetheless, FOX went ahead and gave The X-Files yet another season, and a new teaser reveals that Mulder and Scully are still dealing with trust issues.
While The X-Files season 10 left a lot to be desired, it was still a treat to see Agents Mulder and Scully back on the conspiracy beat. Hopefully, season 11 will rectify the mistakes season 10 made and give Mulder and Scully some better cases to explore. The season 10 finale involved Mulder overcome with an alien virus and Scully suddenly spotting a UFO hovering over a traffic-jammed bridge. A new season 11 teaser trailer reveals the new season will pick up right where the previous one left off, and also teases the paranoia to come.
The X-Files Season 11 Teaser
This being a teaser, there's not a whole lot of information. But we do see Mitch Pileggi's Assistant Director Walter Skinner return, with Scully telling Skinner, "We need your help, even if we don't trust you!" The rest of the teaser is a quick montage of footage, including scenes involving aliens and Mulder looking very, very sleepy. Take a nap, Mulder!
The X-Files season 11 will have a little more room to breathe, running for 10 episodes as opposed to season 10's 6 episode run. Hopefully, this gives showrunner Chris Carter plenty of time to flesh things out and not resort to the same sort of lackluster episodes that plagued the previous season. Either way, this will likely be the last X-Files TV season, and if it's not, it probably should be, as co-star Gillian Anderson has previously said season of season 11, "I think this will be it for me."
While the series could continue without Anderson's Scully, that would be a very bad move. Scully is the heart and soul of the series, and to remove her, or replace her with some other agent, just wouldn't be the same. Even during a brief period where David Duchovny left the show completely, Anderson's Scully remained and kept things afloat. Season 9 of the show put Scull in the margins and Special Agents Doggett and Reyes became the leads, much to everyone's disappointment, and the show was inevitably cancelled. In other words, no Scully, no X-Files.
The X-Files season 11 will air on FOX sometime in 2018.