'The Kingkiller Chronicle' Lands At Showtime – Is This Their 'Game Of Thrones'?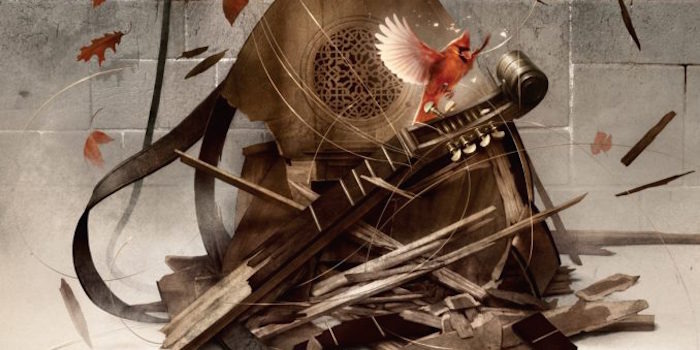 It's been nearly a year since we heard that Hamilton creator Lin-Manuel Miranda was involved with The Kingkiller Chronicle, a fantasy book series written by author Patrick Rothfuss. Info has been scarce, but the floodgates have now opened: Showtime has officially scooped up a television adaptation, which Miranda will executive produce and for which he'll compose music. Plus, a showrunner has been announced. Get all the latest news about The Kingkiller Chronicle Showtime series below.
According to a press release, John Rogers (Leverage, The Player) will serve as the showrunner for the series, which is being referred to as "a subversive origin story of legendary proportions set a generation before the events of the trilogy's first novel, The Name of the Wind." Here's more:
Set in the world of the wildly popular fantasy series by Rothfuss, THE KINGKILLER CHRONICLE will follow a pair of wandering performers on their adventures through the unique and startling world of Temerant, immersing audiences in a universe of unexpected heroes, mystical places, and terrifying dark forces. It is a world that has delighted readers and critics alike, selling more than 10 million copies in 35 languages across the globe.
The book series tells the story of Kvothe, a musician and adventurer who is orphaned at a young age and eventually learns the arts of magic, survival, acting, swordsmanship, and more. I haven't read the books, but since this is set a generation before the events of the first novel, I imagine that character won't factor in very much, if at all. But this line from the press release reminds me of news we heard about years ago:
The Kingkiller Chronicle is a collaborative franchise from Lionsgate that includes a television series adaptation, a major feature film and interactive games all being developed concurrently.
So maybe Kvothe's story is being held for Lionsgate's movie. And video games set in that world seem to hold a ton of potential.
In any case: a television show set in the world of a popular fantasy book series? Sounds an awful lot like Showtime is making a play for their own version of Game of Thrones, and with that show on its way out at HBO, I'm sure Showtime is hoping to use Miranda's well-respected name to draw some of the Thrones audience's attention their way.
Showtime made a fascinating creative decision by allowing David Lynch the freedom to make 18 hours of Twin Peaks for them, but that didn't translate to high viewer numbers. And sure, they have a few shows like Homeland and Shameless that I occasionally see people still talk about, but let's face it: they could use a mega-hit, and The Kingkiller Chronicle might be exactly what they're looking for. The fact that they've acquired this property has me excited because we at least know there's a baseline level of quality it'll achieve, instead of it ending up on a network like Syfy (who has done some great stuff, but is far more hit-or-miss overall).
"Showtime has always championed bold storytelling," said Lin-Manuel Miranda. "Pat Rothruss' Kingkiller series is some of the most exciting storytelling I have ever read. I could not be more thrilled to help bring the sights and sounds of his wondrous world of Temerant to the screen."
Rogers, Miranda, Rothfuss, Robert Lawrence (Clueless, Die Hard with a Vengeance), and Jennifer Court (The Player) will produce the show, which doesn't have a release date yet. We'll be sure to keep you posted with more as soon as we hear it.