'Justice League' Soundtrack: Listen To A Track From Danny Elfman's Score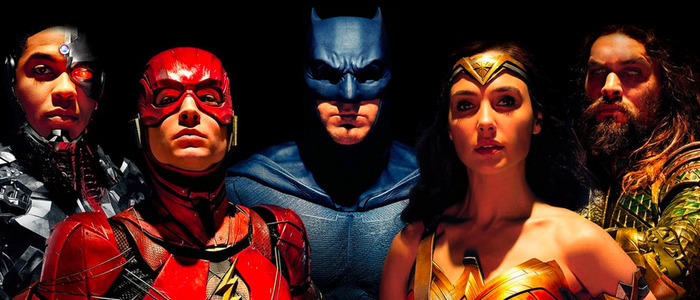 Danny Elfman created some of the most iconic superhero soundtracks of all time when he worked with Tim Burton on Batman and Batman Returns, as well as Sam Raimi's Spider-Man. Now Elfman is back on the superhero beat with the score for the highly-anticipated Justice League, and you can now listen to a full pulse-pounding track from Danny Elfman's Justice League soundtrack.Man of Steel had the music of Hans Zimmer. Batman v. Superman added Junkie XL to the mix. Rupert Gregson-Williams scored Wonder Woman. Now Danny Elfman joins the DCEU with the score for Justice League. Elfman is, of course, no stranger to super soundtracks. While Batman may be Elfman's most iconic superhero score, he also provided music for Spider-Man, Spider-Man 2, Hellboy II: The Golden Army, Avengers: Age of Ultron, and everyone's favorite superhero movie, Tulip Fever.
The first track from Elfman's score just hit the web and you can give it a listen below.
Danny Elfman Justice League score
Titled "Hero's Theme," the music is bombastic and constantly churning, and, to be honest...kind of disappointing. Elfman has created some of the most memorable film music for almost 30 years now, but what's here is a tad uninspired. It sounds like the type of stock music that gets retrofitted to action movie trailers. Perhaps the rest of Elfman's score will be a bit more memorable. The musician has hinted that he'd be using elements of John Williams' classic Superman theme somewhere in the score as well, saying:
"There are a few little fan moments. I instated a moment of the Wonder Woman theme that Hans Zimmer did for Batman Vs. Superman, but I also had two minutes where I had the pleasure of saying, "Let's do John Williams' Superman...And that for me was heaven, because now I have a melody to twist, and I'm using it in an actually very dark way, in a dark moment. It's the kind of thing that some fans will notice. Some won't. It's a moment where we're really not sure whose side he's on."
Antonius Tom Holkenborg, AKA Junkie XL, was originally supposed to score Justice League, but Mr. XL departed the project and was replaced with Elfman around the time Joss Whedon was brought in to handle reshoots. He said of the switch:
"As my mentor Hans Zimmer told me — you haven't made it in Hollywood as a composer until you get replaced on a project. So I guess [I] finally graduated this week. It pains me to leave the project, but a big thanks to Zack for asking me to part of his vision, and I wish Danny, Joss and Warner Bros all the best with Justice League."
The full track list for the Justice League soundtrack has also been released and you can see it below. But be warned, some of the track titles may constitute SPOILERS, so if you're one of those folk who avoids anything that could even slightly be considered a spoiler, turn back now!
"Everybody Knows" — Sigrid
The Justice League Theme — Logos
Hero's Theme
Batman on the Roof
Enter Cyborg
Wonder Woman Rescue
Hippolyta's Arrow
The Story of Steppenwolf
The Amazon Mother Box
Cyborg Meets Diana
Aquaman in Atlantis
Then There Were Three
The Tunnel Fight
The World Needs Superman
Spark of The Flash
Friends and Foes
Justice League United
Home
Bruce and Diana
The Final Battle
A New Hope
Anti-Hero's Theme
"Come Together" — Gary Clark Jr. and Junkie XL
"Icky Thump" — The White Stripes
The Tunnel Fight (Full Length Bonus Track)
The Final Battle (Full Length Bonus Track)
Mother Russia (Bonus Track)
The Justice League soundtrack will be released digitally on November 10, with a two-disc edition set for release on December 8 and a vinyl release on February 9, 2018. Justice League hits theaters November 17, 2017.