'Mr. Robot' Review: The Tyrell-Centric 'Legacy' Fills Gaps, But Spins The Wheels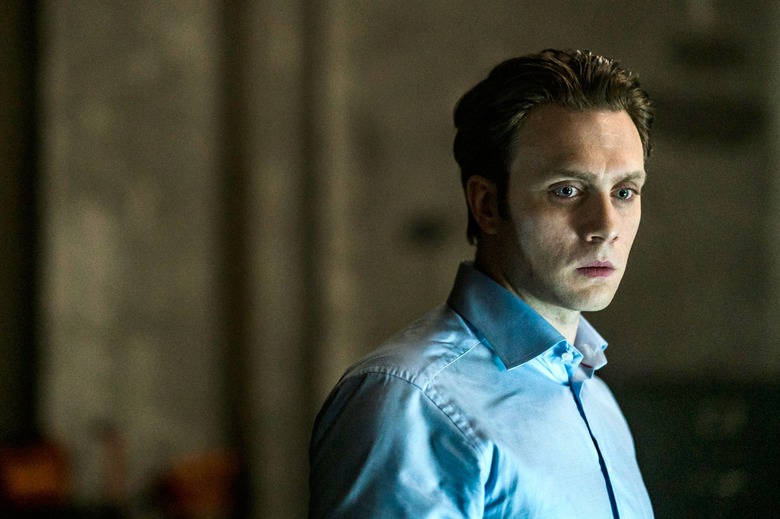 (We're going to kickstart our weekly discussion of USA's Mr. Robot season 3 by answering one simple question: who had the biggest mental breakdown in this week's episode?)
What happened to Tyrell? It was a question that we were clamoring for the answer to throughout the last season...but then kind of shrugged off come season 3. With Mr. Robot's recent episodes determined to follow through on a soft "reset," "Legacy" seems like an appropriate detour, but ends up feeling like filler.
This Week's Breakdown: Tyrell Wellick
Tyrell is both the winner and loser of this episode. While he gets the privilege of being the first character outside of Elliot (Rami Malek) to get an entire episode dedicated to him, "Legacy" unearths all the wrinkles and cracks in this once-pristine businessman. It gives Martin Wallstrom much more to do outside of his tightly wound American Psycho impressions, but saps the thin air of mystery around Tyrell. He is exposed as a lunatic with an unhealthy, inexplicable obsession with Elliot — which the episode attempts to trace back to his uneasy childhood and relationship with his father. Wallstrom gets to deliver lines like "I have to look my best for [Elliot]" with a blank-eyed sincerity while convincing us that he's deserving of our sympathy through his episode-long unraveling. It would be easier to do if the small moments of humanity weren't sprinkled within grandiose homages to Pulp Fiction (Mr. Robot's gun jamming in the opening scene) or The Master (Wallace Shawn's kinetic interrogation scene), in which Tyrell swings from a wild-eyed true believer to weak-willed coward.
But Tyrell Wellick isn't a compelling enough subject for Mr. Robot's answer to Lost's "The Other 48 Hours." Placed in a safe house by Bobby Cannavale's Irving, Wellick bides his time chopping wood, watching over his wife and baby from afar, and working on the ever-looming Phase 2 in a montage set to Gordon Lightfoot's "If You Could Read My Mind." Like the rest of the episode the montage is well-crafted, but fails to justify why we're essentially undergoing an hour-long recap of the events of season 2 from another perspective. Even the alarming sight of a disheveled Tyrell rendered nearly unrecognizable by bushy facial hair (and looking oddly like Jared Leto) isn't enough to validate the mystery of this episode's existence and placement in this season.  The answer to "what happened to Tyrell" came 10 episodes too late.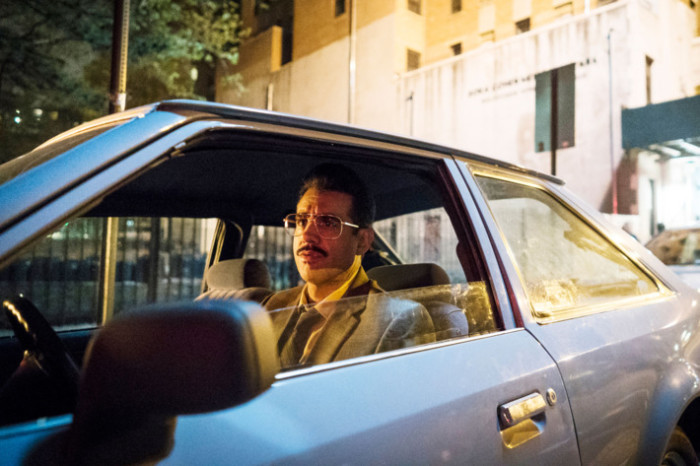 Irving, At Your Service
"You know the drill, let me monologue a little first — and hold off on showing the guns," Irving says in his introductory scene outside of the fsociety headquarters where Mr. Robot and Tyrell performed the E Corp hack.
Thank goodness for Bobby Cannavale, the saving grace of this episode. Just like his electric introduction in the first episode of this season, Cannavale's languid, slick Irving is a grounding force for Tyrell's unpredictable mental state. In the hands of another actor, Irving's placement in the events of season 2 would seem shoehorned — his interactions with Joey Badass' Leon and Cisco (Michael Drayer) are all convenient expositional placeholders — but Irving is so out-of-step with the show's dour, self-serious characters (he's writing a novel called The Beach Towel!) that his somewhat clumsy scenes are welcome insertions.
Mr. Robot is replete with characters who carry their aching vulnerability on their sleeves, and it seemed like Irving would join their ranks when he compassionately tells a bittersweet story about his sons to Tyrell — shaken from his near-capture after fleeing the safe house in response to news of his wife's divorce. Irving has loving sons and a wife who he nearly lost, but was able to win them back. "Someday you'll have that too," he gently promises Tyrell, whose resolve is strengthened to continue Phase 2 — this time with Elliot by his side. Cut to Irving's Service Center, where one of Irving's car salesmen who had lost a customer noticed Irving's #1 Dad thermos and points out that he doesn't have kids. "The point is to make them believe," Irving tells him.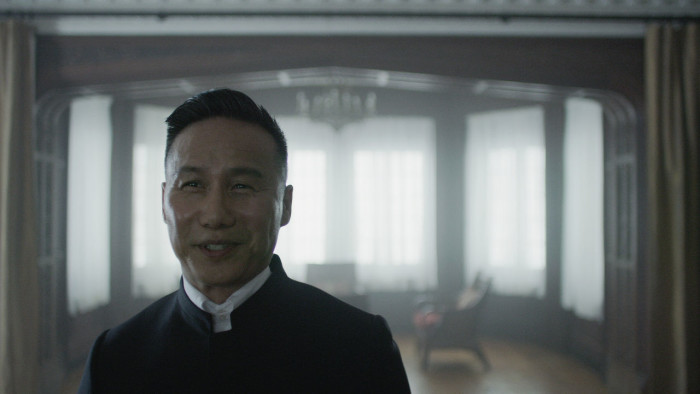 Dance, Puppet
As much as he has the upper hand, Irving is just a willing pawn to BD Wong's Whiterose, who is turning out to be quite the master manipulator. "Legacy" fills in the gaps of season 2 from the other side of the glass — Whiterose engineers the placement of Leon in Elliot's prison, hires a PR stooge to smooth over Tyrell Wellick's public image, brings fsociety's work under the Dark Army's protection, and is revealed to have a mole within the FBI itself: Dom's partner Santiago, who later prevents Tyrell's capture by an unwitting cop.
"If you pull the right strings, a puppet will dance any way you desire," Whiterose coolly tells his henchmen, as a Donald Trump rally airs on the TV in front of him.
Like I mentioned before, Mr. Robot occupies a curious space in the current political landscape. In the past few episodes, the series has slyly addressed the uncomfortable culpability of Elliot's anarchic views that mirror the frustrated citizens who helped bring about today's divisive climate. But Mr. Robot still felt somewhat removed from reality — Elliot brought down a global economy after all. The insertion of the Trump clip, and the revelation that Whiterose wants to back his campaign is somewhat clunky, but is a transparent move on the show's part. Mr. Robot is blending its fantasy with our reality.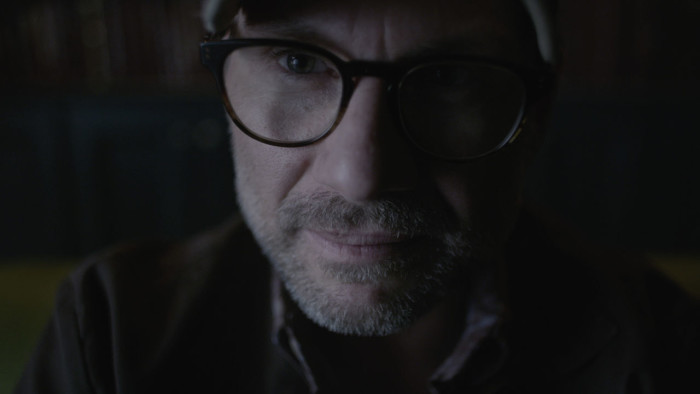 The Elliot Equation
Like Tyrell's absence throughout season 2, now Elliot is the missing presence throughout the episode. But he never disappears from our minds — you can thank Tyrell's obsessive demands to be reunited with him for that.
Tyrell's infatuation with Elliot fascinates me. It's a completely new element that was introduced in this episode, yet quickly becomes an essential part of Tyrell's character. "We share a bond," Tyrell raves to an aghast Mr. Robot, who reluctantly enters into a partnership with Tyrell with the hopes that the former E Corp businessman's delusions will prevent Elliot from interfering with his plans. This thread of loving, ardent obsession continues throughout the episode, with Tyrell petulantly demanding for Elliot's return, and becoming childlike in his excitement for their reunion.
But his illusions are shattered by a single gunshot — triggered by his own hands. "It's almost as if he were a different person," Tyrell sobs to a cold Angela, who sits over Elliot as doctors operate on him in the warehouse. Angela tells Tyrell the truth of Elliot's condition, and the episode ends on Elliot awaking, slowly turning his gaze from Angela to Tyrell, his visage flickering into Christian Slater's Mr. Robot before cutting to black. It's the culmination of the third season's newfound effect of switching between Malek's Elliot and Slater's Mr. Robot — which have been part of the show's ever so slow, ever so subtle withdrawal from Elliot's POV.
Mr. Robot has always been so entrenched in Elliot's perspective, that it's a shock that "Legacy"'s sudden shift to Tyrell Wellick does not feel more jarring. Everything about the series, from its wide, empty frames, the buzzing score, and toneless monologues — all have been presented in Elliot's very specific perspective. There's a reason that the domineering E Corp always flickered into view as "Evil Corp." But the subliminal messaging from the first season seems to be leaking out from within the series itself. Another interesting thing of note: the recurring commercials set in the world of Mr. Robot advertising E-coin or nodding to the city's power outage, nestled between real commercials. It's almost like the show is turning us into an active participant in the story, no longer an observer comfily settled in Elliot's mind. We "knew," as Elliot accused us in the last episode. We're guilty.