More 'Veronica Mars' Is "Going To Happen," Says Kristen Bell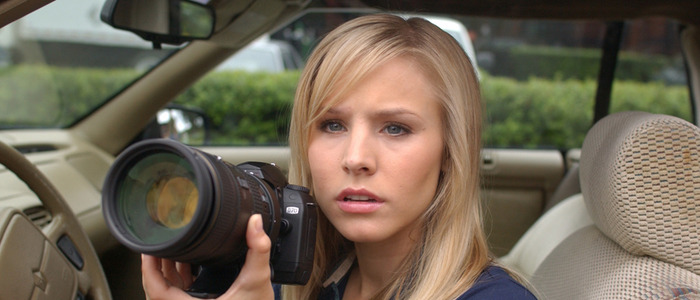 Veronica Mars, the cult teen mystery series that ran for 3 seasons on UPN and the CW and inspired a follow-up film, may not be over and done with yet. In a recent chat, stars Kristen Bell and Ryan Hansen both confirmed they're definitely down for even more Mars, and are willing to make it happen, no matter what.
In the series Veronica Mars, former popular high school student Veronica Mars (Kristen Bell) becomes a private investigator in her Southern California town of Neptune after her best friend Lilly Kane is murdered. From 2004 to 2007, Veronica Mars built up a cult fanbase that stayed loyal with the show for three seasons. Though Veronica Mars had an avid fan following, the series' ratings weren't enough to keep it from being cancelled. But all was not lost: a Kickstarter project helped revive things into a feature film, which hit theaters in 2014.
If you thought the 2014 Veronica Mars movie was the last you would see of Kristen Bell's young private eye, guess again. Per The Verge, Ryan Hansen, who played supporting character Dick Casablancas on the series, confirmed that he was definitely down for more Veronica Mars. Hansen was promoting his YouTube Red series Ryan Hansen Solves Crimes on Television via a chat with Indiewire, and took the time during the conversation to call up Veronica Mars herself, Kristen Bell, so she could too could confirm she was very interested in continuing the series in some way. "We are willing to put the effort in," Bell said on the call. "I mean, if I have to do it as Murder She Wrote at 80, we're going to do it. It's going to happen."
Bell also added that the new incarnation of Veronica Mars would likely not be a movie and would definitely not go the Kickstarter crowd-funding route again:
"[Series creator] Rob [Thomas] and I email about it every couple of months or so...And personally I think, and I think Rob probably agrees, is that (a) we'll never make the fans pay for it again, and (b) the format works better as an episodic [series]."
Of course, saying you're down to do something and actually going ahead and doing it are two very different things, but fans of the series hungry for more can take heart in the fact that the folks behind the scenes are very keen to do more. Just where the possible new incarnation of Veronica Mars might end up remains a mystery, but I hear Netflix is always looking for more original programming.