John Carpenter Coming Out Of Retirement For 'Tales For A Halloween Night' TV Pilot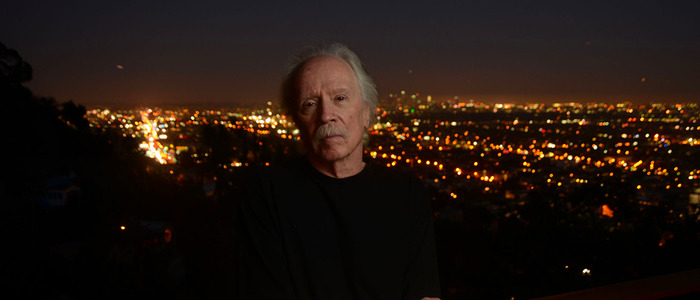 Horror fans, rejoice! John Carpenter, the filmmaker behind iconic classics like Halloween, Big Trouble in Little China and Escape From New York, is coming out of retirement to direct again. The filmmaker hasn't directed a narrative feature in seven years, but he'll get back in the director's chair for the pilot episode of the anthology series Tales for a Halloween Night.
While John Carpenter has remained in the public eye, releasing three albums of his trademark synth-heavy music and happily collecting checks for lackluster remakes of his classic films, the In The Mouth of Madness filmmaker hasn't directed a feature since 2010's The Ward. Recently, Carpenter helmed a music video for a track off his new album Anthology: Movie Themes 1974-1998, and perhaps that whet Carpenter's appetite for more. Rue Morgue reports that Carpenter will helm the pilot episode of the anthology series Tales for a Halloween Night for Syfy.
In a new interview, Carpenter's producing partner and wife Sandy King confirms that the filmmaker will helm "at least" the pilot episode and then help bring on more great horror directors for the horror anthology series:
"He would direct the pilot, at least. And then we'll hopefully bring on some great horror directors—and just great directors—so that it'll be a high-end show. We want anything that has our brand associated with it to be a satisfying experience for readers, watchers, whatever we're doing."
The series will be an adaptation of Carpenter's comic book series of the same name, first published in 2015. Here's the official synopsis of the comic series:
From John Carpenter, the man who brought you the cult classic horror film Halloween and all of the scares beyond comes the ultimate graphic novel anthology of tales to warm your toes by on a dark and stormy October night! Carpenter brings together storytellers from the worlds of movies, novels and comics for a collection of tales featuring graveyards, sunken ships, creepy crawlers and ghosts to haunt your dreams at night!
"I'm excited to partner with Universal Cable Productions on this venture into television," Carpenter said of the deal to bring Tales For a Halloween Night to Syfy. "On one hand it's a return home to Universal where I have fond memories, and on the other it's a step into the future with great new creative partners in programming."
Carpenter's exile from filmmaking was always self-imposed. "I don't miss working," he said in a recent interview with The Guardian. "Working is hard because you have to get up in the morning." Luckily for fans of Carpenter's work, he's decided to give getting up in the morning another shot. It might be a while before we see Syfy's Tales for a Halloween Night, so in the meantime why not watch the music video for Christine Carpenter recently helmed.