The Water Cooler: 'Breaking Bad 101,' Madden On The PlayStation 4, And Getting Into The Halloween Spirit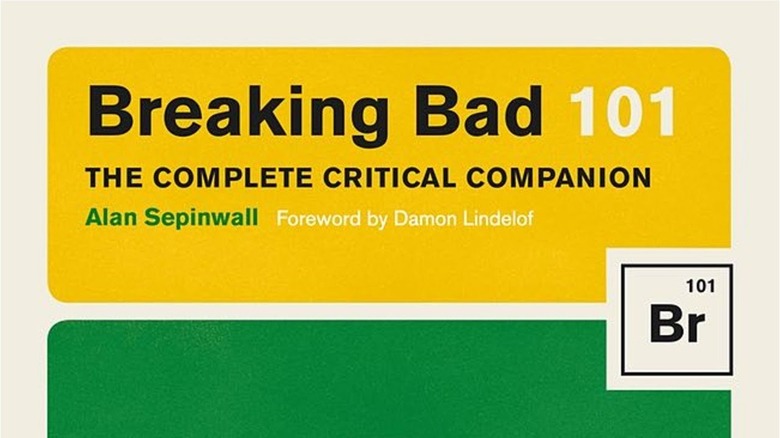 Welcome to The Water Cooler, a weekly feature where the /Film staff is free to go off-topic and talk about everything except the movies and TV shows they normally write about. In this edition: Jacob Hall reads a new book about Breaking Bad, Ben Pearson dives into next-generation sports games, Peter Sciretta plays an incredible board game, Hoai-Tran Bui checks out the His Dark Materials prequel, and Chris Evangelista gets into the melancholy Halloween spirit.
Jacob Hall Has Been Reading Alan Sepinwall's Breaking Bad 101
It has been four years since Breaking Bad ended with one of the greatest final seasons in the history of American television. That also means it has been four years since I've read a Breaking Bad episode review written by Alan Sepinwall. When it comes to writing about TV, no one does it better than Sepinwall (who now calls Uproxx home) and his new book, Breaking Bad 101, is a reminder that no one writes about Breaking Bad as well as him.
This new book is a bound version of Sepinwall's original reviews, updated and revised to reflect his changing opinions, new revelations, and even details from the prequel series, Better Call Saul. If you read his original reviews online, you know what to expect – brisk and insightful examinations of the series, episode-by-episode, with the occasional break for a behind-the-scenes story or an interview excerpt that explains something pressing about the show.
Some of you may be wondering why you should pay for a book that collects articles that are available for free online. Well, in addition to being updated and revised (Sepinwall even completely rewrote his mixed reviews of the first season to reflect how his opinion on the show evolved), the book itself is a beautiful object: hardcover, with great cover art and charming interior art. I especially like how drawings of key objects from certain episodes nail home ideas and concepts in the text. It's a thoughtfully created book, the kind of thing I can see myself pulling off the shelf again and again as I re-watch the series.
I'd also recommend Sepinwall's incredible The Revolution Was Televised and TV: The Book (co-written with Matt Zoller Seitz) if you want more. It's easy to say that television is good right now, but these books go a step further. They are tour guides that explain why it's good.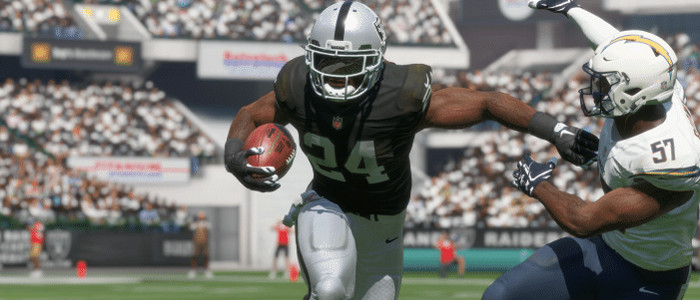 Ben Pearson Has Been Playing Madden on the PlayStation 4
For my birthday last month, my wife surprised me with a PlayStation 4 Pro, an awesome gift I didn't anticipate in the slightest. By and large, I'm lucky enough to say that I don't have a super stressful job (or life, for that matter), but I still find that it's nice to decompress by playing video games. I've been out of the gaming side of things for so long – my last system was a PS3 that I got sometime around 2009 – that I still thought they were making NCAA football games, but apparently they stopped doing that years ago due to rights issues with the players' likenesses. So moving from NCAA 2011 to Madden '18, the game I've been playing for the past month, has been quite the jump.
I won't get into the mechanics of the gameplay itself, but the graphics of the stadiums and the physicality of the players looks incredible and is a major step up from what I was used to with my old system. One thing they haven't quite perfected yet is the eyes: even though they're using motion capture technology for some aspects of the game (Oscar-winning actor Mahershala Ali appears in a sub-game called "Longshot," for example, and you can see him in a performance capture suit during some outtakes), the faces look great but the eyes are still stuck in the uncanny valley. I'm convinced they'll get there eventually, but there's still a lot of work to do before this video game and a real TV broadcast are genuinely indistinguishable.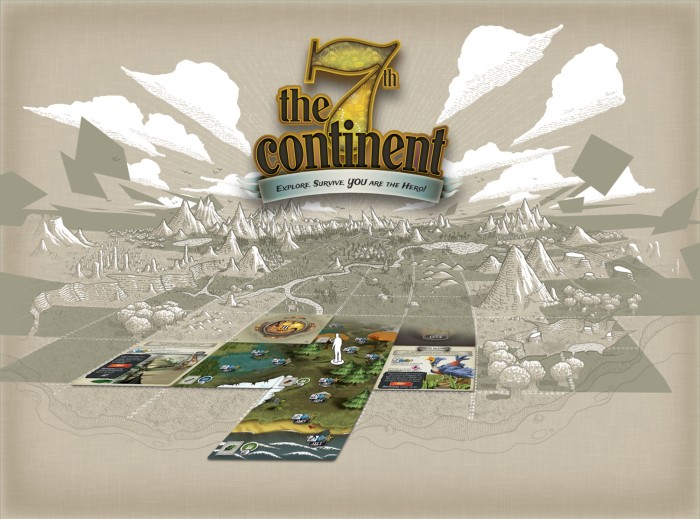 Peter Sciretta Played 7th Continent
Over the last handful of years, I have gotten sucked up in the world of tabletop board games. As we've detailed on the site, board games have evolved far from the simplicity of Monopoly and Life and are currently in a renaissance.  There are a lot of innovations being introduced, making the tabletop space very exciting. A few years back, a game called Risk Legacy launched a whole new genre of board games called Legacy games. These are board games that permanently change over a series of games, providing a story or experience that can only be experienced once.
For years, board games were all about replayability, becoming an heirloom on your families shelf for decades to come. But now board games are following other popular entertainment (movies, tv, video games) in becoming narrative one-time journeys. I don't think Legacy games will ever take over the medium, but they are certainly an exciting way to spend days around the table with your close friends.
The latest board game I've played is called 7th Continent, and while it's technically not a Legacy game as the game itself isn't permanently changed by our actions, the experience is a narrative experience that can only be played once successfully per level. Think of it much like the current trend of escape room in a box games, but in the form of a more in-depth strategic board game experience.
The setting is the early 20th century and you play as famous explorers from history and fiction who have decided to sail back to the newly discovered seventh continent to lift the terrible curse that has struck you since your return from the previous expedition. It's a cooperative "choose-your-own-adventure" exploration board game, that's basically the board game equivalent of an open world video game. You explore parts of this huge continent in each stage, using "every ounce of wit and cunning to survive, crafting tools, weapons, and shelter to ensure your survival."
We spent a whole 8-hour day trying to complete the first curse, which might sound like a long time to be playing one board game, but it was maybe one of the best tabletop experiences of my life. The game captures a lot of things I love about legacy games – you're always opening up new surprises in the form of new cards to form the map of the continent. You never know what you might encounter or find, and trying to piece together the mystery of the curse is also a lot of fun. Sometimes, you will discover hidden surprises on the map that you wouldn't notice unless you looked at the map card really very closely. Other times, you might find yourself walking into a trap or presented with a puzzle to solve. And like some of the best escape rooms, these puzzles can be the most fun part of this game.
But at the core of the game is a really fun mechanism which requires you to get successes for certain challenges. You do this not with a dice roll like you might other games, but with a push your luck pile of cards. You can choose to draw more cards and statistically have a better chance of succeeding, but the pile of cards also acts as your health, and if it's diminished, your life in this game will be short-lived. So the heart of this game is always negotiating how many cards you need to pull, and trying to find ways to refill the deck before it's depleted.
We've only played this first scenario, but I've been told the other curses will send you to other parts of the island, or possibly adventuring in and through territories you've already explored (much like an open world video game). Story events happened in our game that were very specific to the set of explorers we chose to go on this adventure with, and I could see this being a different experience with a whole other set of crew. I'm excited to play more, but I'm finding less and less time to get together with friends to dive into a really time intensive game like this.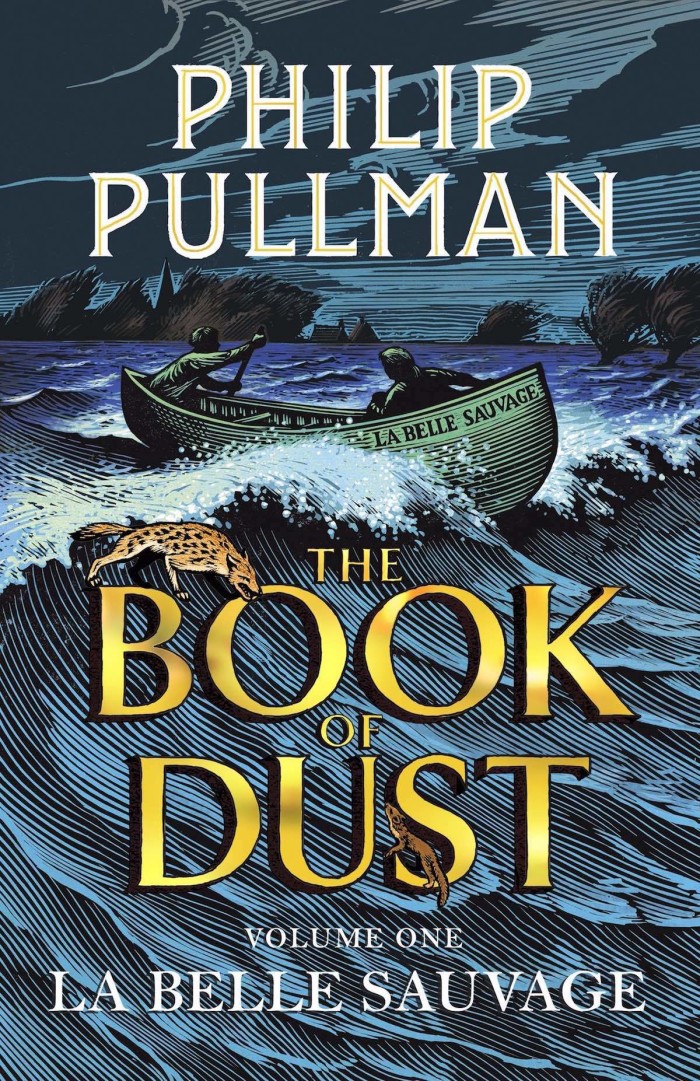 Hoai-Tran Bui is Reading Philip Pullman's New Book The Book of Dust: La Belle Sauvage
I absolutely worshipped Philip Pullman's His Dark Materials trilogy as a kid. I first read the three books, The Golden Compass, The Subtle Knife, and The Amber Spyglass when I was in the fifth grade, but didn't totally get the exploration of human consciousness through a subversive retelling of Milton's Paradise Lost. So I read it again. And again. After a while, it became a yearly tradition for me to reread the His Dark Materials series, finding each time new nuggets of information and details that deepened the story, which initially begins as a simple adventure of a scrappy young girl trying to rescue her friend from a kidnapping. The series goes on to explore the concepts of alternate universes, dark matter, established religion, and original sin — basically, it was a hugely formative book series that turned me into the fake deep mess I am today.
So when I heard that Pullman was writing a follow-up series to his magnum opus, I was anxious. The series ended on a perfectly bittersweet note, and any sequel could risk tainting the legacy of the original (although the movie did that enough). But then I heard that the upcoming new series, called the Book of Dust, would be a semi-prequel and I was intrigued. The world-building in the original Dark Materials trilogy was pretty barebones before it launched into a multiverse-spanning epic. Now we can learn more about daemons, the animal manifestations of the human conscience (or maybe the soul), about Lyra's fantastical world, and the events that led up to her adventures.
I immediately bought the book The Book of Dust: La Belle Sauvage when it was released this past Friday. I've only read the first 20 pages (I'm trying to save it for a very long plane ride later this week), but already it's like being welcomed home.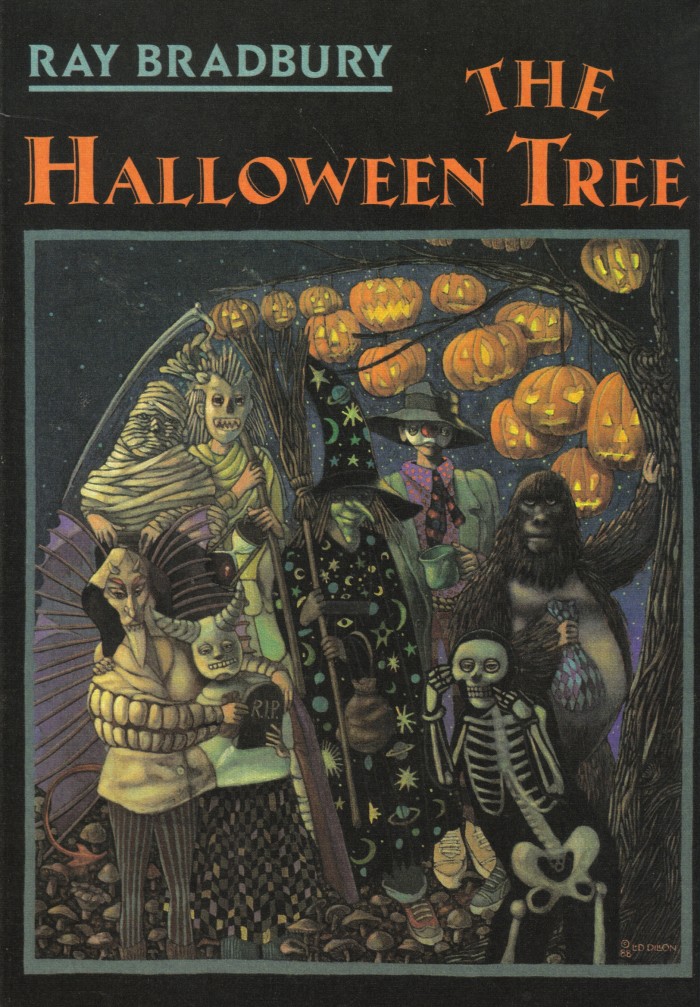 Chris Evangelista Has Been Re-Reading The Halloween Tree and Feeling Bittersweet
Halloween is next week, and while I didn't get to do all the spooky activities I had hoped for this season, I did make time to re-read Ray Bradbury's The Halloween Tree. No other book better encapsulates my ideal concept of Halloween than Bradbury's 1972 tale of a group of friends who go on a wild adventure through the history of the holiday.The Halloween Tree is filled with rustling leaves and chilly autumn winds; it's set in a world where Halloween still feels important and idyllic, with jack-o-lanterns burning on porches and the smell of pies wafting through the air. I didn't grow up in a small town; I grew up in a cramped block of Philadelphia, where concrete and broken glass were prevalent. Yet when I think of the Halloweens of my youth, they're always tinged with the exact type of cinnamon sweet nostalgia that tinges every page of Bradbury's book. The book is about more than just Halloween; it's about confronting death itself, and coming to terms with mortality. But that's what makes Halloween as a season so magical and fascinating; it's a day devoted to death, yet it doesn't wallow in it, or shrink from it in fear. It confronts it head-on, albeit sometimes hidden behind a mask. "Will we ever stop being afraid of nights and death?" asks one character in the book. The reply: "When you reach the stars, boy, yes, and live there forever, all the fears will go, and Death himself will die."I doubt I'll ever experience an idyllic Halloween again. I'm too old now, the ancient age of approaching my mid-thirties. And as the planet warms up, there's very little chance of cool, crisp autumn nights anymore, replaced instead by muggy, foggy awfulness. Yet I'll always have Bradbury's book to transport me back there; back to a time that I'm not even sure existed to begin with. There's a kind of magic in that, I suppose.