New 'Bright' Trailer: Will Smith And Joel Edgerton Will Be Heroes Forever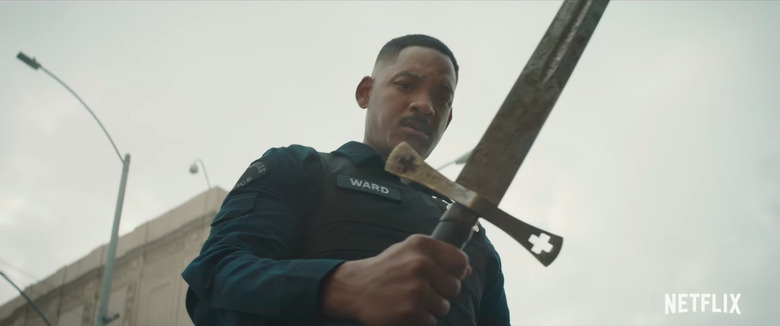 Will Smith and Joel Edgerton could be heroes for more than one day.
The new trailer for Bright has arrived, and it comes with a bunch of new footage of David Ayer's gritty fantasy thriller Netflix film about two mismatched cops — one a human, one an orc — who stumble upon a greater conspiracy involving fairies and magic wands.
But the most intriguing thing: the trailer teases a Bright: The Album soundtrack to be released in November. Could this mean that Will Smith is returning to the rap theme song scene?
Watch the Bright Trailer
The bombastic second trailer for Bright finally shows what that hefty $90 million price tag — $45 million of that for the production budget — paid for.
We get dropped in the middle of the action as Ward (Smith) and Jakoby (Edgerton) try to make sense of the events that transpired after they discover a wordless elf in possession of a magic wand (Lucy Fry). This time, we see them being interrogated by an austere elf authority figure (Edgar Ramirez) at the hospital as we flash back to the night before — in which they discovered a butchered elf girl and are blown back by a wand that has the power of a "nuclear weapon that grants wishes." And the chase begins, as the two of them set out to protect the girl and her wand, while dealing with the heavy-handed allegories of orc discrimination.
The trailer wisely focuses on Smith and Edgerton, whose rapport and banter seem like the saving grace of this film. We also see some of the old charismatic Smith that we first met in Independence Day shine through when he yells at an orc to "take your fat, Shrek-looking ass back the f*** home to Fiona." Maybe we'll see some more of the old Smith in the Bright soundtrack release, too (please release a rap theme song called "Bright").
Here's the official synopsis for Bright:
Set in an alternate present-day where humans, orcs, elves, and fairies have been co-existing since the beginning of time. Bright is genre-bending action movie that follows two cops from very different backgrounds. Ward (Will Smith) and Jakoby (Joel Edgerton), embark on a routine patrol night and encounter a darkness that will ultimately alter the future and their world as they know it.
Bright stars Will Smith , Joel Edgerton, Noomi Rapace, Lucy Fry, Edgar Ramirez, Margaret Cho, and Ike Barinholtz. The movie is written by Max Landis and produced by Ayer, Eric Newman,and Bryan Unkeless.Bright will be available on Netflix on December 22, 2017.