'Logan' Spin-Off Starring X-23 In The Works From Director James Mangold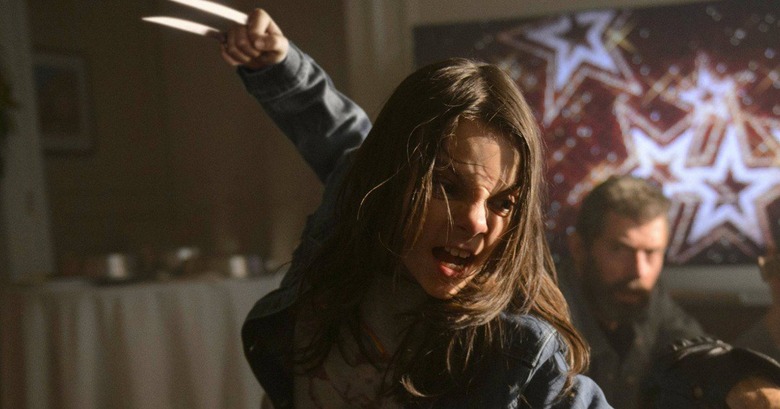 Logan was as much about bringing a satisfying end to the long and hard journey of Hugh Jackman's Wolverine as it was about the beginning of Laura's (Dafne Keen) story as the fierce runaway X-23 clone.
Keen stole the scenes as the stoic and bullish Laura, who becomes a surrogate daughter to Logan, and was implied at the end of Logan to shoulder his burden as the next Wolverine. The open ending to James Mangold's film would have been powerful enough, but we're in the superhero genre — the story never ends. Mangold is already working on a spin-off to Logan, centered around Keen's Laura. And it's largely thanks to Wonder Woman that an X-23 spin off could happen.
No longer is Hollywood questioning the viability of female-led superhero movies after Wonder Woman's massive commercial and critical success this summer. Combine that with the Oscar buzz surrounding the genre-transcending Logan, and an X-23 spin-off sounds like a better idea by the minute. While nothing has been set in stone yet, Mangold confirmed to The Hollywood Reporter that he is working on a script for a Logan spin-off to continue Laura's story.
"Patty [Jenkins'] success with [Wonder Woman] only solidifies more for studios that there's less to fear with a female protagonist," says Mangold. "The more that keeps getting hit home, that ends up giving me more space turning around and going, 'Well here we are with a female protagonist. That's incredible. And what are we going to do with her?' And that's where we are with that [the Laura script] right now, dreaming."
X-23 embarks on her own solo adventures in the X-Men comic books, albeit as an adult. She even goes on to don the Wolverine name and costume in the ongoing All-New Wolverine series by Tom Taylor and David Lopez. But producer Hutch Parker, who recently wrapped production on X-Men: Dark Phoenix, told THR that they don't expect Laura to follow the exact same footsteps as Wolverine:
"Yes, there are other facets of that character and some others potentially to explore in their own way. It may not be in the same exact tonality or with the same genre orientations as Logan, but I think part of what has been opened up in this universe to all of us now is, drawing on different genre traditions, there are new pathways to be opened for new characters that populate this universe."
As the X-Men cinematic and television universe expands to include different genres and creative twists on superhero movies — New Mutants with horror, Legion with whatever it's doing, Logan with Westerns — the X-23 spin-off would offer an exciting array of possibilities for a female-fronted superhero movie. Laura Kinney is not Diana of Themyscira, nor is she Captain Marvel, or simply a female version of Wolverine. A teen girl superhero protagonist who is as brutal as Laura would be the freshest hero we have in superhero movies thus far. And it only opens the door for more.