'Thor: Ragnarok' Tracking For $100 Million-Plus Opening Weekend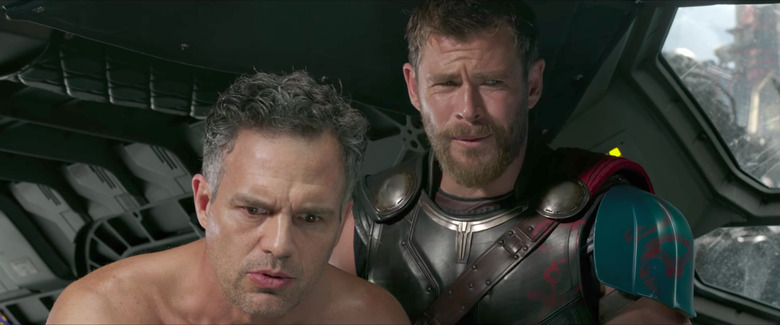 Thor: Ragnarok is about to inject some lightning into a sluggish fall box office.
The Thor Ragnarok box office tracking is projecting that the Marvel Cinematic Universe sequel is set to rake in more than $100 million on its opening weekend. If projections are correct, that would make it the most successful opening for a Thor movie yet.
Thor: Ragnarok is tracking for a $100 million-plus opening in domestic markets this November, Variety reports.
The first Thor, directed by Kenneth Branagh, opened to $65.7 million with a final tally of $181 million at the domestic box office. The 2013 sequel, Thor: The Dark World, was directed by Alan Taylor and opened to $85.7 million with a $206.4 million final total at the domestic box office.
There's no question that anticipation for Thor: Ragnarok is higher than it has ever been for a Thor movie, whose films have consistently been at the lower end of the box office spectrum compared to its MCU compatriots. The lighter tone and freewheeling direction of Taika Waititi is a huge factor in this shift, with excitement building after the vibrant trailers showed a whole new take on Thor that taps into star Chris Hemsworth's comedic reserves.
Thor: Ragnarok could not only be the savior of the Thor franchise, but of the sluggish fall box office as well. Overall box office for the year so far is down nearly 5%, according to comScore, with It standing out as the only film to perform above expectations. Mass releases like The Snowman and Geostorm flopped embarrassingly last weekend. Thor: Ragnarok could finally kick the fall box office into high gear, readying the audience for big releases like Star Wars: The Last Jedi.
Here's the official synopsis for Thor: Ragnarok:
Imprisoned on the other side of the universe, the mighty Thor finds himself in a deadly gladiatorial contest that pits him against the Hulk, his former ally and fellow Avenger. Thor's quest for survival leads him in a race against time to prevent the all-powerful Hela from destroying his home world and the Asgardian civilization.
Thor: Ragnarok is directed by Taika Waititi with a screenplay by Eric Pearson, Craig Kyle, and Christopher Yost. It stars Chris Hemsworth, Tom Hiddleston, Cate Blanchett, Idris Elba, Jeff Goldblum, Tessa Thompson, Karl Urban, Mark Ruffalo, and Anthony Hopkins.Thor: Ragnarok is set to open in theaters on November 3, 2017.