'World Of Tomorrow Episode 2' Trailer Brings You The Burden Of Other People's Thoughts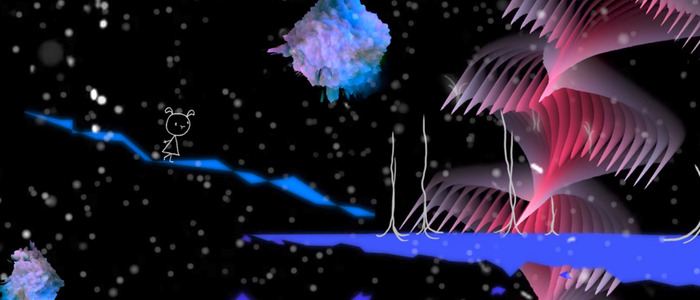 One of the best films of 2015 was only 17 minutes long. Don Hertzfeldt's brilliant, funny, heartbreaking animated short World of Tomorrow packed more nuance and emotion into its brief running time than most feature length films, and received an Oscar nomination in the process. Now Hertzfeldt is returning to the World of Tomorrow with World of Tomorrow Episode 2: The Burden of Other People's Thoughts, and there's a new trailer to get you excited. Watch the World of Tomorrow Chapter 2 trailer below.
Don Hertzfeldt rose to prominence with his series of animated shorts called Rejected. The funny, strange stick figure based animation, broken up into brief snippets, went viral back in 2000, being shared to the point that most people were likely aware of the animation while perhaps not knowing who Hertzfeldt was. Hertzfeldt continued making shorts, and moved on to make the animated feature film It's Such a Beautiful Day. His true masterpiece, however, was 2015's surprising and delightful World of Tomorrow.
World of Tomorrow Episode 2 trailer
In World of Tomorrow, a young girl named Emily (voiced by Winona Mae) is visited by a clone of herself (voiced by Julia Pott) from another era. The clone takes the younger Emily on a trip through her future, the journey unfolding in a mix of Hertzfeldt's traditional hand-drawn animation style and bright, vibrant computer animation.
World of Tomorrow Chapter 2: The Burden of Other People's Thoughts continues Emily's story, but to reveal more would give away the film's power. Take my word for it, though, World of Tomorrow Chapter 2 is funnier, more emotional and even better than the first film, while also opening up the world Hertzfeldt created in the original. The new trailer gives very little away, and is very quote heavy with critics issuing much-deserved raves about the film. Of the film's subtitle, Hertzfeldt said:
"[T]he burden of other people's thoughts is basically what I feel every time I log onto social media. The crush of it all. There's more people broadcasting and standing on soapboxes than there are interested listeners. What's driving that compulsion? The not being present in the present, in favor of cataloging and sharing every detail...Photos of every meal, holding up phones at shows, ignoring everyone at the dinner table to look at a device. How do we get away? What are the routes out of the outer-net? What if we were born with the burden of someone else's thoughts already in our head?"
There's no release date for World of Tomorrow Episode 2 yet, but keep your eyes peeled to Hertzfeldt's site Bitter Films for the eventual announcement.