'The Lost Boys' Almost Had An End Credits Scene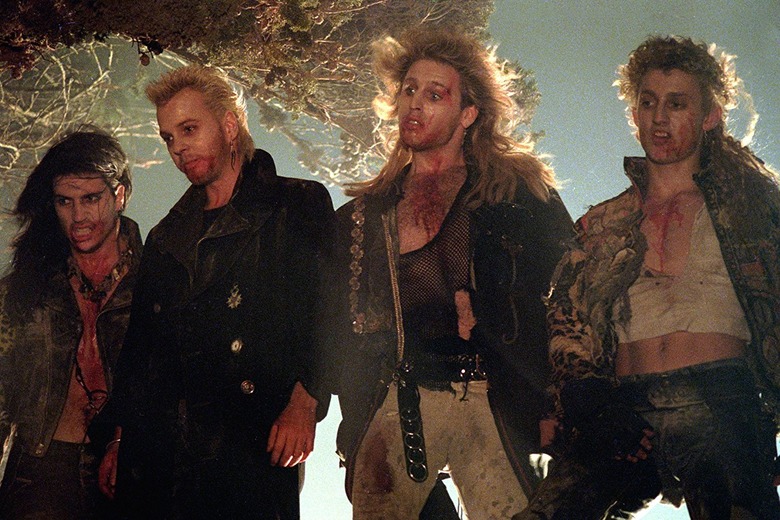 Before superhero movies made the after credits scene cool, The Lost Boys nearly did it first.
The original script for The Lost Boys almost had a different ending — one that was eventually moved to a tag that would roll after the credits. But that Lost Boys end credits scene was eventually cut and the ending was lost to the ether. Until now.
In Paul Davis' new book Lost in the Shadows: The Story of The Lost Boys (via io9), which chronicles the making of the 1987 cult classic vampire film, Davis describes a lost end credits scene. The scene would have taken place after Grandpa's Hail Mary victory against head vampire Max, punctuated by the iconic line, "One thing about living in Santa Carla I never could stomach...all the damn vampires."
A practically perfect ending, right? Well, the end credits scene would have vaguely undercut — or strengthened, depending on your interpretation — that triumph, with an ominous return to the empty underground vampire lair. The camera would pan to an old weathered mural, which shows a smiling Max in the early 1900s, talking to a group of boys. What could it mean? That Max and the lost boys had been terrorizing Santa Carla since before Grandpa's days? That Max was an unkillable figure who would only repeat the cycle again in 100 years? That's something that will likely be as lost as this ending is.
Davis' book published an excerpt from the script with an illustrated interpretation of the scene by artist Gary Smart. Here it is below:
INT. LOBBY/CAVE – NIGHT
Deserted, the CAMERA PROWLS through the Rock 'n' Roll ruins.
Eventually the CAMERA pushes toward the old mural painted on the lobby wall. The mural depicts a typical day on the boardwalk in the year 1900.
CAMERA MOVES CLOVER AND CLOSER TO THE MURAL
And HOLD TIGHT on one painting figure in particular. A man in a straw hat. He's grinning broadly...and he's most definitely Max. He's talking to a group of young men.
The scene was never shot, nor the mural created, because the film's final ending was so punchy that filming the tag was never a priority, according to the film's production designer Bo Welch. Once Warner Bros. cut the film's budget by 35% before shooting, the tag was the first to go. "It never got beyond the discussion stage," Welch said.
Davis' book is currently sold out, but more information about Lost in the Shadows: The Story of The Lost Boys is available on Twitter or its official site.