'Stranger Things 2' Early Buzz And Clip: We Can All Breathe A Sigh Of Relief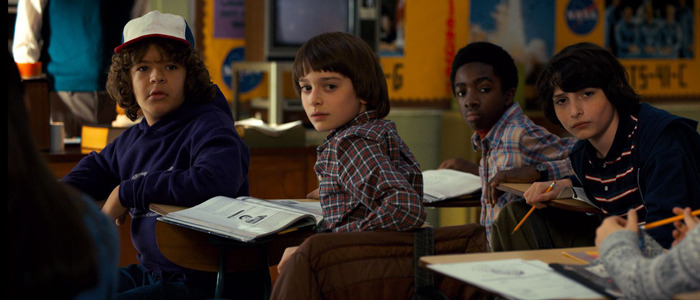 The first season of Netflix's Stranger Things took everyone by surprise and became an instant phenomenon. But here's the thing about phenomenons: they're tough acts to follow. And when a freshman show becomes that big that quickly, there's always potential for a huge drop-off in quality when season 2 rolls around (cough, True Detective season 2).
Thankfully, it sounds like Stranger Things 2, The Duffer Brothers' "sequel" to their supernatural first season, manages to sidestep that sophomore slump. The review embargo for the upcoming season has lifted, and we've gathered a ton of reactions from around the web to give you a sense of what critics are saying about the return to Hawkins, Indiana. Check out the Stranger Things 2 early buzz below, and watch a new clip from the season while you're at it.
One thing worth noting right off the bat: Netflix sent out screeners to these outlets, but told critics to avoid certain spoilers in their reviews, including going into too much detail about what happens to Eleven, what she's been doing between seasons, and her mysterious past. So if you're worried about plot spoilers, you won't find any big ones here. With that said, let's get into the reactions.
IndieWire says the new season is much larger than what came before:
"Stranger Things 2" is big. Everything about it is big. Its story is big, its emotions are big, its music cues, homages, and characters are all big, big, big. With an additional episode, a handful of new faces, more money in the budget and inflated ideas to match, the sequel season to Netflix's breakout original series is a conscious move to broaden its scope and lengthen its story. Season 2 takes a while to get going, and there are more growing pains other than additional setup, but the first season's lively spirit perseveres for a largely thrilling adventure that's hard not to enjoy.
But that larger scale and scope doesn't seem to have overtaken the show's visual style or overshadowed its beating heart. The Hollywood Reporter says:
The show also hasn't forced Netflix to back up the Brinks truck to add budget to an aesthetic that often thrived on frugality. There's definitely more money on the screen in the second season, with additional screentime for CG creatures and bigger stunts, but the show still lives in creepy mood-setting and thrives on unsettling sound design and the threat of the unseen. Stranger Things is still a show that functions best when characters are navigating dark hallways, bunkered down in cramped cabins or shining flashlights into obscure storm cellars and the Duffers, directors of four episodes, make sure that subsequent helmers Shawn Levy, Andrew Stanton and Rebecca Thomas are all on the same page.
Collider calls it "a delightful return":
The Duffers have managed to recapture what made Season 1 so good while still moving the story forward in necessary ways, with a smartly written and cleverly-plotted script. Like that first season, not everything works perfectly, but its cumulative effect is one that is again joyous, emotional, satisfyingly spooky, and most of all, makes us care deeply about the fates of these outsiders who band together as heroes.
Variety calls the larger scope "uneven":
The expansion of the Hawkins ensemble is uneven. Brett Gelman is delightfully frayed and seedy as a freelance reporter trying to figure out the truth about the town, Paul Reiser is perfect as a sketchy scientist and Sean Astin ably embodies the latest in his long line of lovable, low-key heroes. Other new characters are far less successful, and one very uneven episode late in the season that features some of the new characters is full of exciting potential but ultimately feels like a missed opportunity. The problem with a show getting bigger is that some character arcs get smaller — and occasionally sloppier.
RogerEbert.com's review describes the new season as taking a page out of the James Cameron sequel playbook, while still perhaps being a bit too familiar for its own good:
There are other new characters, new subplots, and even new monsters, but "Stranger Things 2" undeniably echoes the first season to a degree that could turn off some viewers hoping for something different. Many of the themes, villains, and even character arcs recall what happened last year, to the degree that the disappearance of Barb even returns as a major plot point. Should the Duffer Brothers have distanced themselves more from the first year and done something completely new? Once again, if we consider the Cameron model, the answer is obviously no. Hit sequels like "Aliens" and "T2: Judgment Day" veryconsciously echoed the films that came before them, and we didn't seem to care. It's the execution of the very '80s "bigger/faster/more" aesthetic that matters.
USA Today echoes those concerns, but had some positive things to say about it too:
The new season is often more engrossing and tense than the first, and veers much further into the horror genre. There's a noticeable uptick in jump-scares, and the threat of death is more palpable. A midseason episode that finds several characters running from a threat in a locked building is tense and genuinely terrifying.
Uproxx thinks the references work well, thanks in large part to the strong cast:
Given how much the series was already riffing on the works of Steven Spielberg, Stephen King, John Carpenter, and more, paying homage to season one could very easily come off as a copy of a copy, containing the basic shape of the original, but not enough detail to be worth looking at. Fortunately, the Duffers have a collection of vividly drawn characters, and a terrific ensemble to play them, which gives weight to all the allusions to both '80s pop culture (the Aliens homages go well beyond the casting of Reiser) and season one.
But Vanity Fair wasn't overly impressed with it, saying that the show is perhaps a bit too impressed with itself:
The trouble is, Stranger Things hasn't yet earned canonization the way those hallowed properties have—so the second season's self-regard lands badly; it's premature. Having the great David Harbour and Winona Ryder do the same desperate shtick from the first season and hoping we'll affectionately say, "Oh, right, remember?" doesn't really work when the thing only aired last year, and when the series has been ubiquitously joked about and parodied since. This is a common peril, but it's especially concentrated here, this feeling that the show exhausted itself with its own success. It's why everyone at HBO interested in a second season of the perfectly ended Big Little Lies should watch Stranger Things 2—a meandering, intermittently entertaining follow-up that dims our memory of the original fun, of that excitement and sense of occasion. I still ate it up in one big gulp. But I was hungry again an hour later. Only, not for more of the same.
Polygon acknowledges some pacing problems, but has a lot of praise for the final product:
Like Stranger Things, Stranger Things 2 is a massive homage to a world that many of us don't remember or couldn't partake in. The sci-fi and storytelling elements are familiar, but it still feels distant enough that sinking into the series and marathoning all nine episodes transports you to a different place. Stranger Things 2 is a trip, a celestial journey rooted in a time period many of us are obsessed with, but it's grounded in the real relationships and friendships we have today. Stranger Things 2 is a convergence of the fantastically extraordinary we wish we would experience and the understandable reality that we exist in; the combination of which creates one hell of a television experience that's very much worth your time.
And TVLine thinks the ending of the new season is thrilling and moving in equal measure:
That said, the goings-on in Hawkins snowball during the second half of the season to deliver a rather breathless series of nailbiters, as a decision made in private by one of the boys comes back to haunt everyone, a brand-new visual puzzle manifests itself inside the Byers home and harrowing measures are taken to rid the small Indiana town of a creeping threat. I'd argue that the climactic finale is superior to Season 1's, as it finds a way to involve every pod of characters in extremely meaningful ways. The 10-minute epilogue that closes out Season 2 is a magical thing that I won't spoil one tiny bit further, other than to say you should wipe any tears from your eyes in time to clearly view its very final seconds.
It sounds like a lot of these critics have similar feelings about the show and its (relative) shortcomings, but I'll leave you with some closing thoughts from Collider's Steve Weintraub: "To anyone nervous Stranger Things second season might be a letdown or anything less than a home run...relax. You're going to absolutely love it."
Stranger Things 2 arrives on Netflix on October 27, 2017.