'Justice League' Run Time Is Shorter Than Expected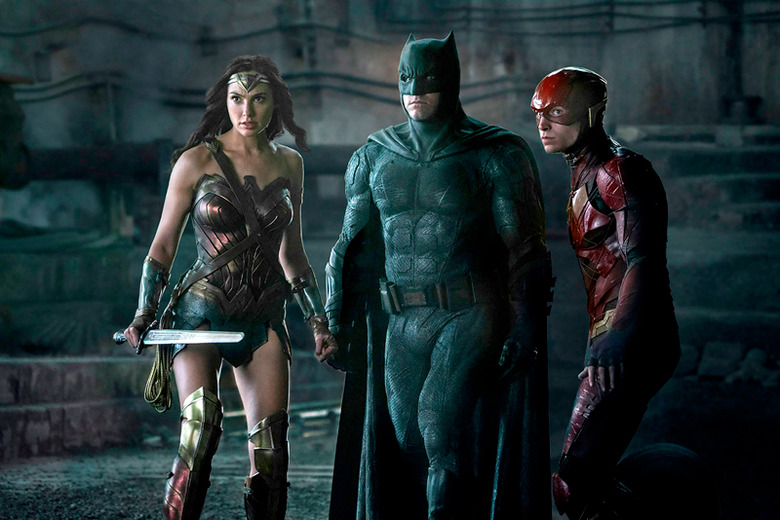 Justice League is the shortest DC Extended Universe film yet.
The official run time for Warner Bros.' superhero team-up movie clocks in at 121 minutes. This is two minutes shorter than the previous shortest DC Film, Suicide Squad, which ran 123 minutes. And it's 50 minutes shorter than the rumored Justice League run time that was bouncing around the Twittersphere earlier this year.
The Justice League run time has been confirmed to be 121 minutes by Manabyte. It has received an MPAA rating of PG-13.
Back in March, an unofficial run time for Justice League was reported to push 170 minutes, which would have made the Zack Snyder-helmed film nearly three hours long. However, these reports surfaced before Joss Whedon had wrapped his reshoots for the movie after Snyder stepped down from the superhero tentpole following a family tragedy. Post reshoots, it seems that Whedon not only spent significant time adding Wonder Woman-centric subplots and lightening Cyborg's characterization, but also taking a machete to the reportedly bloated run time.
Compared to Justice League, Man of Steel was 143 minutes long, Batman v Superman: Dawn of Justice clocked in at 151 minutes, Suicide Squad with 123 minutes, and Wonder Woman was 141 minutes long. The DC Films have long struggled under overlong run times, so the fact that the cinematic universe's most jam-packed movie yet has the shortest length is honestly a relief. Two hours is still a significant enough amount of time to tell a complete story, and Justice League has the benefit of four lead-up movies and a half century of the characters becoming ingrained in the pop culture lexicon.
Things are looking up for Justice League, whose embattled production has been frequently become the center of the weekly superhero news cycle (guilty). Not only is this shorter run time a source of encouragement for DC Comics fans, early box office tracking for Justice League is also looking positive, according to The Wrap's Umberto Gonzalez.
Take with a grain of salt till official tracking drops next week. Bros I know who cover WB tell me early tracking on #JusticeLeague is good!

— Umberto Gonzalez (@elmayimbe) October 21, 2017
The official box office tracking won't be released until next week, but this bodes well for the film. Early reactions to the film are apparently good enough that Warner Bros. is already looking to develop a sequel, according to J.K. Simmons, who plays Commissioner Gordon. The actor told Total Film, "this is the first Justice League movie – we hope – of a few. They're working on scripts for The Batman and for the next Justice League movie."
Here's the official synopsis for Justice League:
Fueled by his restored faith in humanity and inspired by Superman's (Henry Cavill) selfless act, Bruce Wayne (Ben Affleck) enlists newfound ally Diana Prince to face an even greater threat. Together, Batman and Wonder Woman (Gal Gadot) work quickly to recruit a team to stand against this newly awakened enemy. Despite the formation of an unprecedented league of heroes — Batman, Wonder Woman, Aquaman (Jason Momoa), Cyborg (Ray Fisher) and the Flash (Ezra Miller) — it may be too late to save the planet from an assault of catastrophic proportions.
Justice League is set to open in theaters on November 17, 2017.