Our Favorite Pieces Of 'Thor: Ragnarok' Art From Hero Complex Gallery's New Showcase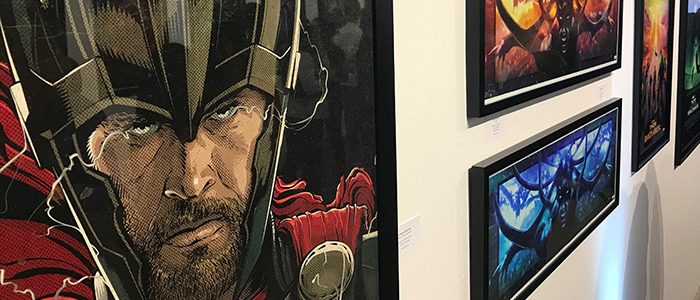 Last night, /Film's Peter Sciretta and I attended a pre-opening night reception for Marvel Studios' Thor: Ragnarok art showcase at Hero Complex Gallery in Los Angeles. There were more than 40 pieces of art on display, and I've put together a selection of 10 of my favorites for you to check out now, just in case you can't make it over to the gallery in person.
Hero Complex Gallery is one of the best places in L.A. to see top-notch pop culture artwork, and after teaming up with Marvel for an Avengers: Age of Ultron-themed event back in 2015, the pair have reunited to celebrate director Taika Waititi's vibrant, ebullient, and flat-out hilarious Thor: Ragnarok, a film that managed to take one of the most dour superheroes on the Avengers and turn him into a comedic powerhouse. The art at the show reflects the brightly-lit color palette of the film itself, which writer/director James Gunn recently praised as "the most colorful of all Marvel films — I mean, Guardians of the Galaxy Vol. 2 is practically sepia-tone in comparison".
So without further adieu, here (in no particular order) are my ten favorite pieces from the show, which was also put on by Fandango FanShop. Mouse over each individual image to find out the name of the piece and the artist responsible for creating it.
I'm especially fond of artist Dan Mumford's Ragnarok, the super colorful piece that features Loki, Valkyrie, Hulk, and Thor facing down Hela on the rainbow bridge with Asgard looking like Oz in the background. (Fans outside of Los Angeles can purchase that piece, as well as other merch, at FandangoFanShop.com.) And fine, twist my arm, but my favorite of the whole bunch is Kevin M Wilson/Ape Meets Girl's Hammertime, which has picture-perfect reproductions of the actors' likenesses coupled with the awesome image of Cate Blanchett's Hela holding Mjolnir in her hand while the heroes stand atop it. What a cool design. But damn it, Kimchicat's Hela, in which that character looks like a classic animated Disney villainess, is excellent as well. Don't make me choose!
As always, if you're in the L.A. area, I'd definitely recommend stopping by Hero Complex and taking a look at these pieces in person – seeing the artistry up close is always a better experience than clicking through images online. Hero Complex Gallery is located at 2020 Robertson Boulevard, Studio D, Los Angeles, CA 90034, and they're having an opening night reception tonight from 7-10pm. The Thor Ragnarok art showcase will be on display from today until November 5, 2017.