The Water Cooler: Seeing 'Hamilton' In L.A., An Enthralling Japanese Reality Show, And A Puppy Named Gizmo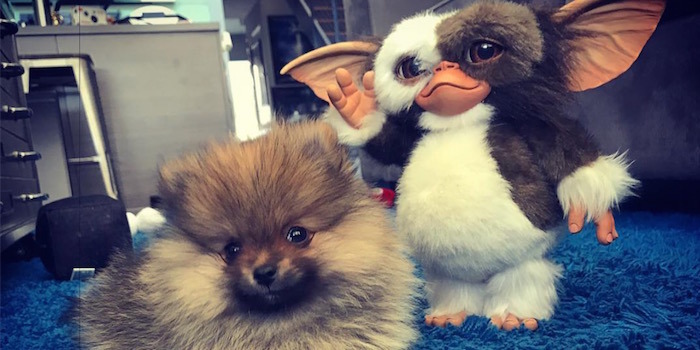 Welcome to The Water Cooler, a weekly feature where the /Film staff is free to go off-topic and talk about everything except the movies and TV shows they normally write about. In this edition: Peter Sciretta adopts a new puppy, Ben Pearson sees Hamilton, Hoai-Tran Bui checks out a relaxing Japanese reality show, Chris Evangelista searches for spooky fun, and Jacob Hall buys some irresponsible Anchorman art.
Hoai-Tran Bui is Watching Terrace House: Boys & Girls in the City
I had heard rumblings in a few corners of the internet about a curious Japanese reality show that was accruing an ardent fandom. Then a few months ago, one of my close friends excitedly recommended me Terrace House: Boys & Girls in the City, a quiet, slow-moving documentary-style series about six men and women who live under the same roof for a month and do...absolutely nothing.
Terrace House, which was picked up by Netflix after its first iteration was hugely successful on Japan's Fuji Television, is a strangely hypnotic and calming show, shedding most of the pillars of reality television: sit-down interviews, missions, scripts. The cameras simply roll in the house that the six strangers live in, who move in hoping for love, friendship, or a combination of both. The one novel element of Terrace House is a panel of Japanese comedians and MCs who comment on the goings-on of the house every 15 minutes — a substitution for the lack of inner monologues from the members. While the panel feels strangely voyeuristic at first, they slowly morph into a sort of "after-show," joking and rooting for the happiness of all the strangers.
Terrace House is a huge 180 from the general expectations of Japanese variety — it's not loud, slapsticky, or over-the-top. Instead, it's probably the authentic reality show I've seen in years, with the members shyly stumbling over social interactions and potential love matches. I'm eight episodes in, and there hasn't even been a first kiss yet! At first, I balked at the uncomfortably traditional gender roles, but before I knew it, I was engrossed in the drama and drawing up my own ships. I am now looking for a way to watch the original eight seasons of the Fuji TV series so if you know a legal way to stream those, hit me up.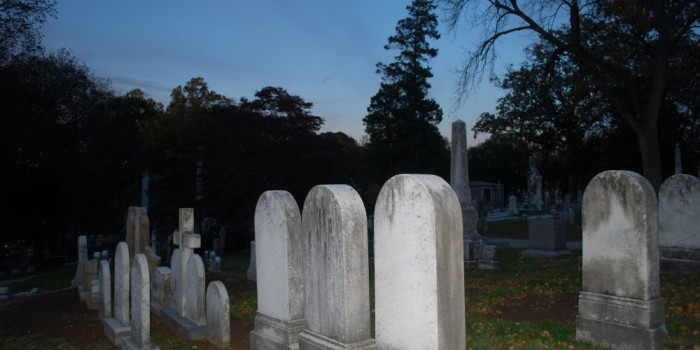 Chris Evangelista Has Been Trying to Get Spoopy
It's Halloween season, my favorite time of year. I spend all year thinking about Halloween, yet when October rolls around, I realize I'm incredibly unprepared. All my dreams go straight down the gutter like so many dead leaves washed away by a chilly autumn rain. I tell myself, "When Halloween season is here, you're going to do SO MUCH stuff. Get ready, it's going to be CRAZY." Then I fail to really do anything. It's a problem.
One Halloween tradition I do manage to adhere to every year, however, is attending Laurel Hill Cemetery's yearly "Soul Crawl: Haunted Halloween History Tour." Laurel Hill is a huge, gorgeous cemetery in Philadelphia, not too far away from the Philadelphia Art Musuem (you know, the one with the steps that Rocky runs up). It's a sprawling, beautiful, historic spot, and they host a wealth of monthly activities. When you're a weirdo like myself, attending monthly events at a cemetery is like getting a season pass to Disney. And while the events at Laurel Hill are great all year, they kick into overdrive in October.
One such October event is the aforementioned "Soul Crawl," where local historians walk you around the cemetery at night with a flashlight and tell you the history behind several people buried within. Within the rolling hills of Laurel Hill rests the bodies of people who died when the Titanic sank, Civil War heroes (and villains), and even sports broadcaster Harry Kalas. And then there are the weirder spots, like a grave that only contains a woman's heart (her body is buried elsewhere). Let me tell you, folks – I live for this macabre shit.
When I was younger, I used to love haunted attractions filled with animatronics and people in elaborate make-up leaping out and shouting. But now that I'm an old man in his 30s, the mellow yet eerie Soul Crawl is more my speed. There's nothing better than wandering around a chilly graveyard at night in October. Alright, I guess technically there are lots of things better than that; but it's still a lot of fun.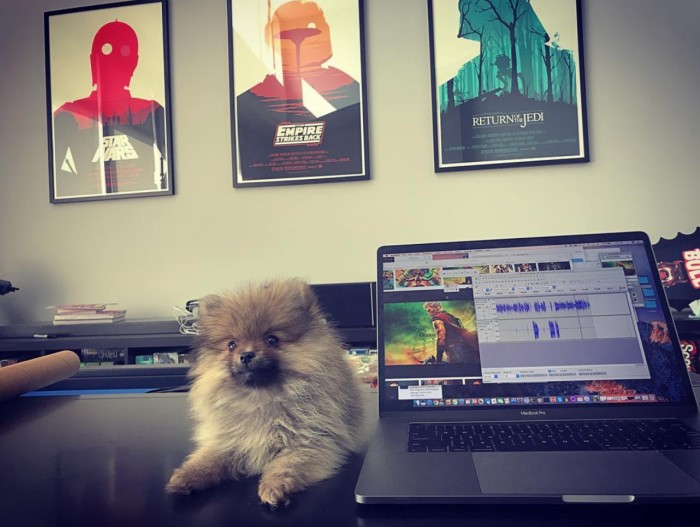 Peter Sciretta Adopted a New Puppy
For over a year now, my girlfriend Kitra has wanted to add a second dog to our home. She was particularly taken by one of our neighbors' cute little Pomeraniansand has been searching for a pom of our own for the last six months. Over this time, we've traveled far and wide to many adoption events and even took one elderly Pomeranian home for a weekend. Unfortunately, that dog did not get along with our Frenchie, Pixel, and it was short lived.
Kitra eventually ended up coming across a family in Palm Springs who had some newborn Pomeranian puppies, so over the weekend, we hopped in a car and made the 5-hour round trip journey, not even knowing if we'd return with one of the family's pups. But when we were there, we instantly fell in love with one of the pups, who we have adopted and have named Gizmo (yes, after the character from Gremlins).
Gizmo is one of the cutest puppies I've ever seen. He's so small, weighing just over a pound and a half. His parents were about 3 and a half pounds, so we think he'll end up following them. But right now he's like a handful of fluff and almost looks like a hedgehog.
So my last week has been consumed with puppy training, which is very tough. We are trying to crate train Gizmo, but all he wants to do is cry or bark when he's in his crate or his pen. I can't tell you how many websites I've read online looking for advice on the subject and none of them seem to have provided a solution particular to us.
And to make matters worse, Gizmo now has a kennel cough. We're not sure if he got it before we took custody of him, or if he got it from our visit to the vet (he only started coughing after we took him for his check-up), but whatever the case, he is now on medication. So his barking and crying is now supplemented with the saddest coughing you'll ever hear. He's so cute, and in need of love and attention, that it makes it hard to work, so sometimes I just put him next to my computer as I work on the site (as seen in the photo above).
I've been posting photos of Gizmo on my Instagram account @slashfilm, and we decided to open an Instagram account for him so that Kitra and my personal accounts don't become overloaded with dog photos. I know some people can do that with dogs or babies and it can be annoying. So you can now follow Gizmo on Instagram @ThatPomGizmo, and by popular demand, we've now finally created an account for our French Bulldog Pixel, who you can follow @TheFrenchiePixel (and populated the account with a ton of old photos). So feel free to follow the family and our adventures in photo form.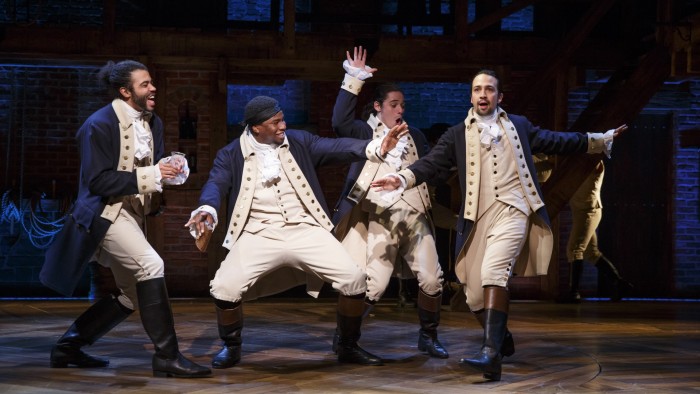 Ben Pearson Saw Hamilton in Los Angeles
This past weekend, my wife and I had the chance to see Hamilton, Lin-Manuel Miranda's much-raved-about bio-musical, at the Pantages theater in Los Angeles. We spent the past two years avoiding any reference to the songs (which is tough to do when seemingly everyone I follow on Twitter loves the show), so we had the experience of going in "Unsullied," just as I've done for some highly-anticipated movies in the past. I was admittedly a bit worried that after two years of constant hype, the show might not live up to all of the praise it has generated...but hot damn, Hamilton is an incredible accomplishment that deserves all of the praise it's received thus far and much more.
For those who don't know, the musical follows the life of founding father Alexander Hamilton and tracks him from his entry into the United States, through the Revolutionary War, and all the way to his famous duel with Aaron Burr. The cast includes non-white actors playing the lead roles, and practically every word of the show is sung – many of them in rap songs. The music is often catchy, full of wonderfully crafted hooks and repeated motifs that take on different meanings when they pop up in new contexts throughout the show. But I think the greatest trick Hamilton pulls is educating us about this man and this period in our country's history in a way that feels far more vital (and unexpectedly timely) than any textbook ever could.
I recently wrote about visiting Boston for the first time, and that trip, along with a recent viewing of the musical 1776 on Turner Classic Movies, considerably enhanced my appreciation of Hamilton. I hadn't really encountered anything that humanized these towering historical figures before, because the mythology around them has certainly overshadowed their actual lives at this point. Hamilton does a great job of painting the title character as an ambitious, driven man who pushed our country forward into a new generation, but it also doesn't shy away from showing him as someone who was consumed by his pride and made terrible mistakes. Thinking about guys like Hamilton, Thomas Jefferson, and George Washington as young, scrappy, and hungry people who were just trying to find a better way in the world instead of as wise and noble men who knew exactly what they were doing at all times brings them down to our level and makes their accomplishments all the more impressive.
But the music. Holy crap, the music. I've been listening to the Hamilton soundtrack on repeat ever since we saw the show, and it's unreal how great these songs are. There are rap battles, sweeping epic love songs, heartbreaking and mournful ballads, and powerful bring-tears-to-your-eyes calls to action alike, songs that make you, the listener, want to get out there and change the world. Miranda is a singular artist and one of the most important voices of his generation, and I look forward to obsessively learning everything I can about this show while we wait for whatever he does next.
For six years, I've been telling my wife I would buy this off the wall of our favorite bar/restaurant. Today, I am no longer a liar. pic.twitter.com/OLdWAX3Y06

— Jacob Hall (@JacobSHall) October 17, 2017
Jacob Hall Made an Irresponsible Art Decision
There is a local restaurant chain in Austin called Trudy's. Its handful of locations serve very good tex mex and tex mex-adjacent food and excellent, often very strong cocktails that I love very much. My wife and I are regulars at one location – the bartenders know our names and our orders and we tip well and we all like each other and get along.
But the walls of Trudy's are also lined with pop culture art. Much of it is very bad. Some of it is pretty clever. Occasionally, it's very good. But one has always grabbed my eye. For years, a piece of Anchorman art has hung on the wall and for years, I've been telling my wife (who doesn't care for Anchorman one bit) that I would one day buy the painting. Her eye rolls said it all – I was never going to buy that massive portrait of Ron Burgundy and his news team readying themselves for battle. Especially not at that price. That would ridiculous. That would be irresponsible. Why would I do that?
Well, I did. I walked into Trudy's with a stack of cash (no cards accepted), handed it to the manager, and walked out with a giant piece of very heavy (it's painted on a block of solid wood) Anchorman art. After all, we have just moved into our new house. We are building a home. And after a long conversation with my wife, we decided that yes, this outrageous object that I've been literally promising to buy for as long as we've known each other needed to be a part of that home. What better way to close one chapter and begin another?
So there you go. I got a giant piece of stupid art representing a movie I love and I feel like I'm kicking off this new stretch of my life in style. Stay classy, everyone.