'UnREAL' Season 3 Trailer: The Savage 'Reality Show' Drama Looks To Course Correct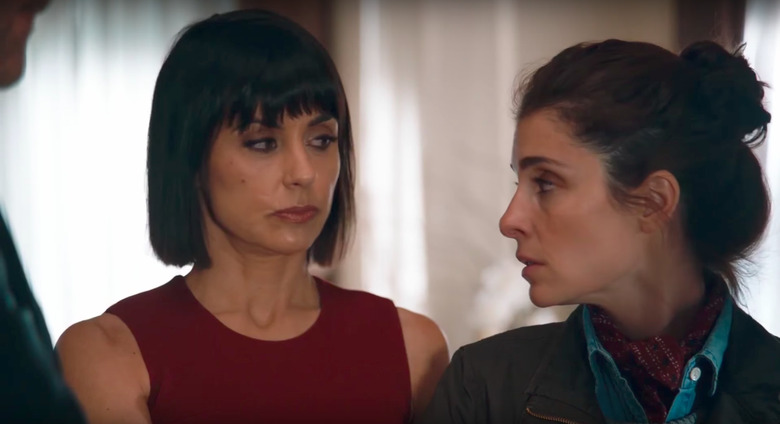 After a nearly year-long delay, Lifetime's UnREAL is coming back onto our TV screens.
The darkly comic send-up to reality TV was nominated for a few Emmys in its first season and became one of the breakout shows of 2015, but it has been plagued by so many of its own behind-the-scenes conflicts that the drama in front of the cameras seemed demure by comparison. But after a really, really deep sophomore slump, UnREAL is revamping itself for its third season, boasting new showrunner Stacy Rukeyser and its first female "suitor." Let the games begin.
Lifetime getting into the Peak TV game was met with rolled eyes and derision. The channel that housewives left on in the background while they waited for their soaps to air? No thanks. But when UnREAL premiered in 2015, run by Buffy the Vampire Slayer's Marti Noxon and former Bachelor producer Sarah Gertrude Shapiro, that skepticism was quickly stopped in its tracks.
Watch the UnREAL Season 3 Trailer
UnREAL was a razor-sharp savagery of reality television, following the women who produce a Bachelor-like show and the emotional manipulation they put the contestants through. It featured a fiercely feminist but mentally unstable main character Rachel (Shiri Appleby) who is forced to engineer cat fights and breakdowns all in the name of "good TV." She's egged on by her boss Quinn (Constance Zimmer), a callous showrunner who prioritizes the show's ratings over her underling's mental well-being.
It was a soul-crushing, biting, and brilliant first season of high drama — nothing less from the network that created a whole subgenre of suburban fear movies. But the polarizing second season, which saw an ill-advised Black Lives Matter storyline and the departure of Noxon over conflicts with Shapiro, became the epitome of the sophomore slump with a sharp dip in quality and ratings. More behind-the-scenes conflicts took place for the former Emmy darling — season 2 showrunner Carol Barbee left and writer Stacy Rukeyser replaced her — causing long delays for season 3, which was intended to premiere in summer of 2017. A lot of drama for a show that pokes fun at how TV engineers drama.
"It takes complicated women to make a show about complicated women," Rukeyser told The Hollywood Reporter.
It looks like UnREAL is back on track with its third season trailer. Quinn and Rachel are back in their uneasy and toxic friendship, this time teaming up against their first female suitor on Everlasting, the Bachelor-style show within the show. Played by Masters of Sex actress Caitlin FitzGerald, Serena is a "hot, sexy, smart, but single" character who may prove to be a worthy foe against Quinn and Rachel's machinations. Serena demands that the show will play by her rules, as the 25 male suitors — including Freddie Stroma's Adam! — vying for her attention.
"She's smart, we can't handle her the same way," the perpetually frazzled Rachel tells Quinn.
Bitter female competition is UnREAL's bread and butter, and throwing a female suitor into the mix will certainly "make everything feel really fresh," like Appleby promised earlier this year. But it's not a Lifetime show without some drama, and bringing back Adam — who Rachel had a brief fling with before humiliating him on live national television — will certainly do the job.
UnREAL season 3 will premiere on Lifetime on February 26, 2018.