9 Great Horror Comics to Get Movie Fans in the Halloween Mood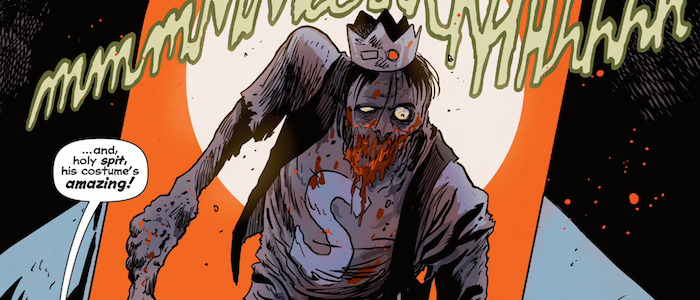 It's the most wonderful time of the year! With the kids trick or treating and everyone telling you to be of good fear! It's the most wonderful time of the year!
Halloween has become as big as Christmas. From excessive decorations to Hallmark cards and holiday parties, the reign of the Pumpkin King is encroaching on Santa Claus' good cheer. Although we have horror films a'plenty, movie fans may be looking for something a little more this year. Something to read when the sun goes down. Something to keep the seasonal spirit alive between slasher flicks and ghost stories.
So how about some great horror comics? From science fiction to the occult to zombies to just good 'ol Halloween fun, we have got you covered. And most importantly: these series all stand alone, so you don't have to do the kind of back-breaking research that often goes hand-in-hand with superhero comics. Just pick a title that sounds good and dive right in.
Enter at your own risk and in the words of the Mistress of the Dark herself: "Unpleasant dreams!"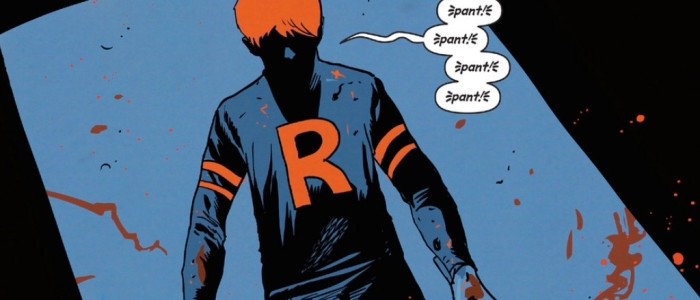 Afterlife With Archie 
Written by Roberto Aguirre-Sacasa
Illustrated by Francesco Francavilla
This comic. My god. This effing comic. I don't read Archie comics, and have a relatively basic understanding of them at best. So if you have never read Archie Comics or are only mildly familiar, rest assured you won't have any issue reading this, and my-oh-my do you need to read this. As a horror nerd, I picked up Afterlife with Archie on a "Huh, this could be fun," whim. I honestly feel like one of those people on Antiques Roadshow. What I picked up seemed like a simple trinket, but what I got was million-dollar entertainment.
When Sabrina the Teenage Witch (yes, you read that correctly) attempts to help Jughead bring his dog back from the dead, she unknowingly releases unknowable evil in the form of your typical infectious, bite-induced zombie apocalypse. All hell breaks loose. To my great and pleasant surprise, Afterlife with Archie is legitimate horror. It isn't campy, it is grim. Very grim. Don't let the lighthearted Archie name fool you like it did me. This comic is dark and it is twisted and it is juicy and you just want to sink your teeth into it.
I don't remember the last time I cried reading a comic, but one scene in particular between Archie and his dog Vegas left me an absolute mess. Afterlife with Archie is heavy on heartbreak horror. It makes sure to outline everything these characters have to lose, using personal relationships and flashbacks to emphasize everything that is lost in this horrific situation. In much the same way that a film like Shaun of the Dead sneaks up on you through the comedy to deliver a heartfelt and touching look at the hopelessness that the zombie apocalypse would bring to family and friends, it turns horror into tragedy.
I read it cover to cover and let out a childish and whiny "But...but...I don't wanna wait," when I realized that volume 2 was only available for pre-order. However, if you don't mind single issues, head to your local shop and hunt down the second arc, but shhhh – don't tell me what happens.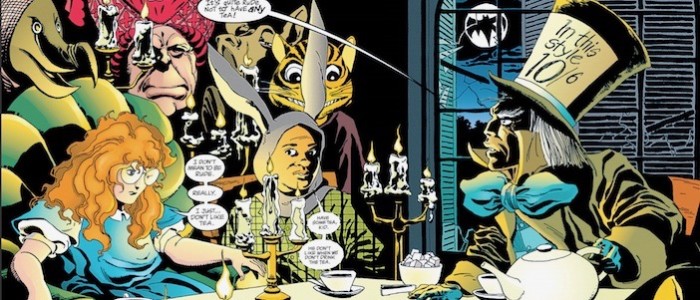 Haunted Knight
Written by Jeph Loeb
Illustrated by Tim Sale
Including Batman on a comic book list seems a little on the obvious side, but with the popularity of superhero movies, it seems all too necessary to include Batman: Haunted Knight. If you love Batman but find it intimidating to jump into the vast comic book history of the iconic vigilante, then perhaps you can turn to this collection of Batman tales like you would turn to an age old Christmas tale. It's the kind of short fun read that you can read every year to bring the Halloween cheer.
Haunted Knight includes three stories from the iconic Batman duo of Jeph Loeb and Tim Sale. Each story features a different villain. Story One, "Fears," finds a vulnerable Bruce Wayne contemplating giving up his unstable existence for the love of a good woman and some normalcy, but the Scarecrow has something to say about that. Story Two, "Madness," finds a rebellious Barbara Gordon defying her father's over-protective wishes and sneaking out on Halloween only to be kidnapped by none other than the Mad Hatter. And finally, Story Three, "Ghosts," a tale that takes its inspiration from A Christmas Carol and finds Bruce Wayne greeted by the ghost of his father with an existential warning. Throughout the night, Bats is visited by three of his arch-enemies in spirit form to show him his past, present, and bleak future, making it the ultimate Halloween holiday tale.
Definitely more Halloween and less horror than the other comics on the list, Haunted Knight is simply a fun read for the season, in much the same way as you would watch Hocus Pocus or a Nightmare Before Christmas.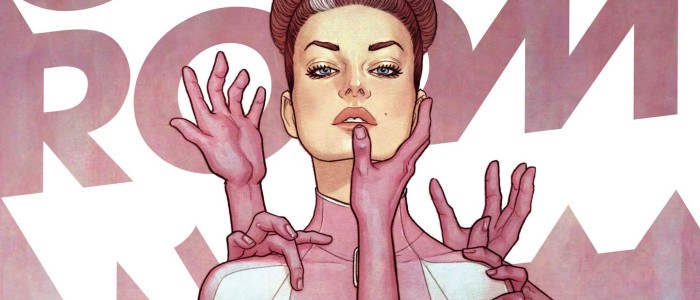 Clean Room 
Written by Gail Simone
Illustrated by Jon Davis-Hunt
What do you get when you mix a Scientology-esque religious organization, some badass ladies, monsters, demons, and some unforgettably creepy face puppetry? Why, you get Clean Room, of course.
This disturbing horror comic follows a self-help organization called the Honest World Foundation. It turns out to be more of a religious cult created by the writer of pulp horror fiction, but the Hollywood elite are enraptured and the members lose touch with reality in more ways than one. Sound kinda familiar? Yes, the set up to Clean Room is not so subtle in its relation to Scientology. However, the Honest World Foundation is Scientology with the WTF factor cranked to eleven.
Seriously, if you have ever had any doubt that female writers could throw down when it comes to some seriously messed-up, disturbing horror, here you go. Gail Simone (along with artist Jon Davis-Hunt) knock it out of the park with a fantastic melding of dirty minds and science horror not often seen in female-led and written comics. It's the kind of strong horror that you want to experience after midnight. However, Gail Simone manages to make none of it seem gratuitous. Every perverse remark or grotesque monster contributes to the all around eerie feeling of the reality in which Clean Room is set.
The psychological horror element to Clean Room is subtly built, making you fall victim to the confusion and manipulation as much as our protagonist Chloe, who just wants answers after she found her fiancé had committed suicide while holding a copy of Honest World Foundation's founder Astrid Mueller's book. If you think you know what Astrid is all about...you don't. If you think you know what is going to happen next...you don't. And if you think you can read volume one without picking up volume two...you can't.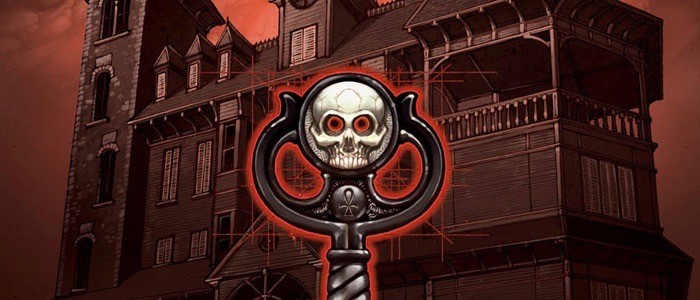 Locke and Key
Written by Joe Hill
Illustrated by Gabriel Rodríguez
Who better to write horror than the son of the King of Horror? Joe Hill, the son of Stephen King, has established his voice in the world of fiction, having published a number of fantastic horror novels. But he is also the award-winning writer of Locke and Key, a frightening Lovecraftian horror fairytale.
Locke and Key follows a family that movies into the Key House in Lovecraft, Massachusetts after the brutal murder of the father. This is no ordinary house. There are doors within it that lead to other planes of existence. They have the power to transform those who walk into it, but once any of the residents turn 18, they forget about the magic. While still recovering from the loss of their father, the youngest boy, Bode, discovers the first door, which transforms you into a ghost. While spying on his family, Bode befriends a mysterious and evil entity at the bottom of a well that manipulates him into becoming her friend. Naturally, this entity wants only to open the one horrifying door that that should always stay locked.
If you love Joe Hill's novels and/or you love his father's unmatched horror world building, you will not be disappointed by Locke and Key. Hill and artist Gabriel Rodriguez spend just as much, if not more time, character building as they do trying to scare you. The result is nothing short of mesmerizing – an enthralling jaunt into a creepy world that feels all too real and yet completely fantastical at the same time. It is heartbreaking horror, and something that you will definitely want to dive into head first...with the light on.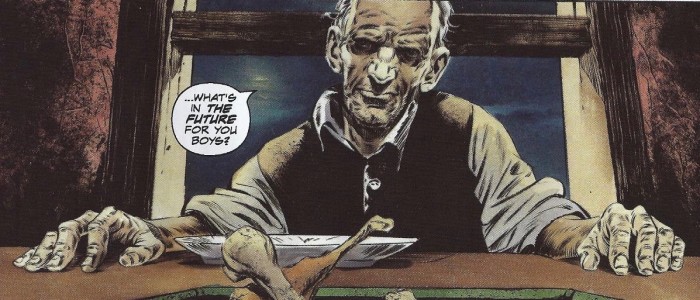 Severed
Written by Scott Snyder
Illustrated by Attila Futaki
When it comes to horror, there is nothing as tried and true as a good boogeyman story. Severed is one such story. Collected in one volume, this riveting horror story is an easy one to pick up and read cover to cover on any cold and creepy October night.
Nightmares, cannibalism, and the dark days before modern technology make Severed a haunting tale that feels like it escaped from a past age. Set in 1916, the story follows the young Jack Garron as he runs away from home in search of his biological father, a traveling musician, with hopes that they can make music together. However, Jack's fiddle playing catches the attention of a walking nightmare: the appropriately named Mr. Nightmare.
I have read Severed several times, and yet as I sat down to write this and talk about how gruesome and grotesque it was, I had to go back and flip through it because I couldn't actually recall if some of the terrible things I was picturing were actually visually present on the page or if I created them in my mind. Although Severed is a little more graphic than the classic Hitchcock and gothic horror stories to which it owes a debt, it still leaves enough up to the imagination that you have the opportunity to build the horror in your head. This is a story that begs to be adapted, but for the time being I suggest giving this short but terrifying comic a try.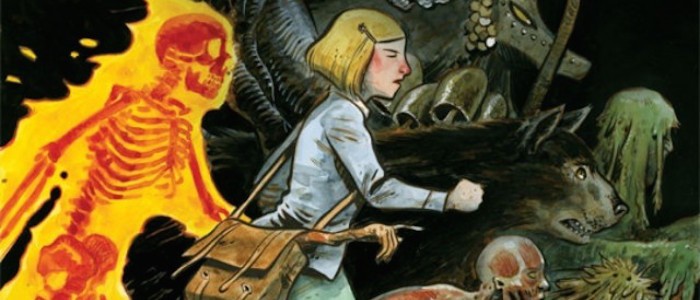 Harrow County
Written by Cullen Bunn
Illustrated by Tyler Crook
Harrow County is a story conjured up using some southern gothic charm and mysticism. It often feels like it comes from the same realm as The Witch. Harrow County follows a young girl named Emmy who has grown up surrounded by mysterious woods containing all sorts of supernatural things. Unbeknownst to Emmy, she has a deeper connection to these woods than plain geography – a connection that has the whole town wanting to kill her on her eighteenth birthday.
One of the things that I truly love about Harrow County, and that really sets it apart from a lot of the doom and gloom genre tales, is that it is as much fantasy as it horror. In the pages of volume one, Emmy runs into the woods and meets strange beings and obstacles along the way, much like you would expect from an enchanting childhood classic like Labyrinth. The fairytale element makes the story feel charming, which takes a lot of finesse when one of those strange beings is literally the skin of a boy. No, really. Just the disembodied skin of a boy.
For all of its bewitching attributes, it is still a horror story. The horror is as much internal as external, and as you close the book on volume one, you find yourself in the same position as the protagonist. You can't quite decide what scares you more: is it the monsters and ghouls in the woods, is it the townsfolk that come together as a lynch mob, or is it Emmy herself, and who/what she might really be?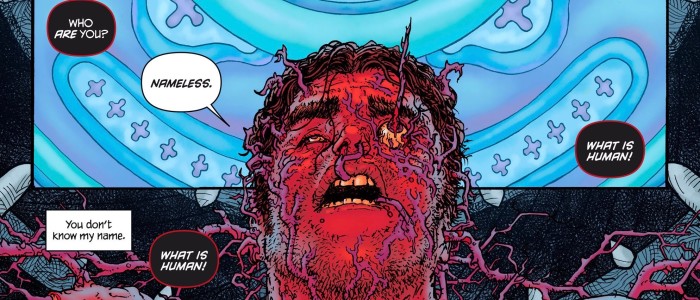 Nameless
Written by Grant Morrison
Illustrated by Chris Burnham
"It's like the goddamn Exorcist meets Apollo 13!" The pages of the comic explain it well enough, but frankly I would also call it Constantine in space. If you are like me and can never quite decide if you would rather watch some good old fashioned occult horror like The Conjuring or some good old fashioned sci-fi horror like The Thing, I give you Nameless.
Nameless, which ironically is the name(-ish) of our protagonist, begins with a murder/suicide and a cryptic warning. What follows is a story that is as gruesome as it is bewildering and as horrifying as it is well-crafted. The plot is nothing short of nuts: a nameless, foul-mouthed occultist is tasked with a mission to help a bunch of researchers explore an asteroid heading straight to Earth. This, however, is no ordinary asteroid. Marked with the symbol of the door to the anti-universe, this asteroid packs a far more terrifying punch than just a deep impact. This is the kind of armageddon that Michael Bay could never dream of.
Nameless is a horrifying fever dream of a comic, and definitely one of the scariest on the list. Combining biblical horror with science fiction horror is no small task, and Grant Morrison manages to weave them in a way that makes a strange amount of sense. Don't get me wrong – this comic is not for the faint of heart. The work of writer Grant Morrison, much like Alan Moore, can sometimes bee a hard pill to swallow, and this story isn't without it's head-scratching moments (and artist Chris Burnham is not shy about translating his gruesome ideas). However, if you like your horror dark and with a heavy dose of the strange and unusual, than the juice is worth the squeeze with Nameless.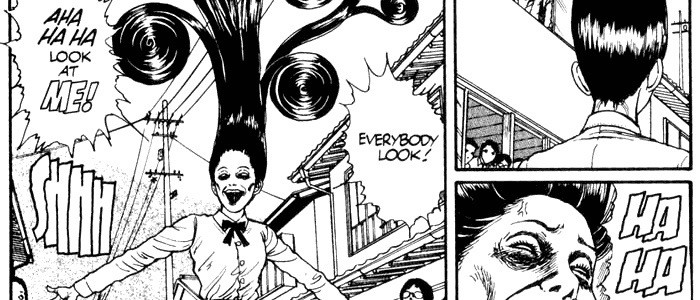 Uzumaki
Written and Illustrated by Junji Ito
To be completely honest, the section of manga on my bookcases is very small. It is always the section of my local comic shop that I leave mostly unexplored. However, among the colorful spines of Akira and Sailor Moon looms the dark tome that is Uzumaki.
It is no secret that a number of American or Western horror films have roots in the Korean and Japanese film industries. Starting with the popularity of The Ring, it seemed as though every new horror film was in fact a remake of a Japanese original. The horror market from our friends in the eastern hemisphere tends to take the first steps out of the box, before we are ready to follow. This Japanese horror manga follows suit.
Uzumaki is not about zombies or ghosts. Uzumaki is experimental, arthouse horror. It is the kind of horror that makes the plot difficult to explain because you really and truly just need to consume it yourself. Uzumaki follows the citizens of a small town plagued by spirals and two people determined to escape the curse. These spirals affect every part of the townspeoples' lives, from spiral structures to bizarre deaths and spiraling hair.
While Uzumaki fits into a common theme of someone trying to defeat a supernatural power greater than themselves, it could not be more unique. Sure, it won't be everyone's cup of tea, but for those willing to take a spin, it is one of the most terrifying horror comics ever created.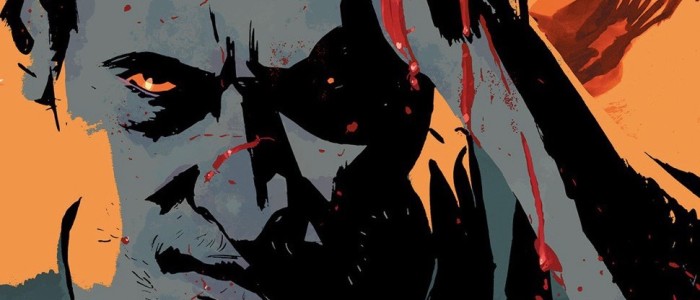 Outcast
Written by Robert Kirkman
Illustrated by Paul Azaceta
First and foremost, one of the reasons that Outcast stands out as a horror read that you might enjoy is that writer Robert Kirkman has another famous horror series that you might have heard about: The Walking Dead. If you are a fan of the show or the original comic series, that alone should entice you. However, don't expect another zombie story in Outcast.
Outcast follows Kyle Barnes, a deeply tragic figure who has had the unfortunate trait of attracting demons. From his own mother to his wife, Kyle has been surrounded by demons possessing his loved ones, but he has never been able to figure out why. The story picks up when Kyle decides to stop living as a recluse consumed by his misfortune and joins a demon-hunting Reverend in an attempt to save the possessed and find answers for himself.
Outcast is one of the more human stories on this list. With a wholesome cast of characters in what seems like a quiet town, this comic is great for anyone new to the medium because the story is composed and unfolds like a TV show. Of course, it has also been adapted into a television series on Cinemax, but start with the comic.