'Sicario' Sequel 'Soldado' Is "More Severe" And "Extremely Emotional," Says Josh Brolin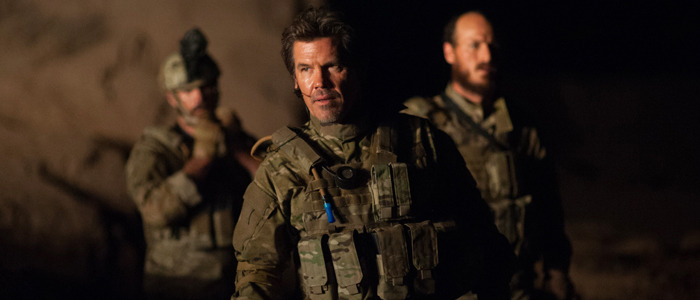 Sicario, the title of Denis Villeneuve's 2015 suspenseful border thriller, is Spanish for "hitman." The title of the upcoming sequel, Sicario 2: Soldado, translates to "soldier" – which is appropriate, considering it focuses on Josh Brolin's morally dubious Department of Justice agent and Benicio del Toro's equally mysterious assassin from the first film. (Sorry, Emily Blunt.)
Production on the movie has already wrapped, and while doing press for a different film, Brolin spoke a bit about what we can expect from the follow-up, including that it's "extremely tense." Sounds good to me.
Soldado is written by Taylor Sheridan, the screenwriter who wrote the original Sicario and wrote and directed this year's Wind River. Villeneuve decided to take cinematographer Roger Deakins elsewhere and make Blade Runner 2049 instead of returning to the world of cartels, drug lords, and ruthless agents, so Gomorrah filmmaker Stefano Sollima stepped in to direct this sequel, which we've heard will be the second entry in a trilogy.
In an interview with Collider, Brolin was asked how Soldado turned out, and the actor compared it to making Sicario, a film he thought "was going to be OK" when he finished shooting it but actually turned out to be, in his words and mine, "a really fucking good movie." Here's more:
"I kind of felt the same way [with Soldado], and maybe that all stems from Taylor Sheridan's writing and the fact that you can only fuck up his scripts to a certain extent, but it's still going to be a good movie because maybe it does all start with the script. When you have an OK script you're constantly manipulating it to make it sound decent, is one thing. When you have a great script and you're just trying to do justice to it, maybe that's something else, and I think that's what we experienced with him."
As far as how the final film will compare to Sicario's suspenseful action and character-driven drama, Brolin praises not only its severity but its balance of emotions as well:
"I think it's just more severe, man. All the way around. I think the characters are more severe. I think the movie is more severe. I think it's just much bigger. It's just a bigger scope film. Like I said, when I saw it it was like Sicario felt like a small movie to me, even though it was a very intimate movie. I've always said I don't understand why bigger movies can't be just as intimate, if not more intimate. Why do they have to be less emotional? I think Soldado's a perfect example of that. I think it's extremely emotional. I think it's extremely tense and it deals with similar subject matters."
I have a feeling this movie is going to sneak up on people and may even end up being a contender for one of the most intense thrillers of next year. The first one came out back in 2015, but the sequel isn't set for release until June 29, 2018.