William Shatner Shares His (Theoretical) Idea For A 'Star Trek: Discovery' Role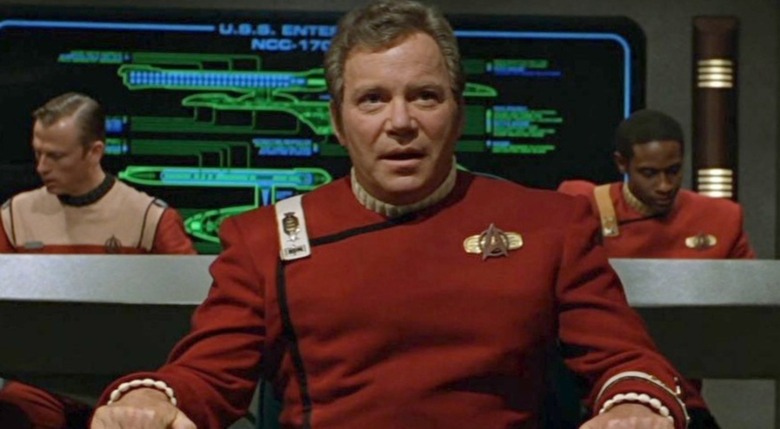 A William Shatner Star Trek Discovery cameo is in the works...in William Shatner's mind. The actor, who originated the role of Captain Kirk on the 1960s Star Trek series and went on to reprise the role in seven more feature films, is eager to return to the character. And if that means defying Kirk's death in Star Trek: Generations, then so be it.
Because Shatner has an idea to bring his Captain Kirk back on deck in CBS All Access' new Star Trek TV series.
Star Trek: Discovery is boldly going beyond what past Star Trek series have explored, becoming the first of the sci-fi franchise to premiere on CBS' streaming service and the first to feature a woman of color in the lead role (Sonequa Martin-Green). But the connections to the original Star Trek series are plentiful, with Martin-Green's Michael Burnham revealed to be Spock's adopted sister. Discovery takes place roughly a decade before the events of the original Star Trek series — and, it must be remembered, in the original timeline before the J.J. Abrams' movies — so it wouldn't be out of the question for members of the USS Enterprise to board USS Discovery.
It seems that's what Shatner is thinking too. In an interview with IGN during New York Comic Con, Shatner joked that it would take "a great deal of money" to convince him to appear in Star Trek: Discovery. "I don't know what you'd do with a character who appeared 50, now 51 years ago," the Canadian actor added, pointing out that while his character would only be 10 years older in the timeline, he would be 51 years older than when he appeared in the original series. "Are there stories to tell about an aging guy?"
But Shatner seemed to be struck by inspiration, describing his idea of what he could bring to Star Trek: Discovery by comparing an older Kirk to his Better Late Than Never costar and football legend Terry Bradshaw — bearing in mind that Kirk dies in Star Trek: Generations, which takes place many years after the original series:
"Now, he's older, his knees hurt, his back hurts. ... So here's this aging athlete, who isn't [what] he was in his twenties and thirties. Still carries himself grandly and has a sense of humor and all, but he's not the athlete he was. What would Captain Kirk be like 50 years later, with the sagacity of mind, and yet the body doesn't do what he wants it to do? I mean, it's an interesting story."
There were some rumors that Shatner sought to bring Kirk back in the 2009 Star Trek reboot by Abrams but the scene was ultimately cut — which Shatner denied earlier this summer, calling it "fake news" and "the stupidest scene I have ever heard of!"
There's some timeline fiddling that Discovery would have to do if they were to take Shatner's idea into account, but he could easily cameo as a different character if he were eager to return to the Star Trek universe.
Star Trek: Discovery currently airs on CBS All Access on Sundays.