'Murder On The Orient Express' Featurette: See How They Shot On 65mm Film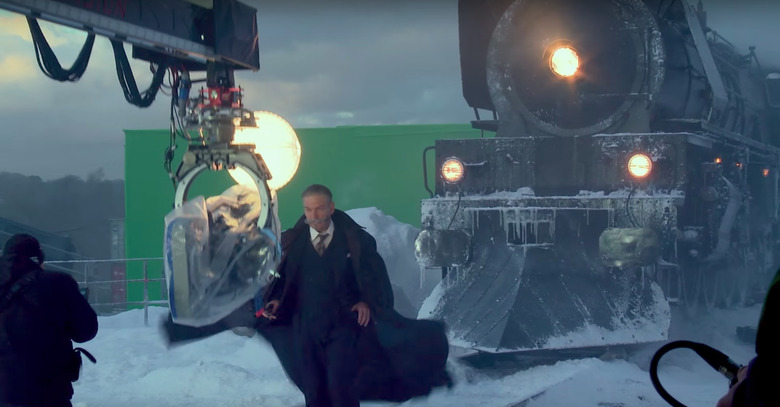 Kenneth Branagh's glorious mustache is not the only thing that the actor-director is doing old-school in his feature film adaptation of Murder on the Orient Express.
The director and star of the 2017 adaptation of Agatha Christie's classic novel is taking painstaking means to give audiences as authentic and immersive experience as possible. That means a return to the days of yore, when filmmakers used film cameras and not digital. A new Murder on the Orient Express featurette dives into Branagh's process, and the joy it gives actors to perform without a green screen.
Watch the Murder on the Orient Express Featurette
"We wanted to bring the full experience to the audience so I shot on film. It essentially means it looks sharper, richer, more colorful, and feels like you're inside it," Branagh said in the featurette for the upcoming adaptation of the famous murder mystery tale. Murder on the Orient Express was shot using 65mm Panavision cameras, of which there are only four available in the world. While there's no guarantee that the ambitious film will be projected in 70mm screens, the success of Christopher Nolan's Dunkirk at 70mm and IMAX theaters this summer may nudge distributors toward the grand visual medium.
"It's a world filled with detail and luxury," Branagh continued, while the actors lavished praise on the immaculate set and costume design of the movie. Branagh put emphasis on practical effects and sets for Murder on the Orient Express to create a completely immersive world. Even cinema veteran Judi Dench, who plays Princess Dragomiroff, was in awe. "You completely suspend belief," she said. "The train moved and everything went past."
Here's the official synopsis for Murder on the Orient Express:
What starts out as a lavish train ride through Europe quickly unfolds into one of the most stylish, suspenseful and thrilling mysteries ever told. From the novel by best selling author Agatha Christie, "Murder on the Orient Express" tells the tale of thirteen strangers stranded on a train, where everyone's a suspect. One man must race against time to solve the puzzle before the murderer strikes again.
Murder on the Orient Express stars Kenneth Branagh, Penélope Cruz, Willem Dafoe, Judi Dench, Johnny Depp, Josh Gad, Derek Jacobi, Leslie Odom, Jr., Michelle Pfeiffer, Daisy Ridley,Tom Bateman, Marwan Kenzari, Olivia Colman, Lucy Boynton, Manuel Garcia-Rulfo, and Sergei Polunin. Based on the novel by Agatha Christie, which was once before adapted to film by Sidney Lumet in 1974, the 2017 Murder on the Orient Express is directed by Branagh and written by Michael Green.
Murder on the Orient Express is set to open in theaters on November 10, 2017.