'Star Trek: Discovery' Review: 'Choose Your Pain' Puts The Crew In A World Of Hurt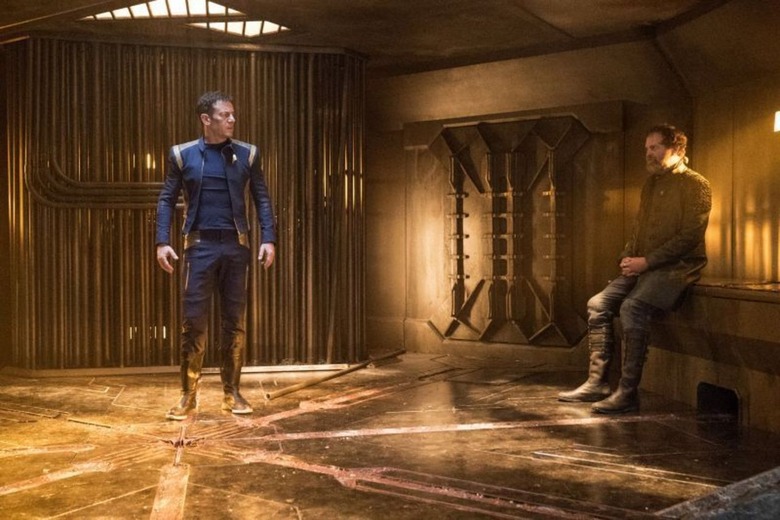 Okay, what was with that ending of the latest Star Trek: Discovery episode? Did "Choose Your Pain" turn Star Trek into a horror show?
"Choose Your Pain" is, as the title suggests, filled with tons of pain, including the minor pain of seeing another Stamets continue to look in his bathroom mirror while the real Stamets walked away. The only levity found in this episode, aside from the first usage of the f-word in Star Trek history, was Rainn Wilson's highly enjoyable Harry Mudd. Seeing this Star Trek OG character was a sight for sore eyes. Speaking of sore eyes, let's get into the types of pain caused by both the Klingons and Starfleet.
Lorca's Eye Problem
As a person with 20/80 vision, I sympathize with Lorca trying to protect his eyes at all costs. When he's captured by Klingons, I had to actually avoid looking at the screen since the Klingons' choice of torment for Lorca was to subject his eyes to harsh light. I'm squeamish about any kind of eye prodding.
I thought he would have gone blind after that. Conveniently for the action sequences, he did not, but it seems like his eyes have been badly damaged. He's been told to get his eyes "fixed," but what does that entail? Does that mean Lorca will don some eyewear like Geordi La Forge's visor?  That'd be cool.
Also: we find out he's killed an entire crew before his turn on the Discovery. It's a shocker, even though Lorca has been portrayed thus far as a possible villain. But was it for a good reason? Was he really trying to keep them from being abused as Klingon POWs? My money is on him just being bloodthirsty.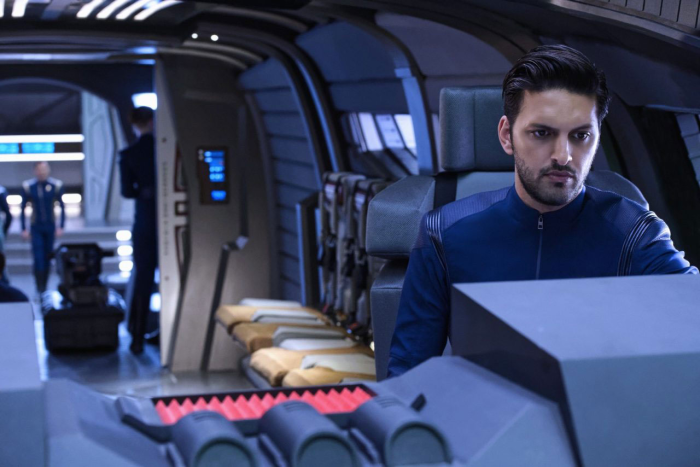 Tyler's Sexual Assault
Poor Ash Tyler (Shazad Latif) was a victim of sexual assault aboard the Klingon vessel. What else does the line "the captain of this ship has taken a liking to me" to mean? Thankfully, Tyler managed to escape with the help of Lorca, but not before he got some licks in on his attacker. Yes, his attacker is a woman Klingon.
Considering the news we've been hearing from Hollywood and the film criticism industry over these last few weeks, it's quite poignant that this episode would air now. It provides another layer to the conversations we've been having about victims and predators. In this case, Star Trek: Discovery is shining a light on male victims of sexual assault at the hands of female perpetrators.
The insinuation that Tyler has been raped repeatedly by the Klingon captain was so subtle in the dialogue between Tyler and Lorca that it's easy to look past it, or even excuse it away as Tyler purposefully using his sex appeal to his advantage. But the way he swings at the Klingon captain tells a different story. He's trying to throw back some of the pain she's caused him.
Tyler's victimhood might also go unrecognized by some viewers due to how much our society's view of toxic masculinity keeps us from seeing men as sexual assault victims, especially when it's at the hands of a woman. Male victims are often scorned or seen as weak. Just look to last week, when Terry Crews revealed he had been sexually assaulted by a powerful Hollywood executive. While Crews received tons of support, there were also people — many of them men — wondering why he didn't say anything and why he, as a man, didn't do anything, particularly since his assailant was another man. Some people assumed Crews couldn't be a victim just because he's a burly man (that's not counting the racial implications there are to this assumption).
While women are often wrongly stereotyped as "asking for it," male victims are also stereotyped in the same way. Somehow, it's always painted as the victim's fault — not the perpetrator's — for their own assault. Even worse for men is when other men might congratulate male victims for "getting lucky" if their assailant happened to be a woman.  I haven't seen much on the internet in the way of actually recognizing Tyler's trauma — I've only seen one person tweet about wanting the show to explore Tyler's PTSD. I've also seen a person say Tyler ended "a relationship" with the Klingon captain? This was no relationship. Hopefully, Discovery will explore this further. After all, Star Trek has always been about using science fiction to tackle real world social, moral, and ethical questions and quandaries. It's only right for the new show to dig deep here.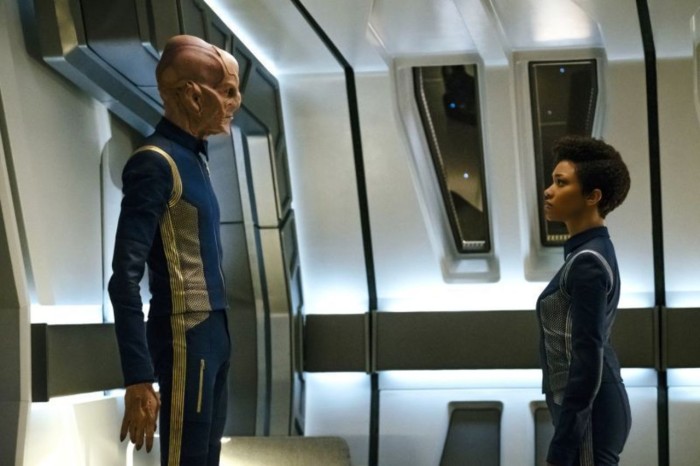 The Tardigrade's Abuse
Seeing the Discovery crew abuse the tardigrade so much was quite painful. I won't go into a "Would the original Star Trek have done this?" debate since the Discovery is a ship under duress in a myriad of ways. However, the tardigrade's suffering provided a much-needed moral wake-up call for the science crew, which — thanks to Michael — realized the tardigrade was in distress.
They realized this too slowly, though. Honestly, it's quite surprising and tone-deaf for the crew to not realize that this animal could have some form of sentience. Even Saru, who is prey on his planet, assumes the animal has no smarts. You'd think he of all people would understand what it's like to be, well, preyed upon.
Folks were also slow to get into gear solely because it's Michael giving them the advice. I get she got nearly everyone on board the Shenzhou killed, including the beloved Captain Georgiou, but doggone it, do they still not get that everything she does involves trying to save people's lives?
On the flip side, everyone's got a right to be mad at her, especially Saru, who idolized Georgiou as much as Michael did. Saru expected to become Georgiou's next Number One, but, as he told Michael later, he never got that chance. His grief increased when he was made acting captain in Lorca's absence; a role he felt he would have been more prepared for if he had gotten the same training from Georgiou as Michael did.
Saru didn't have another option except to use the tardigrade to find Lorca; if another host for the tardigrade DNA was available, the tardigrade could have been spared. But after it went into protection mode, another organism had to step up. That organism was Stamets. The tardigrade was set free, but Stamets has apparently opened up a tear in the space-time continuum that could be the beginning of the mirror-verse and the start of the alternate realities as we know it (hello, Star Trek reboot series). Things are going to get loopy.