Non-Canon 'Legends' Characters To Cameo In 'Han Solo' Movie, Ron Howard Teases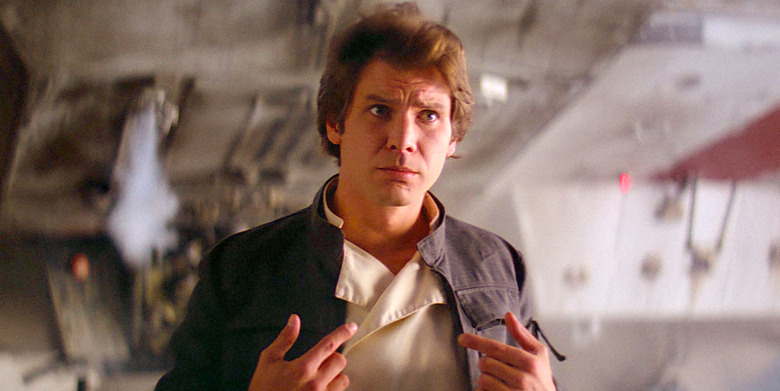 The Han Solo movie cameo list just became a lot more exciting, with director Ron Howard teasing a fan-favorite duo who are making their way from a non-canonical expanded universe far, far away.
That's right, two Star Wars Legends characters will make a cameo in the Han Solo standalone prequel, starring Alden Ehrenreich as the young smuggler with a heart of gold. And rather than fading into obscurity like much of the now non-canon Star Wars expanded universe, here is definitive proof that they were here.
Tag and Bink are back.
The hapless rebel duo, who became fan-favorite characters in the Star Wars Legends comic books that were published before Disney acquired Lucasfilm and essentially rebooted the franchise outside of the core films and TV shows, are making a cameo in the Han Solo movie.
Howard tweeted a photo with himself and the two actors portraying Tag Greenley and Bink Otauna: Toby Hefferman and Han Solo co-writer Jon Kasdan, who are curiously donning Imperial officer uniforms (presumably in an infiltration mission gone awry.)
#tagandbink ? pic.twitter.com/1EzUbS3MQs

— Ron Howard (@RealRonHoward) October 14, 2017
Kasdan himself went on to confirm that Howard wasn't just pulling everyone's leg – Tag and Bink are in the Han Solo movie:
Thank You, Kevin. I'm a huge fan and I had to get 'em in there, and then had to play it myself (with Toby Hefferman) to do it justice

— Jon Kasdan (@JonKasdan) October 14, 2017
Tag and Bink were the Rosencrantz and Guildenstern of the Star Wars expanded universe. Introduced in their own limited-run series, Star Wars: Tag & Bink, the comic followed the comedic duo as they clumsily crossed paths with major characters from the saga. They immediately developed a following — which has led to an appearance in the Han Solo spin-off movie. The presence of this dynamic duo could mean that some of the irreverent comedy that former directors Phil Lord and Chris Miller brought to the Han Solo movie could be kept intact.
This isn't the first time Star Wars has selectively taken elements of the Star Wars expanded universe and folded them into the canonical timeline. Grand Admiral Thrawn became a pivotal villain in Star Wars Rebels, and Star Wars: The Force Awakens borrowed plot points from the expanded universe. The expanded universe was comprised of comic books, novels, video games, and audio books that were officially produced by Lucasfilm until the Walt Disney Company bought the studio in 2012. From then on, all previous expanded universe materials were rendered non-canonical, but like the aforementioned elements — and now Tag and Bink — some of the more popular characters of the expanded universe are staging a comeback.
The Han Solo movie also stars Emilia Clarke, Donald Glover, Woody Harrelson, Phoebe Waller-Bridge, and Thandie Newton. It is set to open in theaters on May 25, 2018.