'Room 104' Review: 'My Love' Closes Out An Uneven First Season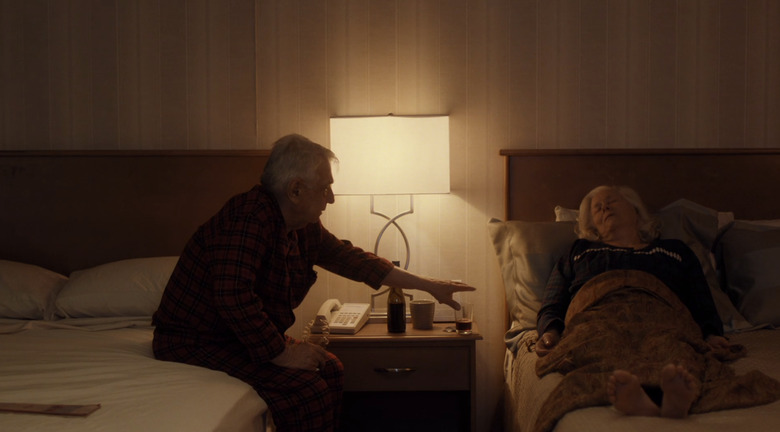 (Each week, we'll kick off discussion about Room 104 by answering one simple question: what's the strangest thing in Room 104?)Room 104 finishes its first season with a sentimental love story starring a long-married elderly couple. Charlie and Lorraine have a long history with Room 104, dating back to their wedding night a half century ago. Their latest visit ends up serving as a neat bookend to their saga. "My Love" isn't a surreal or shocking finale, and that sadly that seems to be par for the course for Room 104, an experiment that started out strong only to get less and less compelling as the season wore on.
What's the Strangest Thing in Room 104? Charlie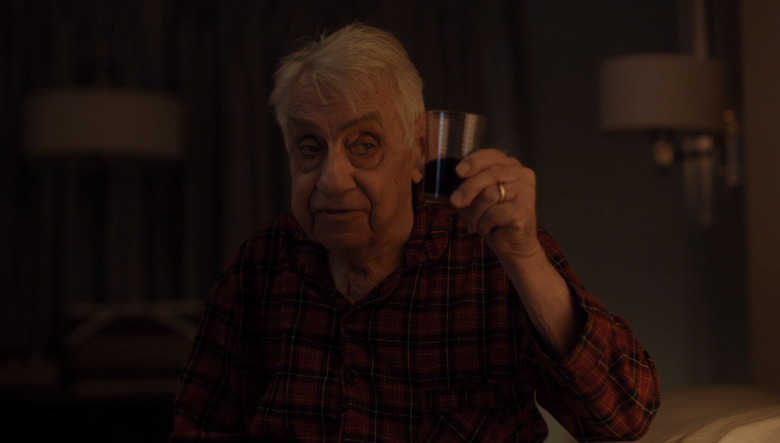 As a character, Charlie (Philip Baker Hall) is a pretty typical old man. He hides Double Stuf Oreos in his sock drawer, owns a matching set of flannel pajamas, and enjoys soup. All in all, a very recognizable grandpa. But he makes an odd choice about halfway through the episode that ends up driving the narrative of "My Love."Charlie has brought his wife Lorraine (Ellen Greer) to Room 104 for a special reason. The couple had their wedding night in this exact room 56 years ago, and they're hoping to relive the past. Charlie even snuck a dose of Viagra to recreate the evening. He and Lorraine do attempt to reconnect in bed, but quickly give up on the plan. They order Chinese food and switch on the TV instead.Charlie gets up to give himself an insulin injection. As he's rattling off the names of their grandkids, at Lorraine's insistence, he notices she's fallen asleep. When he goes to rouse her, he realizes she's dead. Charlie panics. He picks up the phone, but slams it down. He picks it up again to call their daughter, Elaine (Jacqueline Wright). After struggling to articulate what has happened, Charlie opts not to tell Elaine about her mother's condition. He asks her what she's making for breakfast the next morning and then hangs up.It's here where Charlie's bizarre behavior falls into place. He's apparently decided to have a one-way conversation with Lorraine. He rambles on about the television and wine they've brought like she's conscious. He confesses that he voted for Barry Goldwater, and tells her about the secret Oreo stash. Then he pivots into a more serious subject: Lorraine's old affair with his friend Ed. Ed told Charlie about it many years ago, marching into Charlie's office one day to confess his feelings. Charlie was convinced Lorraine would leave him later that night, but when he arrived home, she was at the dining table, waiting to eat with him and make movie plans. He promised himself he would never bring it up, because he was just grateful she chose him. "My love, I don't think I will ever understand you," he says to Lorraine's lifeless body. "But I love you. And I think that's okay."Charlie turns off the TV, shakes out a blanket, and climbs into bed alongside Lorraine. He closes his eyes. The delivery man knocks, but neither Charlie nor Lorraine rise to get the door.
Finality and Finales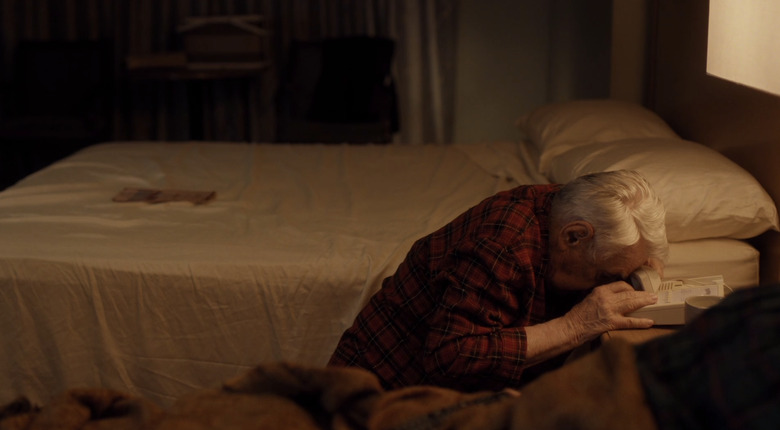 "My Love" is an appropriate season one finale for Room 104, given the subject matter. Although the series has flirted with demise through near-fatal experiences and ghostly encounters, it's never ended on an explicit character death – let alone two. But the story here is unoriginal and borderline boring. I found myself counting the minutes remaining constantly, and practically groaning when Charlie and Lorraine made their Notebook-esque exit. "My Love" is guilty of a cardinal sin of fiction: assuming there's something inherently interesting about affairs. There isn't, and when Charlie trots it out like it's a bombshell, it reveals how thin the story really is.
Taking Stock of Season One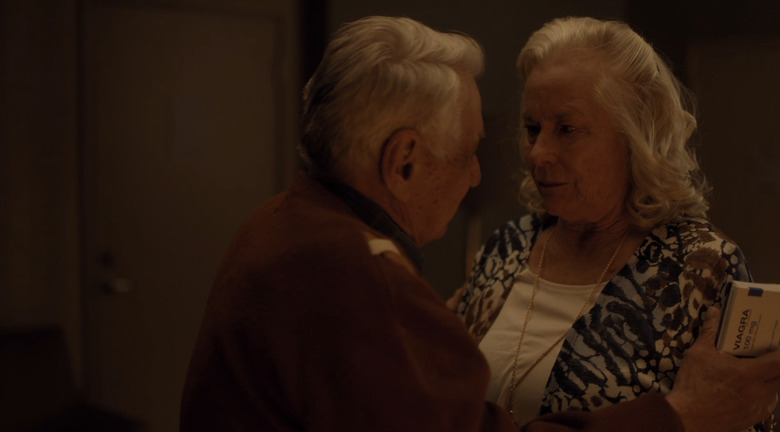 "My Love" illustrates problems that have been plaguing Room 104 throughout its inconsistent freshman season. While the series was hyped as a wild, weird genre show, it was more of a quiet drama series in practice. Which would be fine, if these muted character studies were more interesting. They weren't, and the season was left with way more filler episodes than stand-outs.But the series did have stand-outs, and they consistently arrived when Room 104 leaned more into that wild, weird genre show HBO had hyped. "Ralphie" was a solid series opener, a tense little piece of horror that fit the half-hour format perfectly. "Pizza Boy" had a creepy twist, while "The Knockandoo" was unforgettably strange. The show's big ballet experiment, "Voyeurs," played beautifully. The action episode, "The Fight," also ended strong. All of these episodes had a concrete concept, executed inventively. But the rest of the episodes lacked real focus, favoring the meandering mumblecore style that made the Duplass brothers famous. That works for some projects, but not for Room 104, a series with enormous potential that just seemed to lose its edge as the season dragged on.It's understandable why Room 104 wouldn't want to peg itself as a a strictly horror anthology series, when HBO is providing such colossal creative freedom. But the show should be eagerly embracing the "2017 Twilight Zone" mantel it seems so reluctant to hold. Television has enough forgettable drama series, and none of us have time to watch them. In season two, the Duplass brothers should invest in more cult priests, and less Charlies.