'Phantom Thread' Is The Official Title Of Paul Thomas Anderson's New Film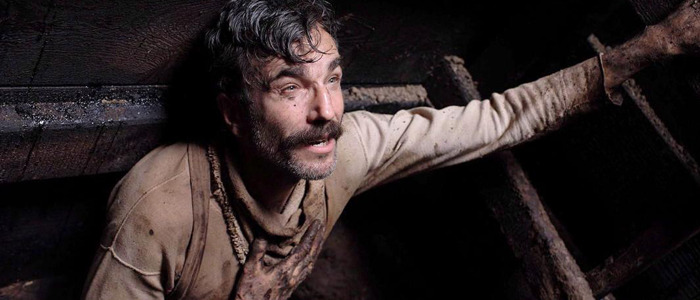 Paul Thomas Anderson has a new film on the horizon, one that's remained shrouded in secrecy. Even though the film is set to be released in about two months, it didn't have an official title. Until now. Anderson's new film, which will reunite him with Daniel Day-Lewis, is now officially called Phantom Thread. Read a brief plot synopsis below.
Daniel Day-Lewis surprised the film world when he announced his next film, a drama that reunites him with his There Will Be Blood director Paul Thomas Anderson, would be his last. Up until recently, Day-Lewis' final film was simply known as Untitled Paul Thomas Anderson Film. Now we can call it by its proper title: Phantom Thread.
A new website from Focus Features confirms the title, and also provides a brief synopsis for the film:
Continuing their creative collaboration following 2007's There Will Be Blood, three-time Academy Award winner Daniel Day-Lewis stars in Phantom Thread from Paul Thomas Anderson. The writer/director will once again explore a distinctive milieu of the 20th century. The new movie is a drama set in the couture world of 1950s London. The story illuminates the life behind the curtain of an uncompromising dressmaker commissioned by royalty and high society.
Anderson, who has helmed some of the best films of the 21st century, including Punch-Drunk Love, The Master, There Will Be Blood, and Inherent Vice, both wrote and directed Phantom Thread, and will also serve as the director of photography, which is a first for the filmmaker. Phantom Thread had been the working title of the film while Anderson shot it, but Indiewire reported back in June that it would not be the official title upon release. Apparently that's changed.
Day-Lewis won a much-deserved Best Actor Oscar the last time he worked with Anderson on There Will Be Blood. On working with Day-Lewis, Anderson said: "It's a privilege to work with Daniel Day-Lewis and few directors have had that privilege. I had to work up the courage to ask him, but I always knew there was only one man for the job."
While this hasn't been confirmed yet, rumors abound that Day-Lewis' character will be based on real-life fashion designer Charles James, a British-born fashion designer known as "America's First Couturier." In addition to being Day-Lewis' last film and the first feature film Anderson has shot himself, Phantom Thread will also be the first of Anderson's film not set in his native California.
There's been almost no promotion for Phantom Thread until now, but as the film is scheduled to hit theaters this Christmas, I'd expect we'll be getting at least a trailer soon.
Phantom Thread opens in select theaters December 25, 2017.