'The Addams Family' To Get Animated In Movie By 'Sausage Party' Director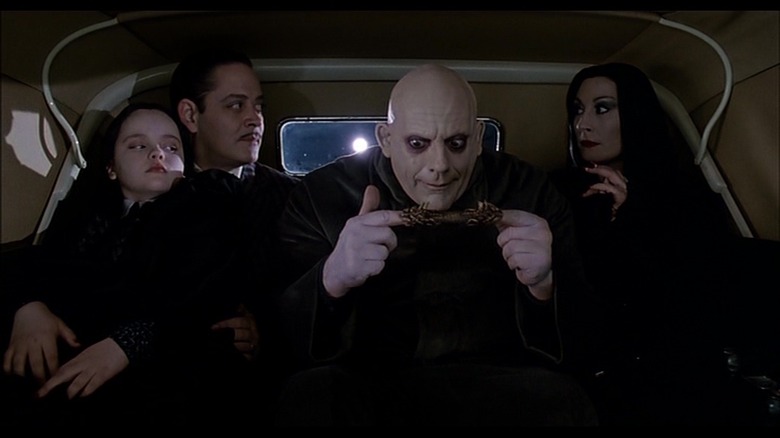 The Addams Family is about to get re-animated for a feature film by Sausage Party co-director Conrad Vernon.
That pun is about more than me just trying to get a joke in about the macabre horror-comedy. Though popular culture mostly knows The Addams Family from a pair of darkly comic films from the '90s starring Anjelica Huston and Christina Ricci, the supernatural series has actually been in animated form just as often as it has been depicted by live-action actors. So it's not the wurst option for The Addams Family to make a return to its animated roots. (Sorry.)
 brings word that The Addams Family animated movie is in the works at MGM, with Vernon directing the film and producing it with Buffy the Vampire Slayer producer Gail Berman, via her shingle The Jackal Group, and Alex Schwartz (Journey to the Center of the Earth).
The screenplay is being written by Pamela Pettler (Corpse Bride, Monster House) based on the original cartoons, with revisions by Matt Lieberman, who wrote the script for the upcoming animated Scooby-Doo film.
I've never seen Sausage Party, though I'm familiar with Vernon's work on Shrek 2 and Monsters vs Alien, so I'm guessing that he will lean into the satirical, winking tone of the original 1964 series and the subsequent 1990s feature films. Considering The Addams Family is still a family-friendly story, I doubt he'll bring the raunch that Sausage Party is widely known for, but it will likely be in the same vein of biting humor.
As I mentioned before, The Addams Family is no stranger to the animated realm. The family broke into the pop culture scene as a single-panel comic illustration by cartoonist Charles Addams in The New Yorker before spawning a live-action television show in the '60s. The macabre family was subsequently animated in two separate series: the first ran for 16 episodes in 1973 on NBC, while the second ran for two seasons on ABC in 1992.
Here's the intro to the 1973 animated series, which spun off from the family's cameo in a Scooby-Doo! episode, and featured a few of the cast members from the 1964 television series voicing their characters.
In the 1992 animated series, the grisly, macabre tone of the original series was toned down to be geared toward children. However, this series brought back the kooky jingle from the 1964 TV show, passing it down in the popular consciousness through today. Come on, you know you can sing every word to this song.