The 'Stranger Things' Season 2 Soundtrack Is Out; Listen To A New Song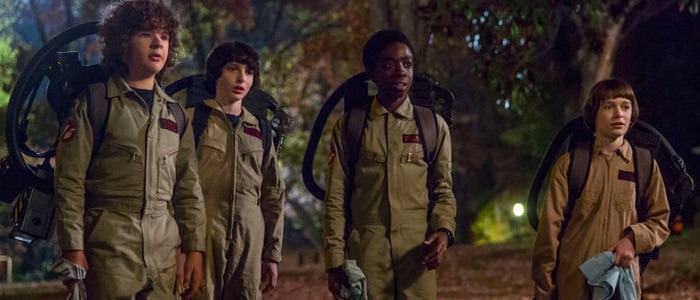 Stranger Things wouldn't be the nostalgia-fueled '80s genre movie love letter that it is without an appropriately synth-heavy soundtrack. The eerie opening theme has joined the ranks of Peak TV's most iconic title sequences, subdued and retro as it is.
So it's no wonder that Netflix would have a glitzy rollout for its Stranger Things season 2 soundtrack, soon to be made available digitally and on CD, vinyl, and cassette tapes. So break out your Walkman and listen to the preview of the first title track, "Walkin' in Hawkins."
Kyle Dixon and Michael Stein, who composed the famous title track and season 1 score, shared the track list and the first song from the Stranger Things season 2 soundtrack. In a statement accompanying the release, the duo said said:
"In Season 2 we're introducing new styles of composition, while still revisiting old themes when appropriate. We've created new elements that are necessary to support the story, but still want to remain true to the sound of Season 1."
You can listen to "Walkin' in Hawkins" here.
"Walkin' in Hawkins" shares a few elements with the season 1 title theme, but is a little more upbeat, with steel drums woven in through the electronic synth.
Here's the track list for the Stranger Things 2 OST:
01 Walkin' in Hawkins
02 Home
03 Eulogy
04 On the Bus
05 Presumptuous
06 Eight Fifteen
07 The First Lie
08 Scars
09 I Can Save Them
10 Descent Into the Rift
11 Chicago
12 Looking for a Way Out
13 Birth / Rescue
14 In the Woods
15 Digging
16 Symptoms
17 Eggo in the Snow
18 Soldiers
19 Choices
20 Never Tell
21 She Wants Me to Find Her
22 Shouldn't Have Lied
23 It's a Trap
24 Crib
25 The Return
26 Escape
27 We Go Out Tonight
28 Connect the Dots
29 The Hub
30 On Edge
31 What Else Did You See?
32 Run
33 Levitation
34 To Be Continued
The Stranger Things season 2 soundtrack will be made available digitally on October 20 via Invada and Lakeshore. CD, vinyl, and cassette releases will be announced later. Dixon and Stein will debut the full score at a performance at Los Angeles' The Theatre at Ace Hotel on November 8, 2017.
To bide your time until the soundtrack is released next week, here's the season 1 title theme once again.
Stranger Things season 2 will premiere on Netflix on October 27, 2017.