'New Mutants' Trailer: The Superhero Movie Heads Into Horror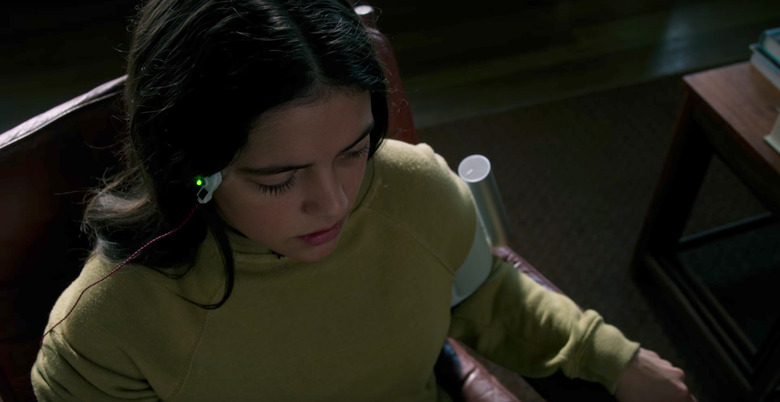 "This isn't a hospital, it's a haunted house!"
Directed by Josh Boone (The Fault in Our Stars), New Mutants boasts an all-star cast of talented rising actors including Game of Thrones' Maisie Williams, The Witch's Anya Taylor-Joy, and Stranger Things' Charlie Heaton. But it won't be your standard superhero flick of the month — Boone promises a claustrophic, horror-inspired spin-off film centered around some of the lesser known X-Men characters. Hey, going different worked for Deadpool.
Watch the New Mutants Trailer
New Mutants began production only three months ago, but the new trailer shows that the movie has a firm grasp of its horror identity. Five children are unwillingly kept in a "hospital" where Dr. Cecilia (Alicia Braga) asks them intimate questions about strange occurrences and mutants. But the facade soon falls apart as the kids start to get attacked and chased by mysterious entities within the building, like a masked man, and beings in the walls (appropriately very reminiscent of Stranger Things). Convinced that they're trapped in a building haunted by ghosts, the kids try to escape from the terrifying building, and the even more terrifying Dr. Cecilia.
The eerie atmosphere of is compounded by the haunting children's song playing throughout, and by Braga's cold performance as Dr. Cecilia, which has shades of the most infamous cinematic medical professional, Nurse Ratched. The main kids look the part too — bedraggled, wide-eyed, and generally looking as un-superheroic as possible.
Boone has promised that New Mutants will be "a full-fledged horror movie set within the X-Men universe. There are no costumes. There are no supervillains. We're trying to do something very, very different." With the limited setting and the small ensemble of characters, New Mutants seems like it will play as a "bottle episode" type of superhero film, which would be a breath of fresh air in the increasingly convoluted and expansive X-Men cinematic universe. Deadpool benefited from having a standalone story separate from the rest of the well-known X-Men characters, and it looks like New Mutants will take a similar approach.
Here's the official synopsis for New Mutants:
Held in a secret facility against their will, five new mutants have to battle the dangers of their powers, as well as the sins of their past. They aren't out to save the world — they're just trying to save themselves.
New Mutants stars Maisie Williams as Wolfsbane, Anya Taylor-Joy as Majik, Charlie Heaton as Cannonball, Henry Zaga  as Sunspot, Blu Hunt as Danielle Moonstar, and Alicia Braga as Dr. Cecilia Reyes.
New Mutants is set to premiere in theaters on April 13, 2018.