New 'Justice League' Aquaman Video Gives You A Crash Course On The Character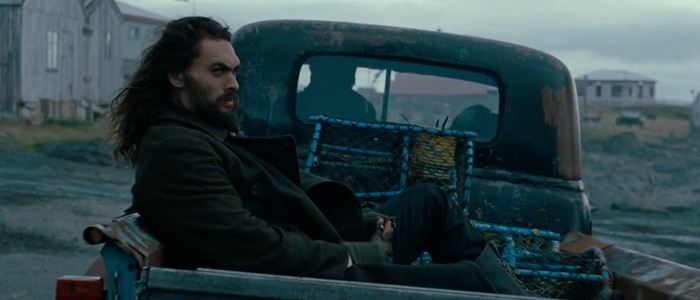 In preparation for the upcoming Justice League, a new feature video highlights Jason Momoa's Aquaman, giving you a quick history lesson of the character, his origins, and his powers. Watch the new Justice League Aquaman video below.
As a character, Aquaman has often been the butt of a few good natured jokes. On the surface, the character – an undersea hero who can communicate with fish – doesn't exactly scream "cool." As a result, everything from Saturday Night Live to Entourage has found ways to harpoon good old Aquaman. Justice League will attempt to put all these naysayers to bed with its ultra-buff, ultra-cool Aquaman played by Jason Momoa. "We've never really seen anything from this guy before, so it's fun to have a level playing field," Momoa said, referring to the fact that he's the first big screen live action Aquaman. "There aren't like four Aquamans before me. I get to set the tone for it."
In a brand new first look, audiences can get a crash-course in Aquaman, AKA Arthur Curry, from his roots as the rightful king of Atlantis to a brief breakdown of his superpowers. Momoa talks quickly here about how the character "comes from two different worlds," being half-man and half-Atlantian. "When he finds his place with the Justice League," Momoa says. "That's when he can put his skills to use."
There's also a lot of moments here where Momoa lets out a going-into-battle cry that sounds very similar to the one Dwayne Johnson used as Maui in Moana. It's surely not intentional, but I welcome your future YouTube mash-ups.
Diehard fans of the comic book Aquaman may not know what to make of Momoa's ultra surfer dude take on the character, but it's clear the actor is having a pretty good time playing the part, and relishing moments where he gets to do things like jump on the Batmobile.
Here's the official Justice League synopsis:
Fueled by his restored faith in humanity and inspired by Superman's (Henry Cavill) selfless act, Bruce Wayne (Ben Affleck) enlists newfound ally Diana Prince to face an even greater threat. Together, Batman and Wonder Woman work quickly to recruit a team to stand against this newly awakened enemy. Despite the formation of an unprecedented league of heroes — Batman, Wonder Woman, Aquaman, Cyborg and the Flash — it may be too late to save the planet from an assault of catastrophic proportions.
I'd imagine this video is the first of several that will highlight each member of the Justice League. And hey, maybe Jeremy Irons' Alfred will get one too, focusing on how much he likes to wear tweed vests. I'd watch that.
Justice League opens November 17, 2017.