Karl Urban Has No Idea What's Going On With 'Star Trek 4'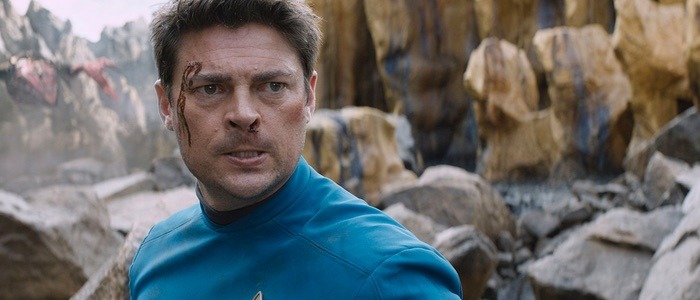 What's going on with the next possible Star Trek movie? Who knows! No one, apparently. Not even the cast. Karl Urban, who plays Dr. "Bones" McCoy, recently said that while he'd love to do another film, he's not sure if another Trek sequel is even happening. Beam yourself down and read Urban's comments on Star Trek 4.
J.J. Abrams successfully rebooted the Trek franchise in 2009 with Star Trek. While some die-hard fans of the series weren't entirely happy with Abrams' approach to the material, general audiences were thrilled. The film was a big hit and garnered high praise for it's incredibly likable cast. Then came Star Trek Into Darkness, which also got pretty good reviews but made most audience members pinch their noses shut and proclaim, "This stinks!" Star Trek Beyond attempted to rectify all of that. Beyond was a lot of fun, but it just didn't have the box office intake producers had come to expect from the franchise. Beyond grossed $158 million at the domestic box office, a huge drop from the previous two installments, both of which grossed north of $200 million. Its final total of $343 million worldwide was the lowest among the rebooted franchise.
So what lies ahead for the series? A script for the as-of-now untitled Star Trek 4 has been written, and it was previously announced that said script would alter Trek timelines yet again and find a way to bring back Chris Hemsworth as the father of Chris Pine's James T. Kirk. Director J.J. Abrams had high praise for the script, calling it the best script in the series yet, and saying in 2016:
"So one of the reasons that I'm hoping [Star Trek Beyond] does well is so that we can, without question, get that movie made. It really is an amazing story. It's really the reason we made the deal with Chris Hemsworth as soon as we could because we really wanted that story to be told, so fingers crossed."
Zachary Quinto, who plays Spock, weighed-in this April on the project:
"I know that they are working on a script for another one and we'll see how that all plays out, but the nice thing about that experience is that the time in between those big tentpole films allows us to go off and cultivate a lot of different creative experiences for ourselves. ... I'm hopeful that we'll do another one, but there's no guarantee... I will be back as many times as they ask me."
Now Karl Urban is the latest cast member to voice his knowledge, or lack thereof, regarding Star Trek 4. Urban is out there promoting Thor: Ragnarok, which gave ScreenCrush the perfect opportunity to ask him what the heck is going on with Trek 4. Here's what the actor had to say:
You know as much as I do, my friend. [laughs] Listen, we'd all love to make another Star Trek movie. That's absolutely certain. But if we don't get that opportunity then I'm really happy to have ended on such a good note. We had such a wonderful time shooting Star Trek Beyond. It was an amazing experience — and we're all still grieving over the fact that it was the last time that we got to shoot with Anton [Yelchin]. We're all like a family. It won't be the same without him.
Urban is referring, of course, to the late Anton Yelchin, who played Chekov in the series and died in a tragic accident right before Star Trek Beyond was released. As for the future of Star Trek 4, only time will tell. Perhaps if the currently-airing Star Trek Discovery creates enough buzz, we'll be treated to further the voyages of the Starship Enterprise.