'Star Wars: Secrets Of The Empire' Trailer Released As Tickets Go On Sale For The VR Experience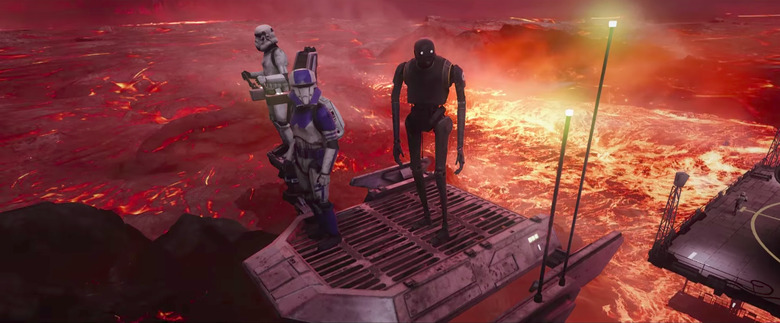 Lucasfilm, ILMxLAB, and The VOID are giving you the chance to truly travel to a galaxy far, far away with the Star Wars Secrets of the Empire virtual reality experience, debuting at Walt Disney World Resort in December and at the Disneyland Resort in January.
Dubbed a "hyper-reality" experience, Star Wars: Secrets of the Empire takes users on a risky mission going undercover as stormtroopers to retrieve Imperial intelligence. Not sold? Lucasfilm has just released a trailer for the experience and has opened ticket sales.
The Star Wars: Secrets of the Empire will allow guests to "walk freely and untethered throughout the multi-sensory experience" wearing VR headgear, according to the press release. With encouraging words from Mon Mothma, teams will set off in groups of four to capture Imperial intelligence for the rebellion, going undercover as Stormtroopers. Judging by the mission, and the presence of Mon Monthma and Rogue One's K-2SO, the experience takes place sometime before the events of Rogue One.
The experience was announced to be in development back in August, and was a collaboration between "three boundary-pushing companies in the burgeoning out-of-home VR entertainment sector," according to Curtis Hickman, co-founder and chief creative officer at The VOID. Added Vicki Dobbs Beck, executive in charge, ILMxLAB:
"People have longed for a chance to step into the Star Wars universe and this incredible new hyper-reality experience will allow them to do just that in a totally unique way. It's a group experience that evokes the senses in bold new ways."
The total experience lasts roughly 30 minutes and allows users to shoot a blaster, solve puzzles, and fight giant lava monsters, according to StarWars.com.
Here's the official description of Secrets of the Empire:
Under the orders of the budding rebellion, your team will travel to the molten planet of Mustafar. Your mission is to recover Imperial intelligence vital to the rebellion's survival. Alongside the pragmatic droid K-2S0, your team must navigate through an enemy facility walking into danger at every turn. Disguised as stormtroopers, grab your blaster, solve puzzles, and fight giant lava monsters in an effort to fulfill your team's orders.
Tickets have just been made available at thevoid.com, with admission for both the Anaheim and Orlando locations costing $29.95 per person plus applicable fees. Parks admission is not required.
Star Wars: Secrets of the Empire debuts at Walt Disney World Resort on December 16, 2017 and at the Disneyland Resort on January 5, 2018.