Sequel Bits: 'Indiana Jones 5', 'Justice League', Dwayne Johnson's 'Fast' Spin-Off, And More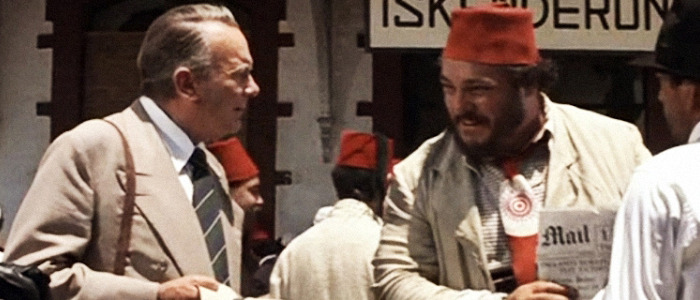 In this edition of Sequel Bits:
One of the key supporting actors from the Indiana Jones franchise wants to return for the fifth film
Dwayne Johnson talks about his Fast & Furious spin-off movie
John Carpenter clarifies the setting for the new Halloween sequel
The Predator gets some electrifying new promo art
A new Jurassic World: Fallen Kingdom banner from a London licensing expo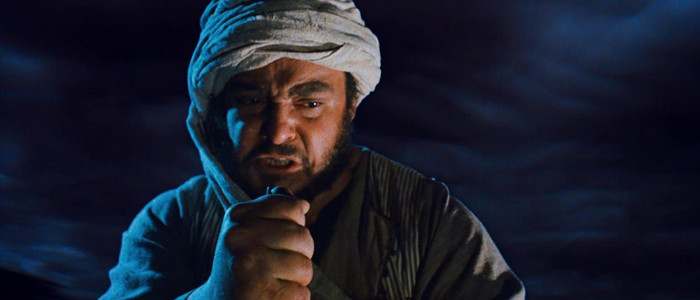 John Rhys-Davies, who played the Egyptian excavator Sallah in Raiders of the Lost Ark and Indiana Jones and The Last Crusade, told Yahoo UK that he'd "love to have one last crack at Sallah" in Steven Spielberg's upcoming Indiana Jones 5.
"What would have happened to Sallah? I like to think that he would have been somebody like Khaled al-Asaad – that marvelous 80-year-old man who was defending his museum in Palmyra and who hid its major treasures and refused to give them over to ISIS and was beheaded in the town square. I think that's probably how I would have seen Sallah.
Sallah is the last Arab in popular, contemporary culture, that we regard as a hero. The world has changed, and that's a tragedy for the West and for the Arab world. Perhaps there is no place for a Sallah anymore? Although I trust that my mention of Khaled al-Asaad just reminds people that they are not all iconoclasts and that there are heroes there – real heroes, too."
I'd love to see Sallah ride again, so hopefully Rhys-Davies can keep the pattern going of being in the odd-numbered Indy movies.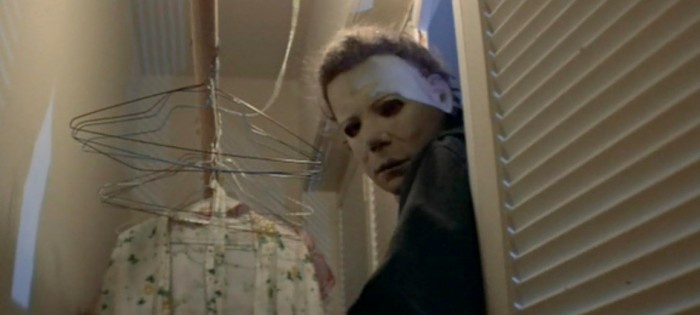 Halloween director John Carpenter is producing the new sequel that's being co-written by Danny McBride and David Gordon Green and directed by Green, and talking with Stereo Gum, Carpenter basically said the movie takes place in an alternate reality:
[Jamie Lee Curtis's] part was written into the script and they had this idea — it's kind of a... I don't know how to describe it. It's almost an alternative reality. It picks up after the first one and it pretends that none of the other [sequels] were made. It's gonna be fun.
We'd previously heard the new movie only takes the first two films on the timeline into account, so it's unclear whether Carpenter is revealing new info here or just not being specific enough with his terminology. Either way, they're clearly interested in bringing things back to the beginning of the franchise and trying to recapture that tone as opposed to what the series evolved into over the years.
Daddy's gotta go back to work ~ Hobbs. Pumped to expand and build out the FAST & FURIOUS universe in a cool, exciting way with our @sevenbucksprod, writer/producer Chris Morgan, producer Hiram Garcia and lead producer and my bigger twin, Neil Moritz. Thank you UNIVERSAL STUDIOS for being tremendous partners who see the big picture and for coming to us years ago with this spinoff idea. Huge shout to my brother, Jason Statham for the trust and wanting to create and deliver something fresh and bad ass for the fans. I have a tremendous amount of respect for this franchise that I've enjoyed droppin' blood and sweat in over the years and my vision is to create greater opportunities for not only my fellow FF cast mates, but for other amazing actors as well who want to be a part of something new and cool. I want to use my spinoff platform to create new characters that fans will ultimately love to have fun with in multiple chapters and platforms. Film, TV, Digital, Virtual Reality etc.. the more opportunities we can create the better for the fans. Smart business. Let's have some FUN and to quote, Hobbs the boss, if you don't like it, we're happy to beat that ass like a Cherokee drum. #HOBBS #SevenBucksProds #NewOpportunities #CandyAssesNeedNotApply JULY 2019
Dwayne Johnson took to Instagram recently to share a video about the untitled Fast & Furious spin-off that will star his character (Hobbs) and Jason Statham's character (Shaw). Johnson responds to Tyrese's whining and accusatory social media messages in a classy, professional way here, and also manages to get a little dig in on Vin Diesel as well with that "#CandyAssesNeedNotApply" hashtag. There's definitely some trouble in the Fast family, and hopefully it all gets worked out before Fast 9 goes into production.
It's #Friday13th week! Will try to post new fun stuff. Here's cover to our unmade sequel w/ never before published title. RT if you like! pic.twitter.com/G4GSeqkGrP

— Shannon & Swift (@shannonandswift) October 9, 2017
Writers Damian Shannon and Mark Swift, who wrote the 2009 remake of Friday the 13th, shared the cover of their unproduced direct sequel to that remake on Twitter. The film would have been called Friday the 13th: Camp Blood – The Death of Jason Voorhees, and instead of picking up with the surviving characters from the '09 film, it would have followed all new characters. Seems unlikely this will ever get made, but the writers are still holding on to a bit of hope that the stars will one day align.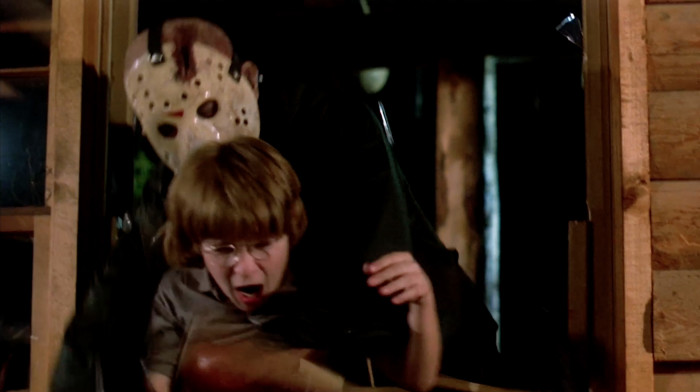 Speaking of Friday the 13th, former child star Corey Feldman is making the rounds and talking about how he essentially wants to do what McBride and Green are doing with Halloween and make a new Friday the 13th film that picks up after the events of The Final Chapter (which he starred in back in 1984). He told Movieweb:
"Let's get back to the roots. Same thing they did with [Halloween] H20. What would have happened if all those other [Friday the 13th] movies were just some kind of bad nightmare? And the reality is that we last saw [Tommy Jarvis, Feldman's character] in the hospital room with his sister, and we think Jason is dead. You want to bring him back from that point, and continue the story thirty years later. Oh, my god, he still exists! That's the movie I think everyone wants to see. I actually pitched that. And we actually got as far as the writer, great guy, he was on board, and he really wanted to do this. He was excited. Barney Cohen, he was the original writer from Part 4. He wanted to come back. His concept was, if you're really going to do this, who else would you bring back? And I said, 'You have to go to Frank Mancuso, and get him back in the game.' As you know, he left the franchise years ago. And I think we should talk to Joe Zito, and get the original crew back together, and do it the right way."
Sorry Corey, but I don't think anyone's really knocking down the door to make another movie with you right now. Plus, as he points out later in the interview, the rights situation with that franchise are all tied up in multiple studios, so greenlighting any sequel – let alone something like this – would mean a lot of people from a lot of companies thinking it's a good idea...and no offense, but I just don't see that happening here.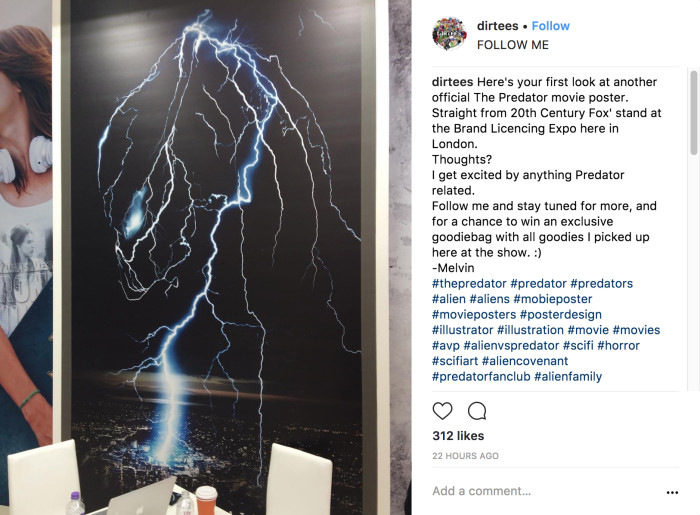 Some Instagram user (who's apparently super thirsty for followers) shared what they claim to be an official poster of Shane Black's The Predator from a licensing expo in London, and the poster recreates the alien hunter's profile in lightning bolts. I like that creative design – seems more like a fan-made poster than something a studio would produce, so hopefully that signals a move toward more interesting, artistic studio work.
Hi dude! pic.twitter.com/d5O7TxUtKq

— Mega Power Brasil ⚡ (@MegaPowerBrasil) October 10, 2017
A Twitter user is at that same expo and snapped this shot of a Jurassic World: Fallen Kingdom banner, which features Chris Pratt, a raptor, and a roaring T-rex. I'm not convinced any of these images are actually new (they're likely leftover from Jurassic World), but we're getting closer to a time when we can start expecting images and maybe even a trailer soon.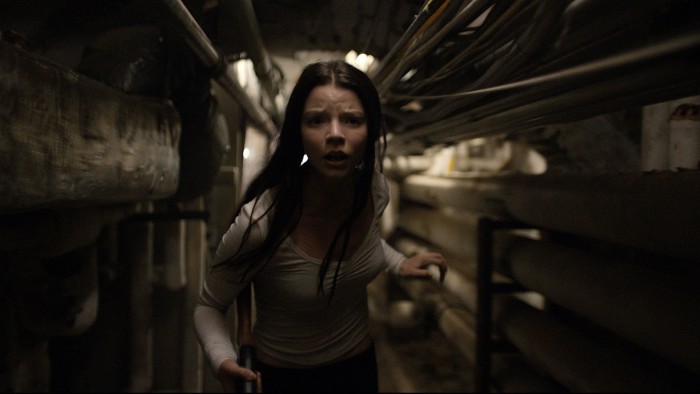 Speaking with HeyUGuys, actress Anya Taylor-Joy gave a quick update about the progress of Glass, director M. Night Shyamalan's long-awaited sequel to his 2001 superhero movie Unbreakable (which also happens to be a sequel to this year's Split):
"It's all going so well. I think we all are very aware that we're making something really special, and Night's done such an incredible job with the script, that we're all coming in and really elevating our performances every single day. It's just really fun."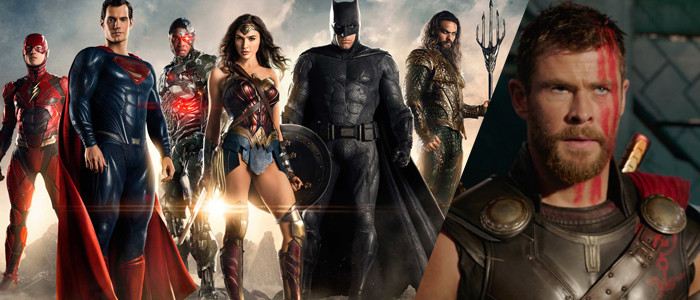 ComicBookMovie says Justice League and Thor: Ragnarok will be released in China on the same day that they debut here in the United States, which should bode well for their global box office prospects.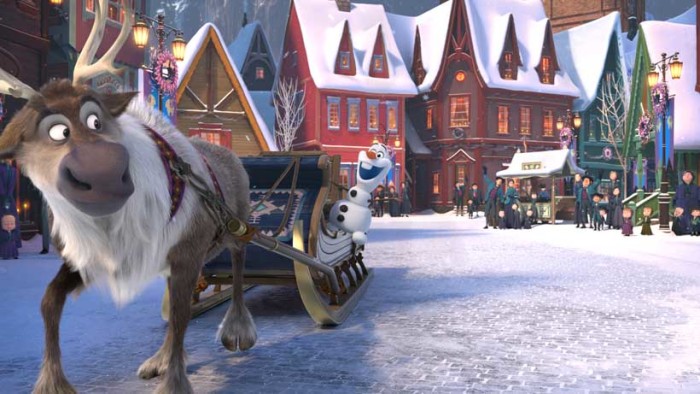 And finally, four original songs will be included in the upcoming Olaf's Frozen Adventure, the 21-minute animated featurette that will play before Pixar's Coco in theaters on November 22. But instead of waiting that long to hear them, you can buy the soundtrack weeks early: it hits shelves on November 3, 2017. Elyssa Samsel and Kate Anderson wrote the songs, and you can read the full track listing below:
"Ring in the Season" – Performed by Kristen Bell and Idina Menzel and Josh Gad
"The Ballad of Flemmingrad" – Performed by Jonathan Groff
"Ring in the Season" (Reprise) – Performed by Idina Menzel
"That Time of Year" – Performed by Josh Gad and Idina Menzel and Kristen Bell and Cast
"That Time of Year" (Reprise) – Performed by Josh Gad
"When We're Together" – Performed by Idina Menzel and Kristen Bell and Josh Gad and Jonathan Groff
"Olaf's Frozen Adventure" Score Suite – Composed by Christophe Beck and Jeff Morrow
"The Ballad of Flemmingrad" (Traditional Version) – Performed by Jonathan Groff
"Ring in the Season" – [Instrumental Karaoke Mix]
"That Time of Year" – [InstrumentalKaraoke Mix]
"When We're Together" – [Instrumental Karaoke Mix]