'Justice League' TV Spot: Bruce And Diana Put The Team Together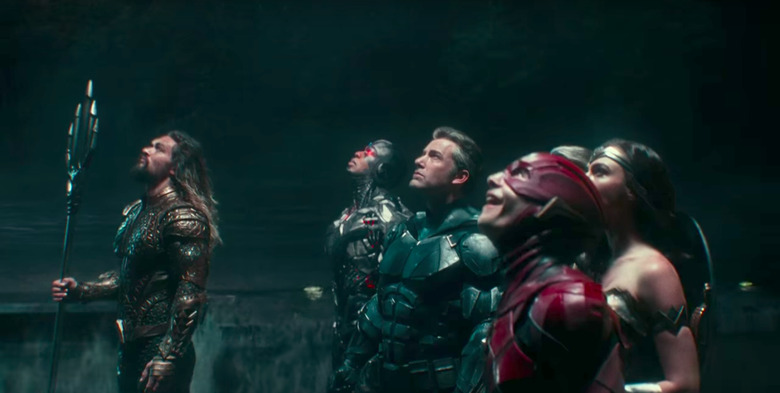 The closer we get to the premiere of Justice League, the lighter the tone of its trailers seem to be. Case-in-point: the Flash's goofy grin in the newest Justice League TV spot.
Like yesterday's featurette, the new Justice League clip emphasizes the team's chemistry, as well as their individual prowesses as superheroes (after all, they each have their own upcoming solo movies). They worked hard on those logos, folks.
Watch the New Justice League TV Spot
"I need to bring us together," Ben Affleck's Bruce Wayne declares in the new TV spot, as we see him atop a wintry mountain. It looks like the scene just before he finds and meets Jason Momoa's Arthur Curry, AKA Aquaman, and the beginning of the League being assembled by Bruce and Diana (Gal Gadot).
It looks like Bruce isn't the one doing all the footwork though — a new scene shows Cyborg meeting Diana in civilian clothes, just before he flies off. Another new shot: Diana throwing her sword towards Ezra Miller's Flash who, in slow-motion, touches the blade.
"This isn't the plan," Batman says anxiously amidst the chaos. "No, Master Wayne," Jeremy Irons' Alfred responds giddily through his headset. "This the team."
I'll admit I guffawed after Irons' somewhat cheesy delivery — but this bodes well for the movie! Already it's striking a much more earnest and light tone than previous trailers would have you believe, which is in line with Warner Bros. and DC Films' pivot toward a "more fun" DC universe. Just have Alfred deliver a few more dry one-liners like that rather than his Batman v Superman-style pontificating, and you're all set.
Here's the Justice League official synopsis:
Fueled by his restored faith in humanity and inspired by Superman's (Henry Cavill) selfless act, Bruce Wayne (Ben Affleck) enlists newfound ally Diana Prince to face an even greater threat. Together, Batman and Wonder Woman work quickly to recruit a team to stand against this newly awakened enemy. Despite the formation of an unprecedented league of heroes — Batman, Wonder Woman, Aquaman, Cyborg and the Flash — it may be too late to save the planet from an assault of catastrophic proportions.
Justice League hits theaters on November 17, 2017.