Disney Movies Anywhere Adds Other Key Hollywood Studios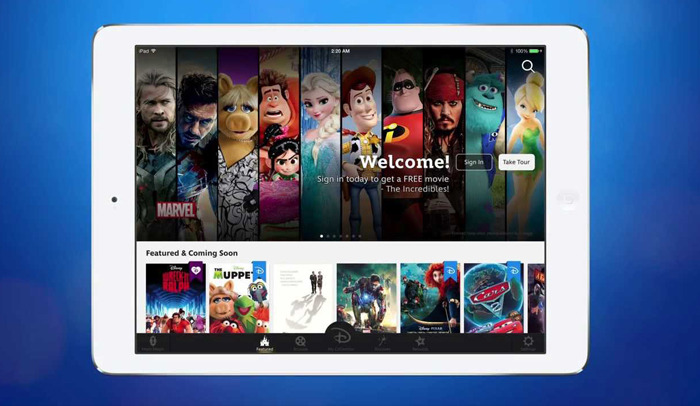 Disney Movies Anywhere, the app where you can buy and watch Disney, Pixar, Marvel, and Star Wars films across multiple devices, has just opened its doors to content from other studios. 20th Century Fox, Universal Pictures, and Warner Bros. have come on board for the newly-branded Movies Anywhere. Read what that means for consumers below.
Bloomberg reports that Disney has been speaking with rival studios about joining this service since last year, and a deal has finally been struck between many of them, with an official announcement expected to be made as soon as this week. (There's no word yet about Sony Pictures' involvement, but Lionsgate is apparently interested and Paramount Pictures may end up joining later if they can agree on financial terms.)
I'm personally still a believer in physical media, so on the rare occasions that I buy movies these days, it's always on Blu-ray; that means I've been out of the loop when it comes to any of the newer digital options, but here's the breakdown of what this new development means for everyone.
Previously, there was a war between Disney's Disney Movies Anywhere app/website, which was launched in 2014, and UltraViolet, the rival platform backed by many of the other studios. But while UltraViolet was largely despised by the public, it seemed as if Disney Movies Anywhere managed to get the tech right and create a usable, reliable service. I'll let them explain how it works:
Once you connect your Disney Movies Anywhere account with one or more participating provider accounts (such as iTunes, Amazon Video, VUDU, Google Play, Microsoft Movies & TV, or Fios by Verizon) the eligible Disney, Pixar, Marvel, and Star Wars titles in your libraries with participating providers will be automatically added to your Disney Movies Anywhere Collection. Similarly, any movies in your Collection will automatically become available in all your connected libraries with all participating providers. For example, a movie you obtain from a connected iTunes account will be available in your Disney Movies Anywhere Collection and in your connected Amazon Video, VUDU, Google Play, Microsoft Movies & TV, or Fios by Verizon.
It's a manageable way to keep track of all of your digital movie purchases, with the bonus of being able to access them across a myriad of different devices. Now it seems as if the other studios have finally seen the light. In the face of constantly falling DVD sales, they've decided to join forces and create a united front to reach out to potential consumers who may have been too confused or turned off by the rival platforms to bother with either one.
Theoretically, this could mean that more studios will provide digital download codes with Blu-ray purchases, which is a nice bonus for anyone who wants to watch their movies on the go without having to haul their physical collection around. We'll update you with more on this story as it becomes available, but in the meantime, what do you think? Is this a good move by the studios? Are you excited about being able to better manage your digital library in one place?