'Twin Peaks' Season 3 Blu-Ray Will Have Over 3 Hours Of Special Features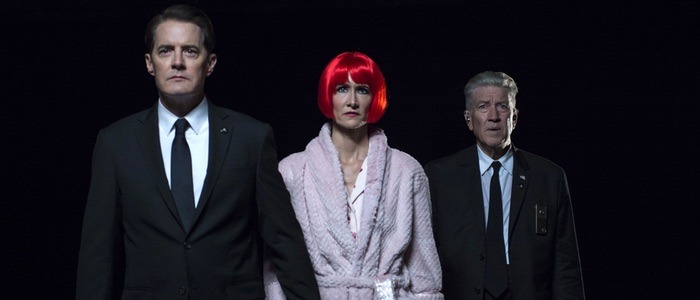 It seems like only yesterday that David Lynch and Mark Frost broke everyone's brain with their weird, wild Twin Peaks revival. Some loved it while others thought that perhaps Lynch was pulling a prank on the audience. Either way, it was one of the most original pieces of TV in quite some time. And now Twin Peaks season 3 is about to make its way to Blu-ray, and it's bringing a whole lot of damn fine special features with it. Get the Twin Peaks season 3 Blu-ray news below.
Update:
A full list of features has been announced for the impending Twin Peaks season 3 Blu-ray. Officially titled Twin Peaks: A Limited Series Event, the Blu-ray will contain over 6 hours of special features that will give viewers an up-close and personal look at the making of the limited series, and over 80 minutes of additional behind-the-scenes content will be available exclusively on the Blu-ray release. IMPRESSIONS: A Journey Behind the Scenes of Twin Peaks is a series of 10, 30 minute films directed by longtime Lynch documentarian and friend Jason S., who was given unparalleled access to document the making of the series. The breakdown of the full list of features is below, along with official box art and a behind-the-scenes clip.
BLU-RAY AND DVD:
IMPRESSIONS: A Journey Behind the Scenes of Twin Peaks
The Man with the Grey Elevated Hair (29:40)
Tell it Martin (29:08)
Two Blue Balls (24:14)
The Number of Completion (29:17)
Bad Binoculars (28:08)
See You on the Other Side Dear Friend (30:00)
Do Not Pick Up Hitchhikers (26:44)
A Bloody Finger in Your Mouth (26:49)
The Polish Accountant (28:05)
A Pot of Boiling Oil (38:32)
Phenomenon
Part 1: Creation (4:40)
Part 2: Life After Death (4:50)
Part 3: Renaissance (4:50)
Behind-the-scenes Photo Gallery
Rancho Rosa Logos (2:25)
San Diego Comic-Con 2017 Twin Peaks Panel (61:26)
David Lynch Produced Promos
Piano (

1:02

)
Donut (:32)
Woods (:32)
People (:32)
Places (:32)
Albert (

1:02

)
In – cinema (

1:32

)
BLU-RAY EXCLUSIVE:
A Very Lovely Dream: One Week in Twin Peaks (27:09)
Behind the Red Curtain (29:17)
I Had Bad Milk in Dehradun (28:11)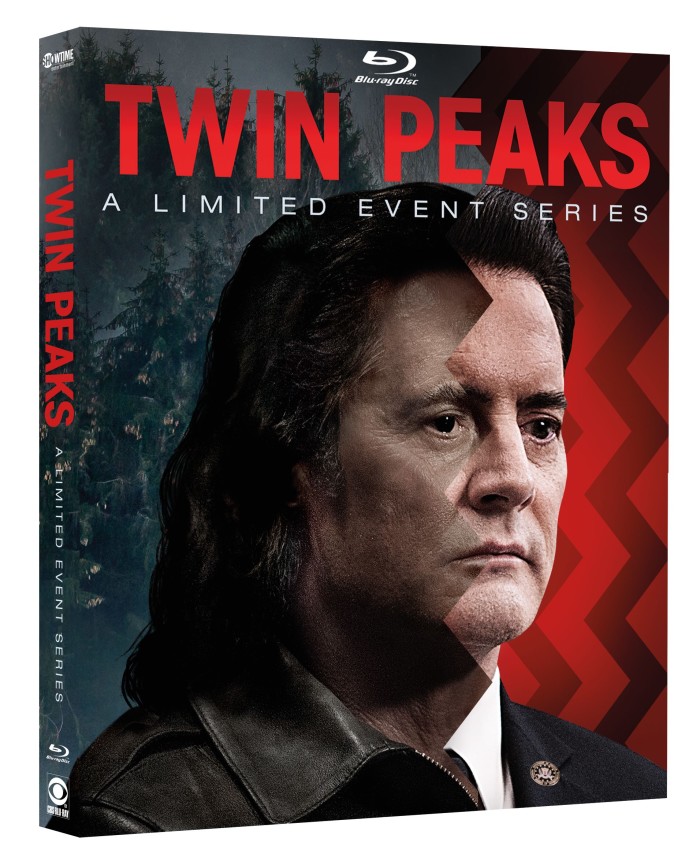 The original story follows:
The anticipation for the Showtime revival of David Lynch and Mark Frost's Twin Peaks was at a fever pitch even before the new season began to ran, and the reaction to the show from audiences only intensified as it went on. From one weird, eerie episode to the next, Lynch and company took us on a journey none of us were expecting. Agent Dale Cooper (Kyle MacLachlan) found his way out of the Black Lodge, only to be trapped within the body of Dougie Jones. Things only got weirder from there. For 18 episodes, Twin Peaks season 3 brought back old characters and introduced brand new ones, and the story never unfolded in a predictable manner. Some people just didn't take kindly to this. Perhaps they were looking for more cherry pie and black coffee, less existential angst.
Personally I loved Twin Peaks season 3, and I can't wait to watch it all again once it hits Blu-ray. Which it will, in December. And it looks like the upcoming Blu-ray release is going to be packed with a wealth of extra features. Of course, in the tradition of all-things David Lynch, good luck trying to figure out what the hell any of these features are. Welcome to Twin Peaks reports The British Board of Film Classification recently rated additional material that will appear on the upcoming Blu-ray release, and the features end up totaling over 3 hours. As to just what these features are – Deleted scenes? Behind-the-scenes interviews?  – who knows! All we have to go on now are some cryptic titles:
A Bloody Finger In Your Mouth (25:43)
A Pot Of Boiling Oil (36:58)
Do Not Pick Up Hitchhikers (25:39)
See You On The Other Side, Dear Friend (28:49)
Tell It, Martin (27:57)
The Man With The Gray Elevated Hair (28:27)
Two Blue Balls (23:13)
I haven't the foggiest idea what any of this could mean, but it certainly sounds like it will all fit right in with the latest season of Twin Peaks. As for the future of the series, there's been no word on if Showtime will give Lynch the go-ahead for more, but the director hasn't ruled the idea out. The only word of advice he offered was for fans to be patient, since it took him four and a half years to write and film the most recent season.
Twin Peaks season 3 will hit Blu-ray on December 5, 2017.