New 'Professor Marston And The Wonder Woman' Trailer And NYCC 2017 Panel Recap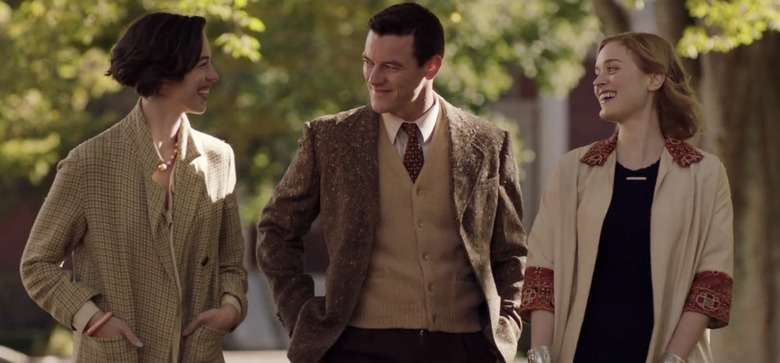 This week brings the release of the second movie to tackle the origin of Wonder Woman this year, but unlike the superhero movie released this past summer, Professor Marston and the Wonder Women is about how the Amazon warrior princess came to existence on the pages of DC Comics.
A panel at New York Comic-Con took a closer look at the movie starring Luke Evans, Rebecca Hall and Bella Heathcote, and that included releasing a new trailer for the movie arriving in theaters at the end of the week.
Watch the new Professor Marston and the Wonder Women trailer and find out what happened at the NYCC panel below.
Watch the Professor Marston and the Wonder Women Trailer
Wonder Woman fans, feminists, and feminist allies alike eagerly gathered in the Hammerstein Ballroom for New York Comic Con on Sunday to celebrate, amplify and support Professor Marston and The Wonder Women. And you could immediately tell upon entering the theater that people were there not just for the big screen phenomenon, but to also be a part of a conversation that dared to acknowledge an under-served audience—by paying homage to its historical narrative.
Cosplayers were already running rampant throughout the Con over its four-day run, but no other panel represented the only female comic book hero to have her own standalone movie quite to the degree as this one did. And that included a male Wonder Woman cosplayer! Way to represent!
And just think, this movie wasn't even supposed to happen. "I can honestly say that nobody wanted me to make this movie, until everybody did. I initially wanted to do this movie because there wasn't a Wonder Woman movie already," writer/director Angela Robinson said. She noted the dearth of women-centric superhero films, and the overwhelming number of male superhero films. "How many times are we going to see the origin tale of Batman with his parents getting killed? Wonder Woman has been around for years. There is no other reason beside misogyny."
Robinson was joined by cast members Rebecca Hall and Luke Evans, who echoed her thoughts on how important it was for all of them to represent these characters authentically. "We all really like the people we were representing, people we really don't get to see on screen."
Hall, who admitted that she had not read the comic prior to taking on this role, perfectly responded to questions from the audience about the film's commentary on polyamory. "This story is about three people who are willing to go against societal norms in order to be true to themselves." This struck a chord with many audience members who have been looking for this kind of representation for years.
It was especially poignant to see Robinson, a lesbian filmmaker who's been working in the industry for years on various projects including The L Word, present such a radical film to both older audiences who were familiar to the character and young audiences who are growing up with the chance to see a complex women-centric narrative propelled by her. Hopefully we won't have to wait another 30 years to see something like this again.
Read the Professor Marston and the Wonder Women synopsis below:
In a superhero origin tale unlike any other, the film is the incredible true story of what inspired Harvard psychologist Dr. William Moulton Marston to create the iconic Wonder Woman character in the 1940's. While Marston's feminist superhero was criticized by censors for her 'sexual perversity', he was keeping a secret that could have destroyed him. Marston's muses for the Wonder Woman character were his wife Elizabeth Marston and their lover Olive Byrne, two empowered women who defied convention: working with Marston on human behavior research — while building a hidden life with him that rivaled the greatest of superhero disguises.
Professor Marston and the Wonder Women opens October 13, 2017.