The 'Happy!' Trailer Pairs Christopher Meloni With An Imaginary Friend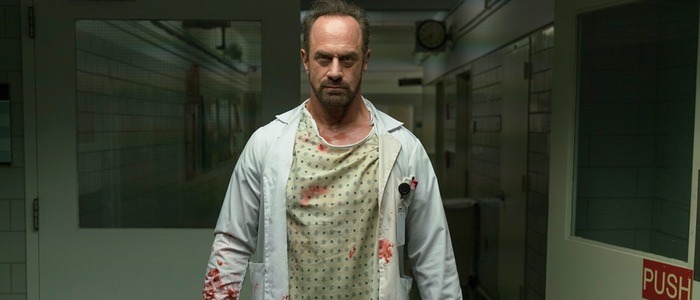 There have been a lot of shows and movies about corrupt, broken down cops trying to make amends for their dirty deeds, but have any of those movies and shows paired the cop with an imaginary friend? No, they absolutely have not. But Happy! does exactly that. The new Syfy series adapts a graphic novel from Grant Morrison, and the first twisted trailer has just dropped to give you a sense of the lunacy on display. Watch the Happy series trailer below.
In Happy!, Christopher Meloni (Law and Order: SVU, Wet Hot American Summer), plays Nick Sax, an alcoholic, drug addled ex-cop turned hitman who has a near-death experience that leaves him a changed man. Specifically, when he's revived by medics he can suddenly see and hear Happy, a tiny flying blue unicorn voiced by Patton Oswalt. Happy is the imaginary friend of a little girl named Hailey, and Hailey has been kidnapped by a lunatic in a Santa Claus costume. Now Nick and Happy have to team up and save the girl.
Watch the Happy! Trailer
The first trailer for Happy! promises a truly twisted, possibly hysterical show. The (former) cop teamed up with a cartoon character angle makes this thing look like Who Framed Roger Rabbit on acid, or Bad Lieutenant meets Inside Out, if you will. On top of that, the presence of Meloni adds an extra layer of fun because you can pretend he's just playing his retired SVU character now gone off the deep-end. Here's the official synopsis:
Happy! is based on New York Times best-selling author Grant Morrison and Darick Robertson's graphic novel of the same name. The series follows Nick Sax (Christopher Meloni, Law & Order: SVU) – an intoxicated, corrupt ex-cop turned hit man – who is adrift in a world of casual murder, soulless sex and betrayal. After a hit gone wrong, his inebriated life is forever changed by a tiny, relentlessly positive, imaginary blue winged horse named Happy (Patton Oswalt).
Happy! was originally in development as a feature film. Back in 2012, Wu-Tang Clan founder RZA was in talks to helm a big screen adaptation of Happy!, but the film never came to pass. Now Syfy has added the series to their ever-growing list of new original content, which is all part of their big plan to reboot their network. It joins the ranks of the Superman prequel series Krypton and the George R.R. Martin's Nightflyers, but as far as I can tell, neither of those shows involve a drunk man hanging out with an imaginary friend.
Happy! premieres on Syfy December 6.