Jessica Williams Joins 'Fantastic Beasts' Sequel; Nicolas Flamel And More Are Cast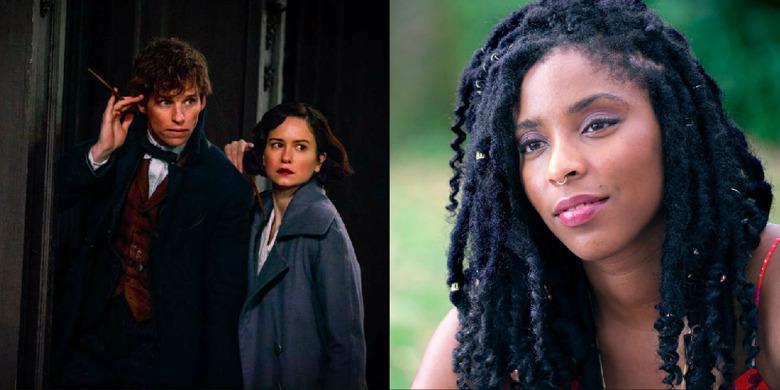 Joining the hunt for Fantastic Beasts and Where to Find Them is former Daily Show correspondent Jessica Williams, as well as a bevy of other new and familiar characters from Harry Potter lore. One of those familiar characters: the renowned Nicolas Flamel, whose Philosopher/Sorcerer's Stone formed the basis for the first Harry Potter book and movie. Now we'll get to see him as a young and strapping wizard, and hopefully better for the wear than Johnny Depp's evil Grindelwald, whose terrorizing presence will be even bigger in the Fantastic Beasts sequel.
Pottermore has dropped a bunch of new information about the Fantastic Beasts 2 cast and characters, as well as a rudimentary synopsis of the film.
Fantastic Beasts 2 Cast Additions
Aside from one aforementioned polarizing actor, Fantastic Beasts has a pretty, well, fantastic cast. The first film starred Eddie Redmayne as magizoologist Newt Scamandar, Katherine Waterston as Tina Goldstein, Alison Sudol as Queenie Goldstein, Dan Fogler as the unlucky No-Maj Jacob Kowalski, and Carmen Ejogo as Seraphina Picquery, all of whom are set to return for the sequel. And Pottermore has just announced several exciting new additions to the cast. 
First up is rising star Jessica Williams, who left The Daily Show to write and star in her own Netflix movie, who is joining the Fantastic Beasts sequel in an unspecified role, according to Entertainment Weekly. The actress is self-proclaimed Potterhead, and took to Twitter to announce the news, for which Harry Potter author J.K. Rowling congratulated her.
The second biggest news is the appearance of Nicolas Flamel, to be played by Chilean-French actor Brontis Jodorowsky. Flamel was a famous alchemist and old friend (and potential partner) of Albus Dumbledore, who we will also meet as a young wizard played by Jude Law. As the only known maker of the life-extending Philosopher's Stone, he was able to live to a ripe age of 690 years old — which was the age he was when he passed away after the events of Harry Potter and the Sorcerer's Stone.
It's unlikely we'll see the Sorcerer's Stone in play again in the Fantastic Beasts sequel, but Grindelwald in his search for ultimate power may attempt to seize it. He wasn't as driven by a thirst for immortality as Harry Potter Big Bad Voldemort was though, so we will probably see Flamel in the capacity as Dumbledore's friend and ally.
Other characters Pottermore revealed: Wolf Roth as Spielman, Victoria Yeates as Bunty, Derek Riddell as Torquil Travers, Poppy Corby-Tuech as Roseri, Cornell S. John as Arnold Guzman, and Fiona Glascott as a yet unnamed character. None of these characters are familiar, but Travers and Rosier are the surnames of two Death Eaters who served Voldemort in the original series.
Plot Details About Fantastic Beasts Sequel
Here's the first official synopsis for the Fantastic Beasts sequel:
J.K. Rowling wrote the screenplay for the film, which opens in 1927, a few months after Newt helped to unveil and capture the infamous Dark wizard Gellert Grindelwald.  However, as he promised he would, Grindelwald has made a dramatic escape and has been gathering more followers to his cause—elevating wizards above all non-magical beings.  The only one who might be able to stop him is the wizard he once called his dearest friend, Albus Dumbledore.  But Dumbledore will need help from the wizard who had thwarted Grindelwald once before, his former student Newt Scamander.  The adventure reunites Newt with Tina, Queenie and Jacob, but his mission will also test their loyalties as they face new perils in an increasingly dangerous and divided wizarding world.
Pottermore also promises "surprising nods to the Harry Potter stories that will delight fans of the books and film series," which I will take to mean Flamel and his Sorcerer's Stone. Either way, this sequel is shaping up to be...fabulous.
The still-untitled Fantastic Beasts sequel will hit theaters on November 16, 2018.