Michael B. Jordan Is Bringing A Superhero Drama To Netflix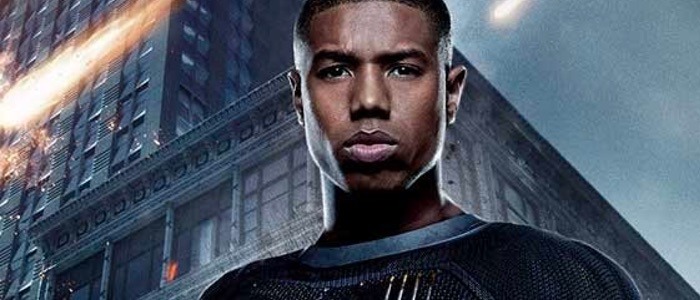 Michael B. Jordan is getting back into the superhero game, and maybe this time, the project won't stink! Netflix has just ordered a 10-episode season of Raising Dion, a new superhero drama that Jordan will executive produce and appear in. Get the full Raising Dion details below.
Michael B. Jordan has a history with superhero projects. He appeared in Josh Trank's pretty-good superhero flick Chronicle, where he played one of three young men who suddenly discovers they have super powers; and also in Trank's not-so-good superhero movie The Fantastic Four, where he played Johnny Storm, aka the Human Torch, and gave pretty much the only good performance in the film. He'll also be seen in Ryan Coogler's awesome-looking Black Panther, due out in 2018.
Now the Creed actor will bring his considerable talents to a new Netflix series. Inspired by a short film and a comic book from filmmaker Dennis Liu, Chasing Dion follows Nicole, a woman raising her son Dion in the aftermath of the death of husband (played by Jordan). The complications of single parenthood are overwhelming enough, but then Nicole discovers Dion has superhero-like abilities. Nicole works to keep her son's powers a secret, fearing that less-than-savory individuals would exploit Dion's abilities for nefarious gains. You can watch the Raising Dion short film that inspired the project below.
Raising Dion short film
Of the project, creator Dennis Liu said:
I started this project many years ago because I wanted to see more diverse representation on film and television and I'm excited to partner with Netflix and MACRO, who I know shares that commitment. More than ever, we need more stories told from different points of view and my hope with Raising Dion is to create a cinematic experience for all families that will lift your spirits and make you laugh and cry.
Carol Barbee, a writer for shows such as Jericho and Hawaii Five-0, will serve as showrunner and will also write the script for the first episode, with Liu set to direct. Regarding the project, Cindy Holland, Vice President for Original Content for Netflix, said:
"We haven't seen this type of superhero story before — an origin myth full of imagination, wonder and adventure, all grounded in the experiences of a modern single mother. Michael B. Jordan is an exciting and dynamic talent, and I'm excited to see him, MACRO, Carol and the team translate Dennis' unique vision to television."
Jordan is currently working on a TV adaptation of Fahrenheit 451, and will next be seen in Marvel's Black Panther.